Blank SD Card Repair on Android without Computer
Background
When blank sd card showed up in the android mobile phone, many users may want to get it fixed on the phone directly without a computer since some of them may just have a phone as the resource. Could the error sd card is blank or unsupported file system be fixed or removed on the mobile?
This blank sd card error may happen to many kinds of Android phones including Samsung Galaxy S6 S7 S8 S9 S10 S4 S9 Plus etc, Motorola, Redme, HTC and other types of popular phones.
Quick fix - Blank sd card [fix in 8 free ways]
How to fix blank sd card on mobile directly
Some users may want to get blank sd card recovery apk in Android eg Samsung galaxy s9, the truth is there is no such tool available for blank sd card error, however there are still some efficient ways to fix blank sd card with android phone without computer as resource for help.
Fix #1 - Take out sd and slip it back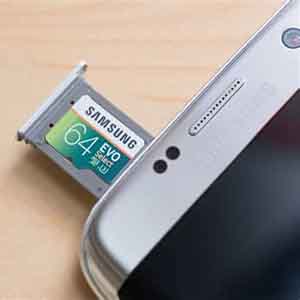 Take out and insert sd again to quick fix blank sd card on phone
Or simply it could be understood as the reinserting of sd card could help get the blank sd card error removed with all your data on the same card, no data loss. It could be the temporary disconnection between the sd card chip and the mobile phone slot that made the error show up.
If it does not work, you may try more ways: 8 free ways to fix blank sd card
Fix #2 - Format blank sd card with phone
Formatting is kind of erasing the sd card that would make it as an efficient way to fix the sd card suddenly turned blank.
Formatting would erase all data on the sd card, you need to make a backup before the formatting to avoid unnecessarily data losses. Uploading the current files to a cloud service, such as Google Drive would be a brilliant idea, or you may take out your memory card and backup data on a computer for emergency backup.
When your phone reads a FAT micro sd card, your new sd card won't be read correctly when the new memory card is over 32GB that usually starts with EXFAT file system and the formatting the sd card to get it compatible with the device would be the key to get the trouble fixed.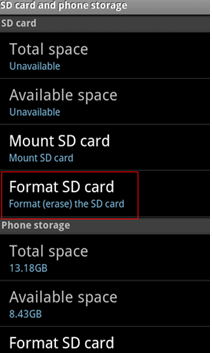 Format blank sd card with phone
Do not want to format sd? This guide -> how to fix damaged sd card without formatting
Fix #3 - Factory Reset Android Phone
Backup your data to somewhere else, and then reset the mobile phone by factory resetting may be another chance to restore the phone to be compatible with the memory card when you do want to fix the blank sd card error without a computer.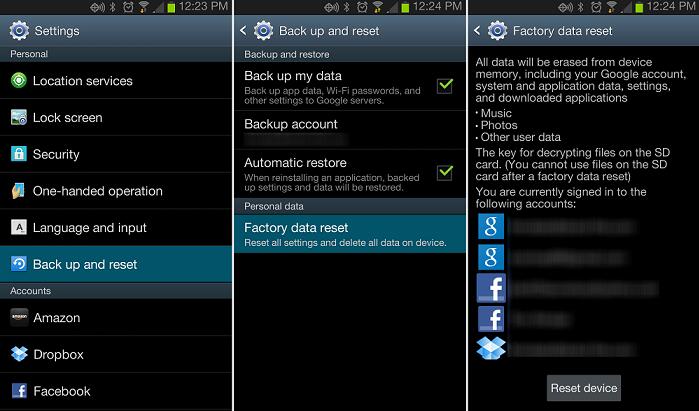 Fix sd card by factory reset
Also read: 8 ways to fix blank sd card or 10 ways to repair damged sd card
Fix #4 - Unmount SD and Mount It Again
Reload sd card through the function unmount, and then mount it again. This is the same way as to formatting it and make it to be recognized again when there was logical errors or conflict between the memory card and the mobile phone.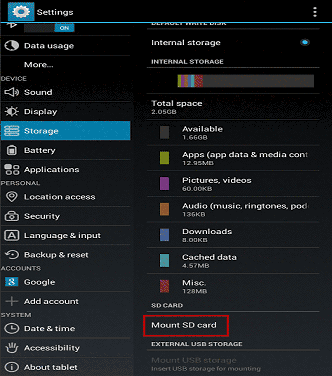 Fix blank sd card by mounting it again
Fix #5 - Try Blank SD on another Phone
We would highly recommend you try your memory card sd, microSD or MiniSD on another mobile phone to see whether it would encounter the same blank sd error to determine whether it was from the phone or the sd card.
If another phone reads your sd card well, then get it back to your old phone and if the same error is still there, then the phone is having an issue with the sd card.
Still did not work for you? Try more ways: 8 free ways to fix blank sd card including updating sd card driver, repairing damaged sd card with Windows chkdsk, fixing possible logical errors...
These are some useful methods that you may try to fix the blank sd card without pc or software with your Android phone only. If these free ways still do not work for your phone or your sd card, you need to get it fixed on a computer since there are more free ways to get it repaired.
If you do not have a pc, you may look help from your friends, family, or other available resources...
Also read: how to recover data from blank sd card
Last updated on Nov 01, 2022
Hot Articles