Blackberry Phone Recognized Memory Card as Blank
"I have a Blackberry mobile phone that recognized my memory card as blank though there is a lot of data on this card. This memory card still worked perfectly on another mobile phone yesterday, but today it shows as an unknown storage device on my Blackberry mobile phone. I was unable to open the memory card and Blackberry mobile phone said memory card has blank space. How can I recover my data from a blank memory card in Blackberry phone?"
"I cannot read any data from my memory card in Blackberry mobile phone, so I connected this memory card to my computer. However, my computer which runs Windows OS said memory card is blank and has unsupported file system. Checking the Properties, memory card has RAW file system and 0 byte space. I want to ask why my memory card turns to RAW. Where is all my data? How can I recover deleted files from memory card for Blackberry phone?"
Video - fix memory card shows blank on phone
Also read: how to fix blank sd card unsupported file system
Blackberry smart phone or PC recognized memory card as blank media because all data becomes invisible to the system. You probably doubt if there is any way to make all data visible by system. In fact, you need to rely on professional data recovery software to recover deleted files from Blackberry memory card and then save all data to another place.
Data Recovery When Blackberry Recognized Memory Card as Blank
iCare Data Recovery Pro is a read-only data recovery program, which is able to work on Windows OS to help recover data in different data loss situations. It supports Blackberry phone memory card data when it has blank space or unsupported file system. This data recovery software is able to deep scan the memory card and list all invisible data so that you can preview and recover the files you need. It supports different brands of memory card for Blackberry mobile phone. This software for memory card recovery is easy to handle. What you should do is to connect the memory card to a Windows PC and run the data recovery software.
Steps for Blackberry Phone Unrecognized Memory Card Recovery

Preparation: Free download and install iCare Data Recovery on computer. Plug the Blackberry phone memory card to computer and launch the software.
Step1. Select a proper scan mode after running the data recovery software.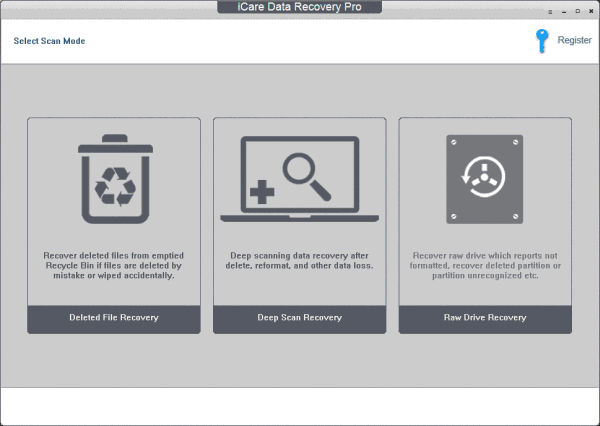 Step2. Choose the memory card and then you only need to wait when the software is scanning.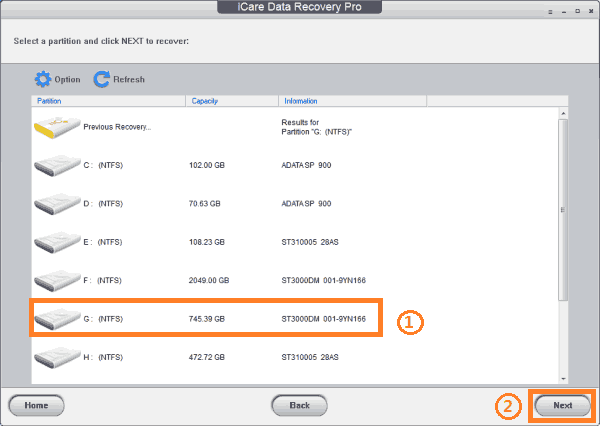 Step3. Preview files after scanning and then save all needed files to another place.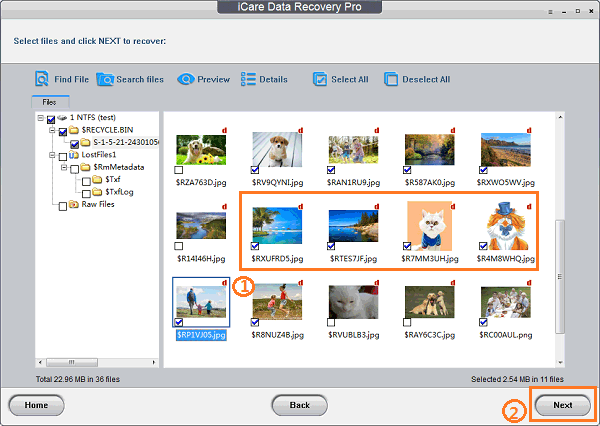 Tips:
1. If the software shows that it will take several hours to scan the memory card to search lost files, you have no need to wait so long. You can stop scanning several minutes later and the software will show all found files. You are allowed to preview found files when software lists all data. You can also go back to rescan the memory card to search lost files if you are not satisfied with the scanning result.
2. When software shows all found data, you can preview some data like different types of images or Microsoft documents. However, you are unable to view some large files like MP4 files, MP3 files, 3GP files, etc. Although you are not allowed to preview those large files, it does not mean there is any problem with data recovery.
Why Blackberry Phone Memory Card Says Blank?
1. Memory card is corrupted
This is a normal situation that memory card might show blank when it is corrupted. When you attempt to access a corrupted memory card, you might receive following message:
Memory card is not accessible. File or directory is corrupted and unreadable
2. Antivirus software removes files off Blackberry mobile phone memory card
You might run antivirus software when you realize that memory card for Blackberry phone is attacked by virus. However, sometimes, antivirus software will recognize some files as unsafe data and removes them from your memory card. If antivirus software removes all data stored on your memory card, the card will show empty.
3. Mistakenly format memory card or delete all data
It sounds unbelievable but somebody might make mistake to delete all data or format memory card by accident when they are viewing data on the phone or computer. When they realize the mistake, the memory card becomes empty because all data has been erased due to deleting or formatting.
iCare Data Recovery supports to recover pictures from memory card for Blackberry mobile phone no matter it becomes blank due to memory card error or other reasons. Even if the memory card stops working normally and becomes not accessible, this software is helpful with data recovery. What you should do is to make sure not to overwrite the previous data or let the memory card suffer physical damage.
Also read: 7 free memory card repair software
---
Related Articles
Hot Articles