8 Best Free Photo Recovery Software and Shareware
Last updated on 21/02/2018
This article will show you a list of best free photo recovery software and shareware to recover photos and files deleted or lost from your computer drives, camera or phone memory cards after unexpected delete, format or virus infection or hard drive corruption issues, etc.
5 Best Photo Recovery Freeware
1). iCare Data Recovery Free
2). Recuva
3). Pandora Recovery
4). Glary Undelete
5). Puran File Recovery
3 Best Photo Recovery Shareware
1). 7-Data Recovery Suite Free
2). Disk Drill for Windows
3). Remo Recover for Windows
Are you looking for really free photo recovery software after deleting or losing camera, cell phone or tablet Micro SD or SD memory card photos and files by mistake? Have found numerous photo recovery programs over the internet and don't know which one of them is surely 100% free and also works perfectly for your photo loss troubles caused by accidental delete, shift delete, deleting files from Recycle Bin, format, reformat, memory card blank or unsupported file system errors, memory card errors, memory card virus infection or corruption problems, etc? OK! No worry! We do have tested nearly all possible free photo recovery utilities that could be searched over the internet and picked some of the best ones for you here. Hope this best photo recovery software 2017 could help you:
1). iCare Data Recovery Free
iCare Data Recovery Free, as one of these best photo recovery programs, is absolutely free photo recovery utility that can help recover photos with some common formats (including JPEG, PNG, GIF,CR2,TIFF, TIF, RAW, WMF and more prevailed image formats) with ease and high efficiency after accidental deleting, Recycle Bin emptying or deleting, hard drive or SD memory card formatting/reformatting, memory card RAW file system error, Micro SD card not formatted or not recognized errors, CF memory card corruption problems, TF memory card virus issues and more. With two effective data recovery modes: Deleted File Recovery and Advanced Data Recovery modes, this free photo recovery software can not only retrieve photos deleted or lost from camera/phone/tablet/player memory card, and also is able to retrieve PPT/Excel/Word/Text documents, videos, mails, apps, games, movies, songs, audios and more files back smoothly from widely-used hard drive, partitions, USB flash drive and more storage devices.
Pros:
It is simple for everyone to use.

It is free for everyone to recover unlimited data.

It is able to recover photos with nearly all formats, like JPEG, PNG, GIF, CR2, TIFF, TIF or RAW, etc.

It also supports documents, videos, audios, mails, messages, texts, apps and the like file.

It helps recover deleted or lost data from camera or phone SD, Micro SD, CF, TF memory cards, and internal/external hard disks, SSD, USB drives and more storage devices.

It supports all prevailed Windows operating systems, like the popular Windows XP, 7, 8, 10 or Vista, etc.

It also allows users to preview or search any scanned photo freely.

It will also pack all retrieved information into one folder in case of unexpected troubles.
Cons:
Unlike iCare Data Recovery Pro with more data recovery modes, like Deep Scan Recovery and Lost Partition Recovery, this iCare Data Recovery Free does not work as effectively as the pro version, a paid version.

It does not work on a computer with Mac operating system.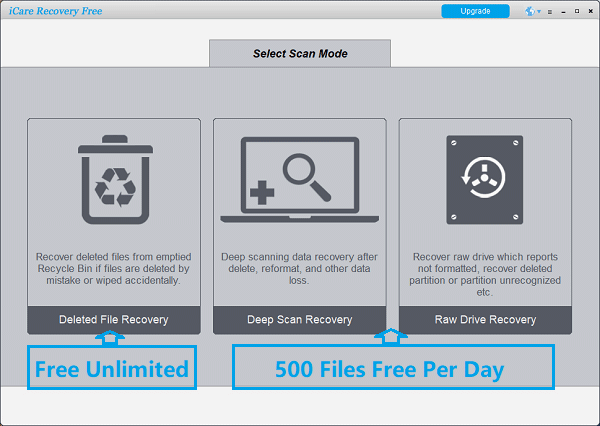 Free download iCare Data Recovery Free
2). Recuva
Recuva is also another free and easy-to-use photo recovery tool that can help recover pictures deleted, removed, wiped or lost from Recycle Bin, hard drive partitions media card, iPod, pen drive or the like storage devices. Moreover, except the common music, document, video, email and file recovery features, it also especially offers a Pictures option for everyone to retrieve lost images with different formats.
Pros:
It offers a Wizard-like interface which is easy to grasp and use for every user.

It offers a special "Pictures" option for people to retrieve different format pictures from original storage devices.

It also allows you to especially rescue deleted or lost photos from camera, phone, tablet or iPod memory cards.

It is also really fast to help scan the allocated hard drives, memory cards or USB drives completely.

Its data recovery results will be shown immediately so that people could know the consequence soon.
Cons:
Its Deep Scan may take much longer time on a large drive than the first quick scan.

Without changing the installing settings, people may also get CCleaner software installed at the same time.

Switch into Advance mode to preview the scanned files.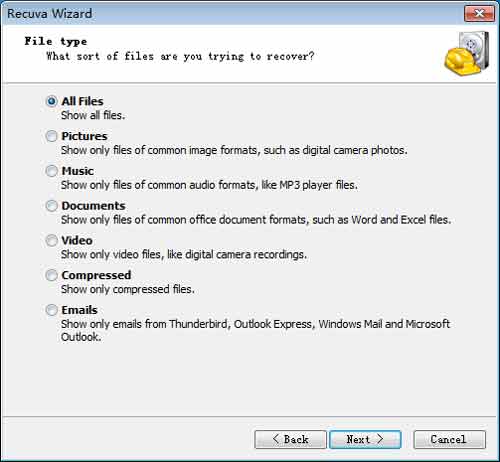 3). Pandora Recovery
Like other data recovery apps listed here, Pandora Recovery is also a free photo recovery utility with a step-by-step wizard guide for users to retrieve photos and files from deleted, formatted, not formatted, not recognized or corrupted drives, jump drives, digital camera memory cards, CD, DVD and more the like storage devices with ease. 
Pros:
Its step-by-step wizard guide will help people grasp this software easily and quickly.

It offers special steps to let people check Recycle Bin before starting to do any data recovery process there.

It offers three recovery modes for people to freely browse, search, Deep Scan and recover desired photos back.

It also allows people to freely change the recovery modes if necessary.

Its Deep Scan recovery mode also allows user to scan and search for images and photos only.

It works on all Windows computers.
Cons:
Deep Scan recovery method often needs a really long time to thoroughly scan a hard drive or memory card.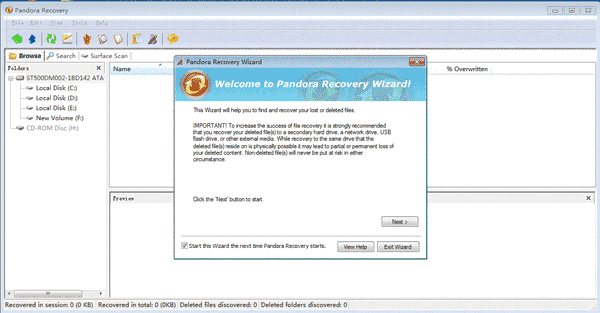 4). Glary Undelete
Glary Undelete is a completely free undelete program that often helps undelete photos and files from hard drive, camera memory card, USB drive and emptied Recycle Bin easily. While previewing and checking the scanned pictures and files, you can easily check the image and file states to evaluate whether they are still recoverable, like Very good, Good, Medium, Poor and Overwritten.
Pros:
It is free to help recover deleted photos and files from hard disks, memory cards, USB keys and more devices.

Filter all scanned files with file names, size, date or state.

Preview pictures and files in Folders or File Types.

Upgrade to Pro version to get far more features.
Cons:
Pro version offers far more features than this free version.

Create a new folder to hold all retrieved images if users do not want to find them all one by one again.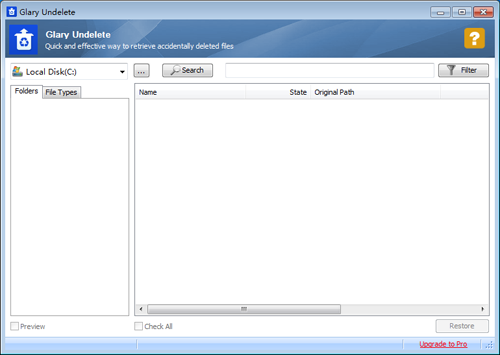 5). Puran file recovery
Puran File Recovery is also surely free photo recovery software to recover pictures and files deleted or lost from FAT12/16/32 and NTFS file system hard disks, memory cards, CDs, DVDs, flash drives and more storage devices with ease. It helps recover files with more than 50 formats.
Pros:
It offers a free and simple interface for everyone.
It offers language options, like English, French, Japanese, Spanish and the likes.

It offers a special window to illustrate all major features and functions before any data recovery.

The common scan can be completed within seconds.

It offers Deep Scan, Full Scan, Find Lost Files and Scan Custom List options to help take more deleted or lost photos and files back.

Also select and search found files freely.
Cons:
With this free version, people can only preview 1024 bites of files in HEX and ASCII formats.

People scan also can only preview images that are smaller than 10MB.

Its Deep Scan option also takes a really long time.
And, differently from all completely free photo recovery utilities mentioned above, here are also some free shareware that can help recover a part of data for free. And, hope they also can be your high chance to rescue photos and files back after accidental delete or format.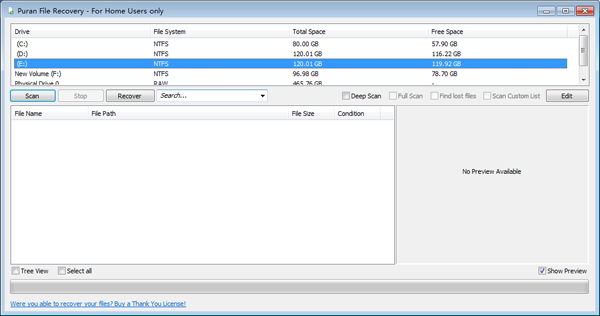 6). 7-Data Recovery Suite Free
Unlike photo recovery freeware above, 7-Data Recovery Suite Free only can help recover 1GB of deleted or lost photos and files for free. However, since it offers specially Digital Media Recovery mode, which helps scan and recover Micro SD, CF, TF or memory card data of your digital camera, and Android Recovery mode, which helps scan and recover android phone or tablet information, this 7-Data Recovery suite is also another worthwhile free photo recovery program for you.
Pros:
It offers an easy and user-friendly data recovery interface.

It offers five data recovery modes to help retrieve pictures, videos and files after delete or format. And, Complete Recovery, Android Recovery and Digital Media Recovery modes could be nice chances to get deleted or lost photos and files back.

Search desired files, including lost pictures, by freely using options listed on the top of this software interface.

All scanned files and images will be gathered into several folders. It is realty convenient.

Its Home, Pro and Enterprise versions also offer more features for different users.
Cons:
With this software, you can only retrieve the first 1GB data for free.

The found photos and files which are only smaller than 80MB could be previewed in advance.

Its Deleted Recovery mode fails sometimes.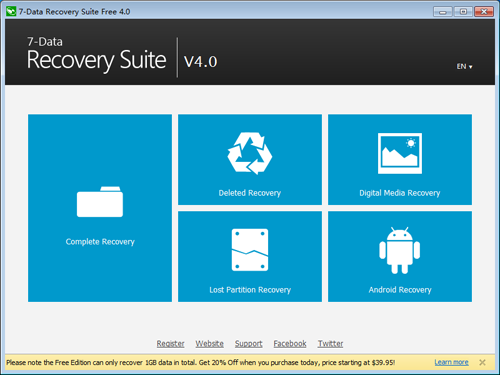 7). Disk Drill for Windows
As another photo recovery shareware, Disk Drill for Windows only helps recover only 100MB of data for free before any upgrading. However, with this software, you can also freely preview the scanned images and documents scanned from external drives, flash drives, memory cards and the like devices freely. It also could be good photo recovery tool choices.
Pros:
It is also another easy-to-use data recovery shareware.

It offers a quick scan, which allows scan a large partition or drive with seconds, and a deep scan, which helps complete a deep scan with minutes, to help rescue pictures and files. So, it is also a fast shareware. 

Use Extra option to back up all device data in case of any overwriting before any data recovery.

Preview the listed photos, documents and files freely there.

Support all Mac and Windows operating systems.
Cons:
It allows recovering 100MB data for free only.

It is for personal user only.

8). Remo Recover for Windows
Honestly, Remo Recover for Windows is neither a completely free photo recovery program, nor a partially free shareware. However, it helps perform a deep scan on a selected hard drive, thumb drive or memory card and also allows people to preview and scan the desired pictures based on the file formats before any purchase. So, it is a nice tool to help you check whether your deleted or lost photos are still recoverable or not. 
Pros:
Except Recover Files and Recover Drive options, it specially offers a Recover Photos option to retrieve photos, videos and audios for users.

Its Recover Photos option also allows people to quickly recover deleted photos or perform an advanced recovery there to recover lost photos.

It also allows people to select the actual file types of your pictures and files especially before it starts to perform a scanning there. So, it will especially help scan and search the files and images with formats that you have chosen in advance.

It also allows people to save recovered data to drive or CD/DVD.

Also set an output folder to hold all rescued photos and information.

It also offers an android version for people to specially retrieve data from android phones or tablets.
Cons:
With the quick scan, this software also takes 20 minutes to completely scan a 120GB partition.

It needs a purchase code to recover scanned photos and data.
Conclusion:
No matter which photo recovery software is proper for your photo loss troubles, always stop using the camera or phone memory cards or hard drives or USB drives to avoid any overwriting and also act carefully and patiently to avoid farther data loss issues. If it is possible, also select a completely different storage device to hold all retrieved information to avoid permanent data loss problems.
---
Related Articles