Sony Photo Recovery - restore deleted photos from Sony
iCare Data Recovery : software for photos rescue
Sony Photo Recovery recovers deleted photos, audios, videos and documents from Sony digital devices such as Sony Cyber-shot cameras, Sony VAIO laptop computer, digital camcorder, voice recorder, memory card, and memory stick. Since most Sony digital devices use flash memory storage media such as SD card, it's easy to perform data recovery on various kinds of devices with the same data recovery algorithm and technology. With Sony Photo Recovery, you can
Recover photos from all kinds of Sony removable media varying from digital camera to digital camcorder.
Recover photos from Sony computer.
Retrieve images in general formats (JPEG, TIFF, PNG, GIF, BMP etc) as well as camera RAW image formats (SR2, ARW, SRF).
Recover lost photos from Sony digital cameras including but not limited to Cyber-shot DSC-TX100, J10, WX10, HX100.
Recover photos from Sony SD card
Able to recover video, audio and documentation files as well.
Recover inaccessible photos from corrupted or crashed Sony hard drives and removable storage devices that shows "the disk is not formatted, format it now?"

Tutorial with Screenshots for you to follow
Step 1 - Select Deep Scan Recovery for all kinds of data loss disasters.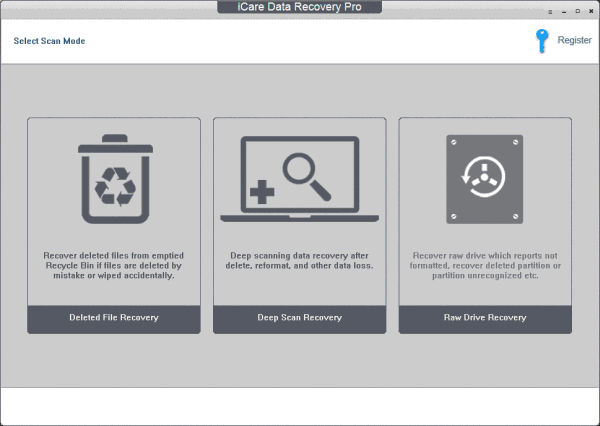 Step 2 - Select Sony device for searching lost pictures.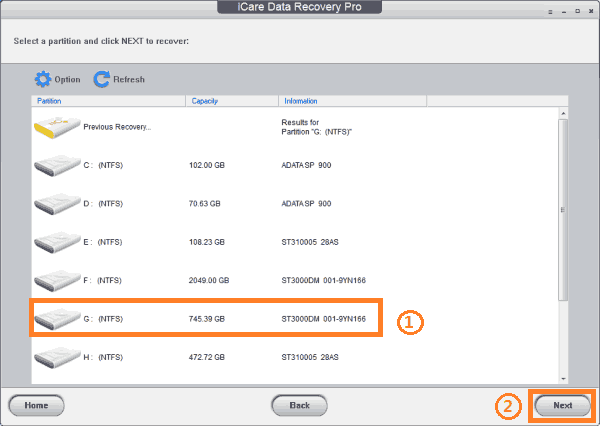 Step 4 - Preview and save all images or other files.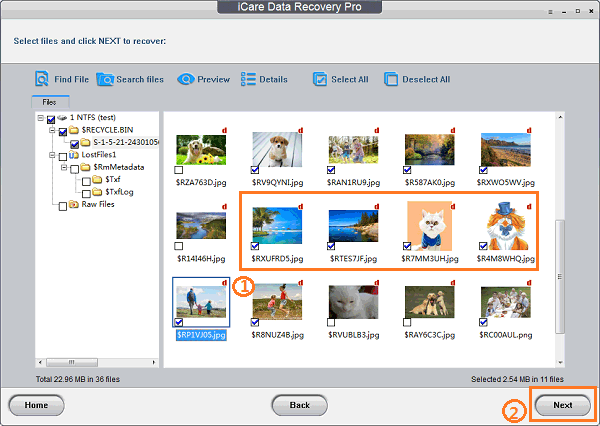 Sony digital Camera photo recovery - The free recovery software can do undelete on your Sony digital camera. It works on all types of Sony memory card file recovery when used on this kind of camera.
Sony cellphone photo restore free - if your photos are stored on sony memory or memory card, you can undelete them with this free program iCare Data Recovery. Usually micro sd card recovery can be done with this free tool.
Sony memory card photo recovery - Sony produces memory card including SD, micro SD and memory stick, etc.
Sony Deleted Photo Recovery
You may delete photos from a Sony digital camera or memory card by mistakenly pressing the wrong button. Wherever you delete any picture from a Sony device, there is no place working as computer's recycle bin to store the deleted data.
Restore Pictures off Sony after Formatting
You mistakenly format Sony memory card? Or you accidentally format a memory card for Sony digital camera or mobile phone? Keep the formatted memory card untouched and then you can undo format for lost photo recovery from Sony.
Sony Device Reports Error
A Sony digital camera or cellphone probably reports error message saying it cannot recognize the memory card inserted in it. If you connect a Sony device, memory card to your computer, you may get error message saying the devices has RAW file system and needs to be formatted.
How to Use Sony Photo Recovery Software?
In order to maximize the number of recoverable files and their possibility of being recovered, you should stop using the media immediately after the data loss. Because deleted files are not physically removed on the spot, it's only the space they occupied is marked as free, to be overwritten by newly created files.
STEP 1. Connect your Sony removable medium to PC. If you are using Sony laptop, you can skip this step.
STEP 2. Download and quickly install software Sony Photo Recovery. Open the program and click "Start".
STEP 3. Highlight the drive that represents your intended partition and continue. The program starts scanning on the partition to look for lost files.
STEP 4. After the scan, lost files are found and listed. Look at the preview and decide. Finally click "Recover" button to recover them. But do not save the recovered files back to the partition you are doing data recovery on.
3 ways to Prevent Data Loss:
#1 Never store your files on the same drive as your operating system. Because a virus or software failure or any one of the common computer problems may damage your operating system making it unbootable. And oftentimes the only solution is to reformat the drive and reinstall the operating system. You files will definitely get lost.
#2 Back up important files regularly. You had better back up precious files. When you are using external flash memory, you can back up the data on computer; and when your files are on computer, you can back up them on SD card.
#3 Do your best to avoid user error. It means if you are about to delete some files or make alterations in your system software at midnight, you had better do some simple calculations like 2+3=? to test if your are alert enough.
---
Related Articles