File Recovery Software for Smartmedia Cards

SmartMedia is a flash memory card standard owned by Toshiba, with capabilities ranging from 2 MB to 128 MB. SmartMedia memory cards are no longer manufactured. Eventually Toshiba switched to smaller, higher-capacity Secure Digital cards, and SmartMedia ceased to have major support after Olympus and Fujifilm both switched to xD. So this article is primarily written for those of you who are still using SmartMedia memory cards and who have lost data on the memory cards.
iCare Data Recovery Edtion, an advanced utility which provides deep scan recovery to scan lost files sector by sector to recover deleted files from smartmedia card.

Here is how data recovery was performed to restore files.
STEP 1 - Launch the program and select Deep Scan Recovery
STEP 2 - Select drive
STEP 3 - Wait while it scans lost files
STEP 4 - You can see your lost photos in the program.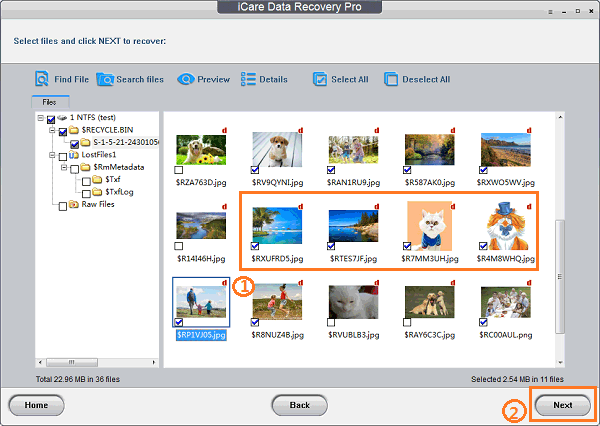 STEP 5 - Save found lost files.

Besides unformat memory card files photos, this program is also able to restore files off RAW drive, memory card like sd card says not formatted error, restore files from recycle bin etc.
Typically, SmartMedia cards were used as storage for portable devices, in a form that could easily be removed for access by a PC. Pictures taken with a digital camera could be stored as image files on a SmartMedia card, if the digital camera uses such card. With a SmartMedia reader, users can connect SmartMedia card to the computer and copy the photos to the computer.
Besides SmartMedia card recovery for free, the software can also recover files like photos off memory card, perform cf card recovery, sd card photo recovery after reformat by mistake. What's more, when your drive has not formatted error, or shows raw drive, it helps you recover files from the raw file system, which you won't be able to access since the file system has been damaged.
There are several situations in which your files can be missing. You may mistakenly deleted your files on the camera or on PC. You may mistakenly formatted the SmartMedia card when you pressed the wrong button on camera. Also, problems may occur during data transfer between the memory card and computer also. Moreover, software corruption and hardware damage put your files at risk.
However, when the files are lost, it doesn't mean the data is removed. They remain intact on the disk until new files occupy the space and overwrite them. This is the structure. The majority of storage media today work in the structure. So feel free to use data recovery software to recover your lost files. No doubt about it.
iCare Data Recovery offers you the flexibility to recover various files – photos, songs, movies, documents, etc – from a variety of data loss situations described above. As long as the storage device is recognized in the computer – it has to be recognized, whether it's accessible or not doesn't matter – iCare Data Recovery can restore or retrieve the files in it. If you don't know if your lost files can be restored, or have some doubt about data recovery, please try it and you'll know the truth.
Some ways to prevent data loss:
1. Never store your documents on the same drive as your operating system. This is because some virus infection may force you to re-install the OS in the end, which involves disk format.
2. Back up your important files to safe place, such as net album.
3. Beware of user errors. Be careful before you delete a file.
---
Related Articles