Solution for hard drive quick formatted data recovery

Question: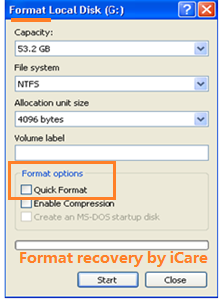 I have a  640GB External Desktop Hard Drive which is too heavy about 1.5 kg. I decided to sell it but before selling it, I transferred all the data on it to my laptop and then I deleted them from the External Hard Drive. During back up it asked me "there are other files under this name, would you like to replace it," Yes, Yes to all, no, not to all which I clicked on No. After back up I checked the transferred data I saw that the older is full. Then I did quick formatting. I was wondering if I can unformat external hard drive to get back lost files.
Sadly after one week that I wanted to use a PDF file, I noticed that most of my files are replaced and instead of 100GB data I had 10GB and this spoiled my New Year.
Desperately I quick formatted  data and I can't open any of them.

Solution: Try iCare Data Recovery to restore files from quick formatted drive with its special recovery module "Deep Scan Recovery". It is offered as free trial and it can search your lost files for free.
Please download a free trial of iCare Data Recovery. Connect your external drive to a Windows system and then select "Format Recovery" to search lost files.
Similar problem that can be fixed by iCare Data Recovery
quick formatted laptop hard disk drive including HP, Dell, etc.
full formatted hard disk drive
complete formatted drive
accidentally formatted external devices like usb flash drive, pen drive, memory card, sd card, xd card etc.
quick format memory card that micro SD card shows in RAW format
Tips: Never write new files to the data lost disk drive before the recovery.

Additional information:
This is an email we received from a UK PHD student asking the recovery of his photos of his past father and his PHD papers. In his email, he wrote "Today I found your website and I downloaded your iCare Format Recovery Software and I did a free trial and it unformatted my formatted External Hard Drive on a 23KB Word document and it opened it. God bless you, God saves you".
Why iCare Software is able to do the unformat trick to his formatted exteranl hard drive while some other program might fail? Freeware are good, however most frequently they lack recovery indepth techs to find some complicated data loss other than simple file deletion from the recycle bin or SHIFT PLUS DEL. Different software developers uses different ways to track data and make the chance of recovery the most to users. When you run into such case, we also recommend you try different program to see which one restores the most of your files.
Screenshots of iCare Data Recovery to perform data recovery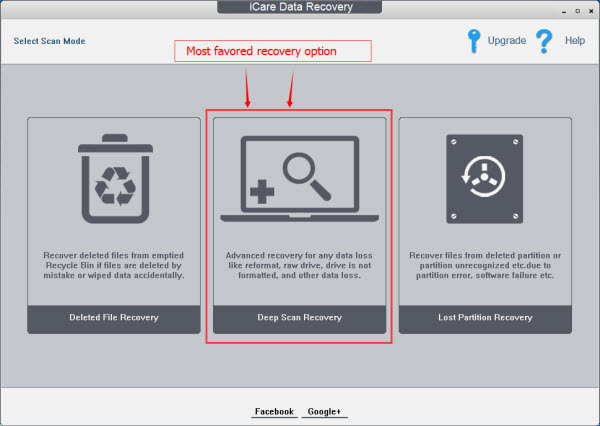 In addition to quick format recovery, for any unstated data loss rescue, we recommend you to use "Deep Scan Recovery" to search lost files.
---
Related FAQ
Related articles