Solution to restore photos off formatted flash drive

Question: Is there any secure tool that can restore my precious photos off formatted external usb flash drive? The data loss happened when my computer got weird performance and my external flash drive was recognized as not formatted drive. Then I accidentally formatted the external flash and then realized the photos got erased. I unplugged the flash drive from my computer safely and now I am searching some tool or pro that can help. I don't want to turn the stuff to the recovery service center since they required more than 600 US dollars for a recovery. Can I use some recovery tool to do a DIY photo restore?

Solution: Try iCare Data Recovery to restore files from reformatted usb flash drive with its special recovery module "Deep Scan Recovery". It is offered as free trial and it can search your lost files for free.
iCare Data Recovery also allows to recover files from formatted USB pendrive, external hard disk, memory card, etc.
Please download a free trial of iCare Data Recovery and run the trial. Connect your external drive to a Windows system and then search lost files.

Related Resource with photo recover off formatted flash drive
"My large external hard drive stored all my backup files with true image, however things got weird with my PC and the entire backup plan did not work very well and so did it to my external flash drive. It is a 32GB USB flash drive that I moved all my photos from my canon digital camera to the flash drive for a storage. It is my habit to get precious data a backup. When my PC got wired performance after using some registry defragger, it became worse and worse. When I connect the usb flash drive to my PC for a new batch of photo storage, the bad PC did not recognize it and reported not formatted. I accidentally clicked "Yes" to format the flash drive and then all previous photos got erased. I wish to make a photo recovery from the formatted flash drive. I want to if there is any way to recover deleted files from USB drive without software."
Photo recovery off formatted usb flash drive is possible?
The best chance of a photo recover off formatted drive is to keep the drive untouched after the reformat. All experts would tell you any new file accepted to the reformatted drive would make old files permanently erased, no chance for a complete data recovery. The vital tip is not to use the flash drive again before you find some recovery tool to get photos off the flash.
Screenshots of iCare Data Recovery to perform data recovery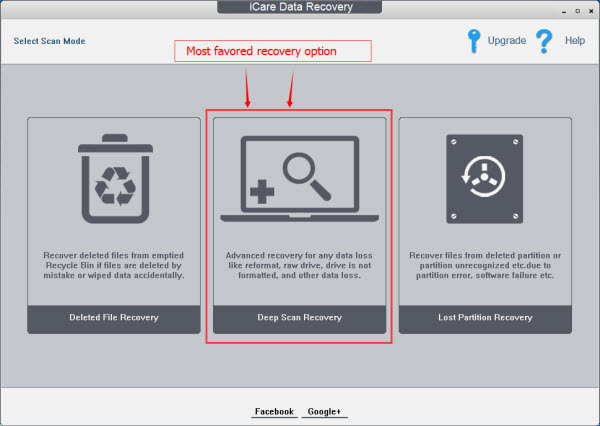 For any unstated data loss rescue, we recommend you to use "Deep Scan Recovery" to search lost files.
Memory card is a common storage media for photo storage, so you may lose precious photos off a memory card due to formatting or when memory card requires formatting. How to format a memory card which cannot be formatted when reports not formatted error? Is it possible to recover photos from a formatted memory card when you get unformatted error on micro SD card? The answer is yes by using iCare Data Recovery software.
---
Related FAQ
Related articles
Hot Tag: usb recovery | usb resource | formatted usb recovery