Solution - Can Olympus Orf File Be Undelete/Unformat?

Question: If Olympic orf files were deleted by accident or lost due to mistakenly reformat or lost by other reasons, can the file be restored?
Resolution: If you lost .orf file, iCare Data Recovery is able to help and restore files off Olympic digital camera or your hard disk drives.

Solution: Try iCare Data Recovery to restore orf files with "Deep Scan Recovery". It is offered as free trial and it can search your lost files for free.
Please download a free trial of iCare Data Recovery and run the trial.

Related Resource Olympus Digital Camera ORF Files Restoration
Usually there is memory card we use like SanDisk SD card in the digital camera to store photos. When the files created by Digital Camera like Olympus, it produces .orf file. Why .orf files can be restored even reformatted digital camera or deleted from memory card? Here some frequent cases that many users might run into:
The drive is not formatted, do you want to format it now? - When your Olympus digital camera inserted into your computer, it reported not formatted and needs to reformat. If you right click the camera card on your computer, it can show RAW Drive.
.orf files has been deleted by mistake -- This often happens when you use your digital camera and pressed wrong button and then files get lost. It seems the files has disappeared, however you can restore the files with recovery tool like iCare Data Recovery, which is easy to use and efficient to restore lost files.
RAW .orf Olympus files, can it be restored?
If your digital camera connected to PC and reports the disk not formatted error, it appears like the following: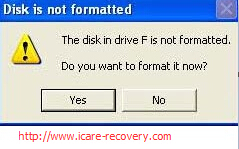 Here are some users cases with the same Olympus data restore issue:
I am running icare on a hard drive that was mistakenly formatted, is it possible to unformat drive? Will icare recover my olympus raw .orf files? How do I recover those?
How can I restore deleted files from Olympus? I took thousands of travel photos with my Olympus digital camera and when I show the photos to my relatives after the travel, I pressed a wrong key and then lost everything. Can I still get my photos back? If yes, I would like to pay.
How to restore files from Olympus Digital Camera- 5 steps
Download iCare Data Recovery
Install it on a healthy partition or a healthy PC and connect digital camera or memory card as an external device
Run iCare Data Recovery, select "Deep Scan Recovery" and then start free file searching
See a list of partition? Select the auto selected one and then click "Recover"
Register and then save found files
Screenshots of iCare Data Recovery to perform data recovery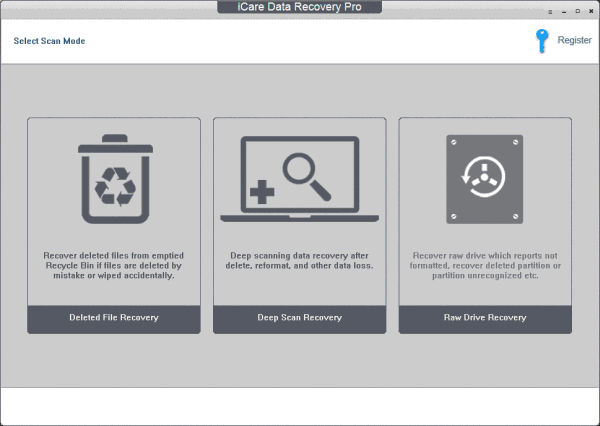 Download Free | Read More about iCare Data Recovery
---
Related FAQ
Related articles