Solution - Portable hard drive has not formatted error or asking to format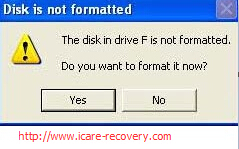 Question: My Seagate 2TB portable hard disk drive has not formatted error and now it is asking me to format it. There are important office works stored on the removable external hard disk that I took my office work back home to finish. The next day I connect the Seagate portable disk to the working PC, it has not formatted error and now asking to format.
How can I access files from the portable external hard drive? Can I restore data off the not formatted external hard drive?

Solution: Try iCare Data Recovery to restore files from not formatted portable hard drive with its special recovery module "Deep Scan Recovery". It helps raw file system recovery.

Video - Fix media not formatted error
Also read: portable hd not formatted fix
Related Resources Portable External Hard Drive Not Formatted
The drive is not formatted, do you want to format it now? - As an often encountered disk storage error, the not formatted issue can really become headache if you do not know how to handle it. Don't worry, we will explain you are not alone with this trouble and a solution will be offered.
The sign or error when hard disk or portable drive has not formatted error and your computer would pop up the following error: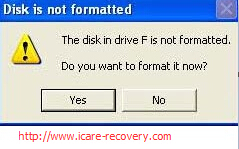 Video - how to fix raw drive that needs to be formatted
Cases that troubles users when their removable hdd has errors:
My portable hard drive is asking me to format it. I really need all of the info on it. What can I do? Can I unformat external hard drive if I reformat it?
Ext HD - my flash drive was ejected by Windows. I unplugged the flash drive a couple of times and then connect it to Windows, then Windows wanted to reformat my flash drive and I lost my data. How can I fix the flash drive not formatted error and restore my data?
Portable hard drive has "not formatted error", Please help me with my 2 years old 320GB western digital external hard drive. It has trouble with the drive F which has not formatted error. Windows reported it "The disk in drive F is not formatted, do you want to format it now?". I reformatted the drive F but still cannot see my files. How to recover data after format to fix the problem?
The truth about Portable Drive not formatted, do you want to format it now?
When seeing the error message with your disk like portable hard drive or other storage media like usb flash drive, memory card, sandisk card, pen stick, xd card etc, the data on the storage device still exists but you won't be able to access them if without some special recovery tool like iCare Data Recovery. A wrong response to the not formatted error can damage your data or erase your data like reformat the drive and store new message or files.
Keep it noted that REFORMATING ONLY WON'T DELETE FILES. Why? Reformatting the drive does not touch the data area, so you data will be safe until you let some new data in.
Portable hard disk asks to format
The truth when a portable hard disk or external hard disk wants to get reformatted is its damaged partition table or partition structure. This can occur for many different reasons including a computer virus, power surge, software installation or software that partitions the hard drive and get your hard disk partitions down. The error not formatted to your portable external hard disk indicates a corrupted partition deleted partition or damaged partition and the partition table is changed and has errors.
Similar error message when your portable hard drive has format error are as follows:
Removable hard drive not working
portable hard drive not recognized in Windows XP
Windows 7 wants to format external hard drive
Removable External Hard drive RAW Drive RAW FILESYSTEM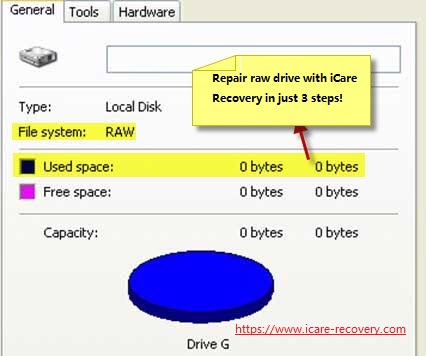 When hard disk drive has not formatted error, you may check its property by right clicking and you will see there is 0 bytes. Where did all your previous data go? How to restore them? To make it quick, simply download free trial of iCare Data Recovery and start searching lost files for free.
The not formatted error can also occur on micro SD card and prevent you from accessing any data. If you receive not formatted error on micro SD card and cannot read files on the card, you can use the iCare Data Recovery software to perform micro SD card file recovery.
How to Fix portable hard drive not formatted error - 2 steps
First step - Recover Data from external hard drive that needs to be formatted
Step 1:Download iCare Data Recovery
Step 2: Install it on a healthy partition or a healthy PC and connect your portable hard disk as an external drive
Step 3: Run iCare Data Recovery, select "Format Recovery" and then start free file searching
Step 4: See a list of partition? Select the auto selected one and then click "Recover"
Step 5: Save found files from your portable disk
Screenshots of iCare Data Recovery to perform data recovery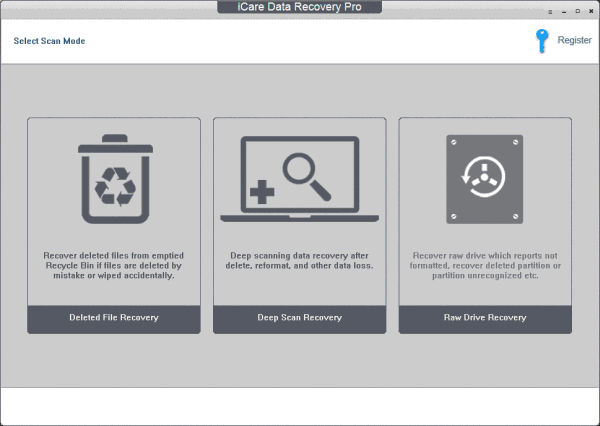 Second step - fix not formatted error on portable HDD
Usually, you are able to recover all data with the software recommended above. Then, you can format the external hard drive for error fix.
==>> If external hard drive cannot be formatted by Windows, please go to this page to get some useful solutions - Windows was not able to format error fix>>
---
Related articles