Solution for HDD got reformatted during a new XP installation

Question: My HDD was bought 2 years ago, 2TB Seagate Disk and now has reformat problem. The HDD was formatted during a new installation of XP, nothing was written to it, but it was formatted. I did not touch the drive since the wrong reformatting. I knew new files written to the drive could make my data lost. What kind of chances am I looking at in terms of salvaging some of the information? Is this something that your software is capable of handling? I'm currently searching for the best possible options as to recover information on a recently formatted external harddrive.

Solution: Try iCare Data Recovery to restore files from formatted drive with its special recovery module "Deep Scan Recovery". It is offered as free trial and it can search your lost files for free.
Please download a free trial of iCare Data Recovery and run the trial. Connect your external drive to a Windows system and then select "Format Recovery" to unformat hard disk drive and restore files.

Related Resource with HDD Reformat Data Retrival
How to recover data from formatted hard disk free software? Data Retrieval from formatted hdd or external hard disk drives is possible. The best recovery chance comes with no new data written to the reformatted disk drive.
There is a list of new file written to hard disk drive after format: You save new files to your hard disk that was reformatted. Your computer suffered unexpected shutting down and Windows restarts by writing new files to any drive it could recognize. You save the found files by some recovery tool to the same reformatted disk.
Windows XP or Windows Vista or Windows 7 platform reinstallation or new installation often requires users to format disk and prepare for new system installation. It often happens that users would perform a wrong hdd drive reformat ie format the wrong hard disk drive or external disk drive. Most of the system installation reformat disk files could be restored.
Screenshots of iCare Data Recovery to perform data recovery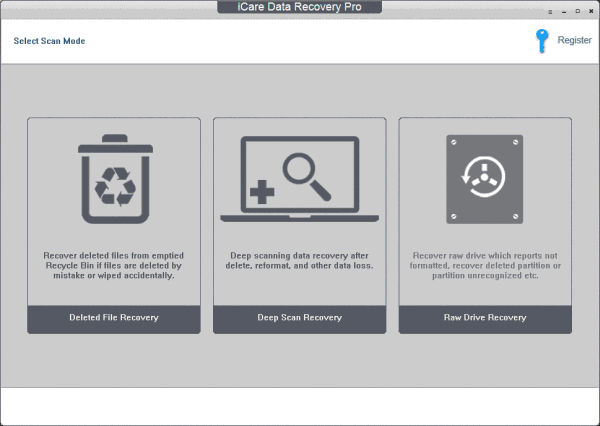 For any unstated data loss rescue, we recommend you to use "Deep Scan Recovery" to recover formatted hard drive with freeware.
---
Related FAQ
Related articles