Solution for hard disk became RAW by Recovering files in RAW disk

Question: Is there any tool that could fix my Western Digital hard disk drive that had changed from NTFS to RAW? I connected my external USB to the IDE port and started downloading some files, however the hard disk stopped responding and I had performed a hard restart, and then my hdd showed RAW and reported disk is not formatted, do you want to format it now. However when I clicked to format it, system said it cannot be formatted.
Is there way to restore files from the RAW hdd?

Solution: Try iCare Data Recovery to restore files in the RAW HDD and then try TESTDISK to restore partition table.
Please download iCare Data Recovery and run the trial for HDD raw drive recovery. Connect your hdd as external device to a Windows system and then select "Deep Scan Recovery" to search lost files.
Similar problem that comes to users
NTFS hard disk now recognized as RAW
CHKDSK asks for a format
Convert RAW to NTFS in Windows XP
Partition turns RAW
Trojan or virus might turn my HD NTFS to RAW
Notice: All above symptom are caused since damages brought by virus or unknown reason that took partition table damaged even with external or USB or portable devices like pen drive, flash memory etc. The best method is to use iCare Data Recovery to restore files at first, then use TestDisk you may google the web to fix the partition table errors.
Why should you use iCare Data Recovery before TestDisk?
iCare Data Recovery is dedicated in data recovery. Whenever your hard disk encounters raw, you won't be able to access your files but recovery tools like iCare Data Recovery is able to get you there. If you care about your data, you should use iCare to restore your files at first, and then use TestDisk to restore partition table since TestDisk does not provide data safety but just restore your partition table. There might be great chance that your data would be corrupted if you just use Testdisk to fix the partition table error. So we recommend you restore files at first.

Screenshots of iCare Data Recovery to perform data recovery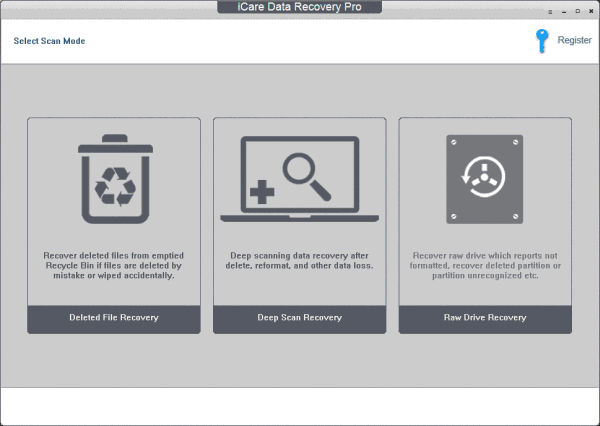 For any unstated data loss rescue, we recommend you to use "Deep Scan Recovery" to search lost files.
The RAW drive error can happen on a memory card too. When a memory card turns to RAW file system, you may receive message like memory card needs to be reformatted. In this situation, data is recoverable from unformatted RAW memory card as long as you have not written any new data to the card.
Fix Hard Drive RAW Error - Convert RAW to NTFS / FAT32
Hard drive for a Windows computer should be formatted to NTFS or FAT32 file system because all Windows OS only support NTFS and FAT32 file system. Generally speaking, you can format a RAW disk to NTFS or FAT32 in My Computer or Disk Management. You can run diskpart to format a RAW hard drive to convert its file system to FAT32 or NTFS.
CHKDSK Is Not a Recognized Command for RAW Drive
You can run CHKDSK in My Computer or from Command Prompt to scan and fix errors or bad sectors on any hard drive such as Seagate, WD, Samsung, Kingston, etc. CHKDSK not recognized for RAW drives is a problem that disables you to repair any error on RAW hard disk drive.
Hard Drive RAW Problem on Windows XP / Vista / 7 / 8 /10
When a hard drive changes to RAW on Windows XP, PC would report error message disk in drive is not formatted do you want to format it now if you double clicking the RAW drive. If a hard drive turns to RAW file system on Windows Vista, 7, 8, 10, PC usually says you need to format disk in drive before you can use it when you click the RAW drive.
Hard Disk RAW Seagate WD Samsung Kingston
When saying hard disk drive, Seagate, Western Digital, Samsung, Kingston, Toshiba, etc are world famous. Seagate hard drive is the world's first largest hard drive manufacturer.
When any brand of hard drive turns to RAW, first of all please recover data and then you may format the disk.
==>> For more methods to repair the problem without formatting, please visit this article - RAW drive fix>>
---
Related FAQ
Related articles