Formatted flash drive usb 32gb - Restore formatted files

Question: I have a 32gb usb flash drive which have already formatted and can you tell me how to restore files from the reformatted 32gb usb flash drive? The usb flash drive was wrong reformatted during system reloading and was performed accidentally. I have many favorite files in the flash drive and want to restore them. How can I undo format USB flash drive?
Formatted flash drive by mistake

Solution: Try iCare Data Recovery to restore files from reformatted usb flash drive with its special recovery module "Deep Scan Recovery". It is offered as free trial and it can search your lost files for free.
You can download iCare Data Recovery to retrieve files not only from USB flash drive, but also you can restore files from formatted pen drive, external HDD, hard disk drive, memory card and so on.
Video - Formatted usb drive recovery

Also read: how to recover formatted usb
Why recovering files from formatted usb flash drive is possible?
In recovery field, data seems gone after you formatted its storage device. However there are still chances that data can be restored. Why? Formatting does not erase all the data on your storage like usb flash drive or memory card or your hard disk drive. It only let your data index on the drive or card erased. What is data index? It is something that keeps records of data storage places. Usually we won't be able to see them but they are called file allocation table. Data storage blocks won't be destroyed until you have new files in, that's why it is able to recover deleted files from USB drive after formatting..
Tips after formatted usb flash drive
Do not let new files to the formatted flash drive, which would damage the lost data and make data recovery from formatted flash usb impossible or recovered but corrupted
Do not have the external device - usb flash drive connected when restarting system, which might write new data to the flash memory
Download software iCare Data Recovery to a healthy PC and then install it on the drive of your PC. Then connect your flash drive usb to the PC, and then run Format Recovery to restore formatted files.
By using the data recovery software, you can also recover files after formatting micro SD card by mistake or micro SD card is not formatted error.
iCare Data Recovery to perform formatted pen drive data recovery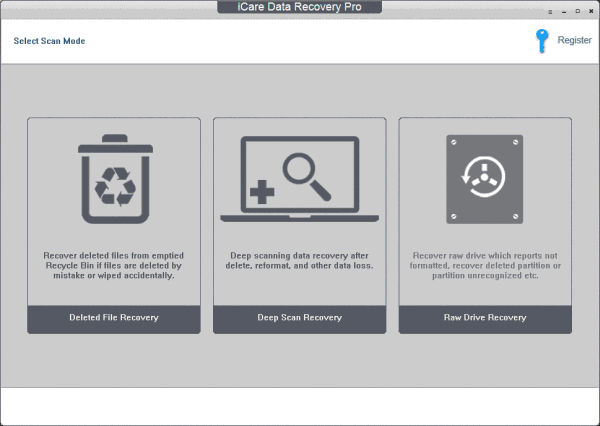 For any unstated data loss rescue, we recommend you to use "Deep Scan Recovery" to search lost files.
Related Resource with usb flash drive reformatted accidentally
"I quick format usb 32GB flash drive which have already formatted. In the formatted folders there is one folder called my favorite. In this folder I have a copy of all the sites address which I had in my favorite list. I have tried a few different softwares for recovering this kind of storage devices but none of them recovered any folder named my favorites and/or including any of my favorite internet addresses. My question for you in regard to Icare software is, Does this software recover this kind of files or folders which include files in our favorite folder and if it does what kind of file it would be or in the other hand, what kind of file or folder I have to be looking for in the recovered files and how I can be sure if they are my favorites list. I appreciate if you advise me since I dont want to buy or download any software which won't have any use for it."
A user wants to restore his saved favorite files from accidentally reformatted usb flash drive. This could be done by iCare Data Recovery. In regarding to the saved favorite files, it will be found as .html file by our program. However in many cases, software does not restore its original files and folders since mostly the $MFT has been destroyed and recovery software would try to read every possible data on the sectors where data information stored to collect as many information as it could and then organize them into different new folders, possibly with the type of files into the same folders. Like media file into a same folder, jpeg files into a same folder and html files into a same folder.
---
Related FAQ
Related articles