Solution for mistakenly format external hdd

Question: I did a mistake that I managed to select the wrong hard disk drive (my seagate 500GB old disk) when formatting a new Maxtor hard disk drive. The formatting was quick formatting and I hit the cancel button a few seconds later after I realized a wrong drive was selected to do the formatting, however it was too late and the drive now has become empty since the quick formatting was done very fast. How do I restore my files from mistakenly formatted seagate drive?

Solution: Try iCare Data Recovery to restore files from quick formatted drive with its special recovery module "Deep Scan Recovery". It is offered as free trial and it can search your lost files for free.
Please download a free trial of iCare Data Recovery and run the trial. Connect your external drive to a Windows system and then select "Format Recovery" to search lost files.
Tips: Never write new files to the data lost disk drive before the recovery.

Additional information:
Some same users got the same problem with their external hdd or USB drive
"Hi data recovery experts, I am in the trouble of mistakenly formatted my external hard drive that was FAT32 before the formatting. It is 60GB external hdd that I bought many years ago and most files in the hdd are my family photos and backup files. I tried to format a new memory card, however the external hdd was also connected to my XP pro, then I mistakenly selected the external hdd to format. I did not touch the formatted external hdd after the formatting was done since I knew any new file would make the files lost forever. How can I unformat external hard drive and get back lost data?"
"Formatted the wrong hard disk drive when reinstalling XP. Here is my story. I installed XP on my system since I inheritated it from my uncle and after installing some software from my external hard drive which I stored frequent used applications and other important files, then i realized something went wrong with the xp install. What could i do? I decided to reinstall the OS. However troubles wouldn't occur if i managed to unplug my external hard drive, which appeared with my internal hdd when i was reinstalling the XP, and I did not pay attention to this, so I selected the wrong disk to format and install the OS. OOps, my files gone after reformat."
Chance of recovery after mistakenly formatted external drive
Quick reformat, complete format, full format files can be restoredif neither Windows nor users wrote new file to that reformatted drive. Formatting often occurs when you did it by mistake on your storage devices and most frequently. You can rely on the iCare Data Recovery to recover files from Western Digital, Seagate, Samsung and more other devices.
Screenshots of iCare Data Recovery to perform data recovery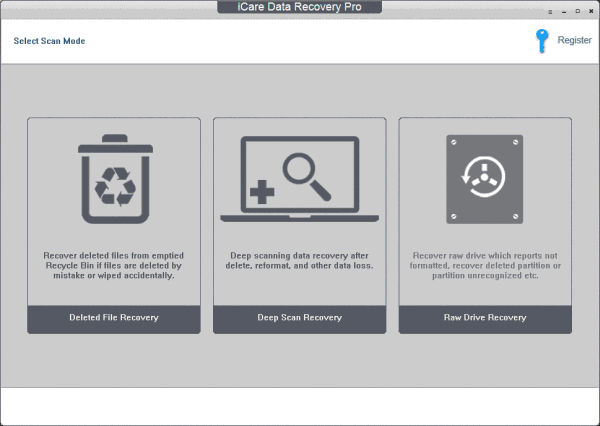 Download Free | Read More about iCare Data Recovery
Tips:
Which recovery module shall I select?
"Lost Partition Recovery": Recovering files when partition lost or deleted with following symptoms:
deleted partition by mistake
bad partition table
partition lost without a reason
partition or drive not detected by PC
"Advanced File Recovery": Recovering files with the following symptoms.
SHIFT+DELETE command keys
partition inaccessible but is visible in PC under "Disk Management".
emptied recycle bin
symptom - drive is not formatted, do you want to format it now
"Deep Scan Recovery": the most powerful recovery module that searches every byte
system crashes
bad MBR, bad partition table, bad boot sector
bad file allocation table
software failure like merge partitions failure, resize partition failure, ghost failure
RAID array damaged
symptom - drive is not formatted, do you want to format it now
RAW file system, raw drive, raw micro sd card recovery
"Format Recovery": Recovering files related with format problems
formatted partition, card etc by mistake
CHKDSK is not available for RAW drive
Pressed restore button of iPod, iPhone, iTouch, blackberry
For any unstated data loss rescue, we recommend you to use "Deep Scan Recovery" to search lost files.
Formatting memory card by mistake when memory card says not formatting message? In this situation, you can also use iCare Data Recovery software to retrieve lost files.
---
Related FAQ