Recovering files from RAW exteranl hdd usb drive when file system damaged

Question: I am seeking assistance in an issue I am having with my Seagate FreeAgent Desk external usb 1.5 TB hard drive that reports file system damaged and now is shown RAW on its file system type. I am running it under Microsoft Vista. I have been seeking a troubleshooting flowchart but unable to pinpoint the extent of damage to my hard drive.
I read some forums and believe the "file system is damaged" (Not quite sure exactly what that means as I am not a HD guru). The hard drive is warm to the touch so I believe the disc is wanting to read. Is it possible to restore the file system with your product? Please advise me what needs to be restored if I want to recover as much data as possible and if your product can help me.

Solution: Try iCare Data Recovery to restore files from external RAW drive with its special recovery module "Deep Scan Recovery". It is offered as free trial and it can search your lost files for free.
Video - how to fix raw drive that has damaged filesystem
Also read: external usb drive raw file system fix
Please download free iCare Data Recovery. Connect your external drive to a Windows system and then start recovering files from raw external hdd.
Screenshots of iCare Data Recovery to perform data recovery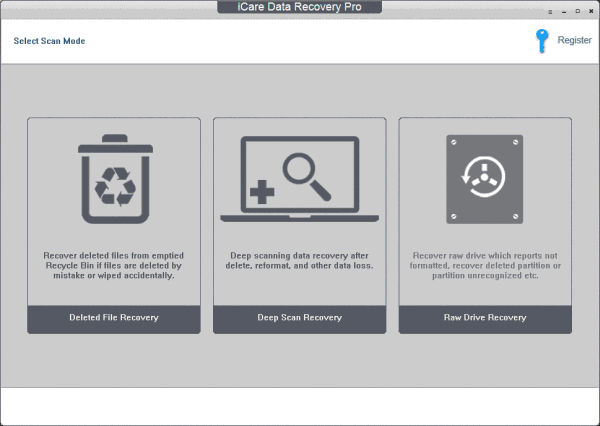 Related Resource with external usb drive file system RAW or damaged
"When I boot the computer with the drive connected, it does not see the drive. If I unplug the power of the drive and replug it. After, in explorer, it assigns a letter and sees the drive as a local drive but the Total Space and Free Space data in explorer has no data.
I used a Seagate Tool to inspect the drive and it shows no data for firmware. I tried a Hard Drive sector recovery tool and this shows MBR is damaged and detects many bad sectors. How to recover deleted files from external hard drive Windows 8 when it has damaged?"
RAW file system or file system reports damaged always has the following related errors and you can use iCare Data Recovery to get files restored.
For any unstated data loss rescue, we recommend you to use "Deep Scan Recovery" to search lost files so that you can successfully recover data from external USB drive.
You may meet the similar problem on your memory card. When memory card has unformatted error, you may think that the file system of the card is corrupted or damaged. In this situation, you should stop using the card and run iCare Data Recovery software to restore files off the card.
---
Related FAQ
Related articles