Accidentally formatted external drive Files Recovery
Last updated on 10/04/2018
Question: I accidentally formatted external drive, what shall I do to bring files back from reformatted external drive?
Solution: iCare Data Recovery to recover lost files from formatted external drive
iCare Data Recovery is a unformat tool to restore files from formatted external drive. It ensures the file and photo recovery by providing "Preview" before registration!

---
Formatted External HDD Recovery Windows 10 8 7
iCare Data Recovery is a right solution for recovering files from formatted external drive no matter you performed accidentally format, quick format, regular format. This software also enables you to retrieve files after formatting pen drive, memory card, USB flash drive, etc.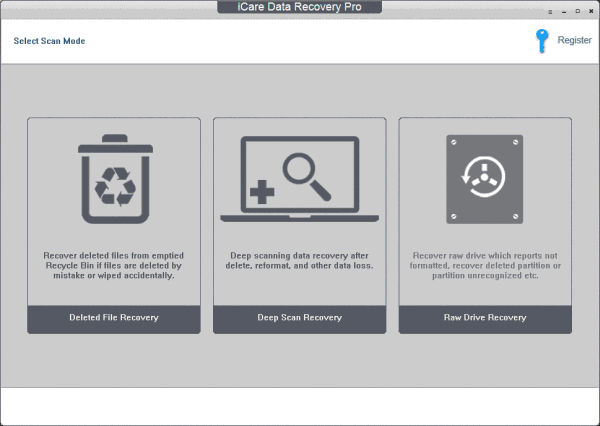 This software is compatible with Windows XP, Vista , 7/8/10, namely all Windows home users to restore accidentally formatted external drive.
Mistakenly Formatted External Hard Drive How to Restore
A user wrote to us and this is his case. We do not leak privacy, so we only list the case here and erases the name and other privacy. Hope you can learn from the story and help you out of data loss.
"Hi iCare guys, I have a seagate external hard drive that has been accidently formatted. I have a lot of important working documents and family photos and traveling photos there. They are files that I can never afford to lose. But the problem is I cannot do anything with it now. I have tried many free data recovery software with no exciting results. I really need the files back from the formatted external drive. Please help me. I visited your website and noticed that your iCare Data Recovery said it could retrieve file from accidentally formatted external drive. I do not know how to perform the unformat with your program. Can you show me some guide? BTW, how may I make sure your program can really recover my photos?"
"In addition, the external hard drive reads RAW (it is in RAW file system after I check the property of the external drive on my computer). I also tried CHKDSK command, but to my disappointment, CHKDSK reports not available for RAW drives. It has only one option telling me to format my hard drive. I had nothing to do at that moment but to format my external drive. I thought everything would be okay. However I was really stupid that I even do not know formatting would erase my files. I did the quick format. Some tech friends told me that I could get formatted drive back with files. So I am looking for unformat software and then I come to your website. Please help!"
iCare Data Recovery ensures your recovery by providing file "Preview", which let you preview your lost files like office files, photo images before registration.
We should say good luck to those who have accidentally formatted drives. Why? If you performed formatting of an existing drive (no matter quick format or not), the data is still there. The only thing that has been done after formatting your drive is Windows marked the external drive which you formatted as "unallocated or blank" space, which means new data is welcome to be placed there. You can still get files back with analysis tools like iCare Data Recovery to recover deleted files from external drive after formatting.
Even a full format does not write your files to be zero. We have other PC users who repartitioned the external disk and formatted a drive in Windows with a regular format provided by Windows disk management and recover all the data back with iCare Data Recovery. Hope it would bring luck to you too.
Download Free | Read More about iCare Data Recovery
---
Hot Articles
Related Articles
Hot Tags