External Hard Disk HDD RAW File System - Recovering files from raw external
Are you troubled with RAW file system on your external hard disk? Many external hard disk users are complaining about RAW error on their disk, which disables them to access files. For instance:
I transferred all important files from hard disk partitions to my 2TB Seagate external hard disk, and then I reinstalled the operating system and formatted the hard disk partitions. However, after reinstalling, PC recognizes my Seagate external hard disk as a RAW device. When I right click the device, Windows says that I need to format the disk drive before I can use it.
Recover Files from RAW External Hard Disk
When encountering the similar issue about RAW error on external hard disk hdd, you can perform data recovery by using iCare Data Recovery. It is a professional data recovery tool for all kinds of storage device including hard disk, external hard disk, flash drive, memory card and more. As specialized and useful data recovery software, iCare Data Recovery is able to recover various kinds of data from all brands of external hard disks such as Seagate, Western Digital, Samsung, Maxtor, Hitachi, etc when it shows RAW error in file system. This data recovery software is time-saving because it is able to scan the whole device efficiently to help you find the lost files.

How to Recover Data on RAW External Hard Disk Step by Step
Step1. Plug in the external hard disk. Free download and install iCare Data Recovery on your computer. Run the software and choose proper recovery option to start data recovery.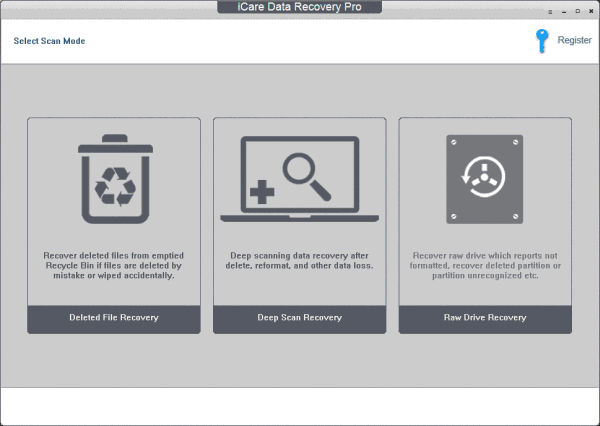 Step2. Choose the external hard disk and the software will perform a scan for lost files. You just need to wait in the scanning process.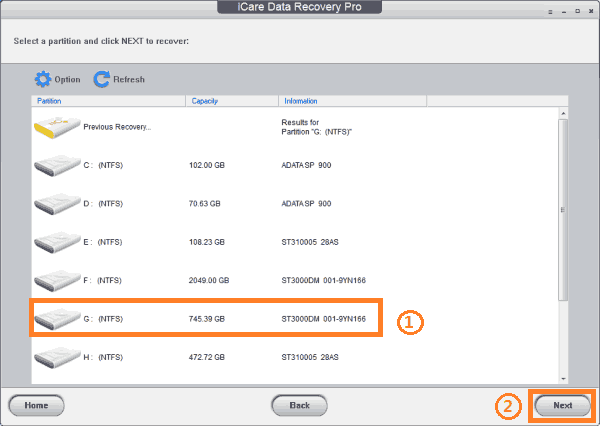 Step3. Preview the files after scanning and then choose the files lost from the external hard disk to recover them.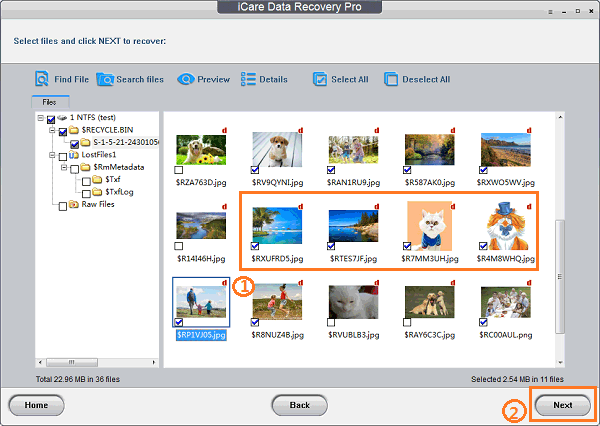 Related Cases and Solutions when Hard disk became RAW
Related Cases
1. Western Digital external hard disk has RAW file system
My computer shut down automatically when I was viewing some photos on my Western Digital external hard disk. Then, I rebooted the computer and wanted to transfer those photos to my Facebook. However, my computer cannot recognize the external hard disk at first. So I plug out the external hard disk and reconnect it to my computer. This time, my computer can recognize it as a removable device, but the external hard disk has changed its file system to RAW. Can I convert raw to ntfs without formatting?
2. RAW drive error on Samsung external hard disk
I have a 500GB Samsung external hard disk with more than 200GB data inside. Today, I discovered that I was unable to access the Samsung external hard drive. I don't know what happened but I received a pop-up message saying disk drive is not formatted. Checking the properties, the file system is changed to RAW and the disk space is 0byte. I need help to change the RAW file system to NTFS without losing data.
3. Hitachi external hard disk has RAW format in file system
I bought a Hitachi Touro Mobile MX3 1TB Mobile External Hard External several years ago to backup some important data. It has been working fine all the time until yesterday I received an error message. My computer running Windows 8 system says the external hard disk is in RAW format and asks me to format it. I cannot format it because I cannot afford to lose any data from the disk drive.

Solution
When an external hard drive has RAW error in file system, anything you do to try to change the file system back to NTFS or FAT32 might make matters much worse. Only a data recovery tool like iCare Data Recovery is a good solution to recover data from the RAW external hard disk. It is strongly recommended to reformat the external hard disk drive for RAW drive fix when data has been recovered. The software can also help recover data from RAW micro SD card and other storage media.
CHKDSK Is Not Available for RAW External Hard Disk
CHKDSK is error-checking tool for disks on your computer. When an external hard disk turns to RAW file system, you can run CHKDSK for RAW drive repairing.
==>> If CHKDSK reports error message, please refer to this page: CHKDSK error message - The type of the filesystem is RAW

Recover data now!
---
Resource
iCare Data Recovery Pro : This software helps recover files when any portable hdd turns to raw filesystem.
Related Articles
Hot Articles