External Portable Disk RAW - Do you want to format it now
If you find that you are refused to access a device due to RAW file system, you may feel it like a nightmare. RAW file system normally exists in a storage device like hard disk, external hard disk, USB flash disk and more when improper operation occurs on the device or when it suffers unexpected disaster like virus infection. When an external hard disk has RAW file system, the most common message you will receive might be "Disk drive is not formatted do you want to format it now". In this situation, you should stop doing anything to fix the RAW file system error. Instead, you should make every effort to get back inaccessible files on the RAW disk.
What Can You Do to Fix RAW Error on an External Hard Disk without Data Loss
1. Recover data from RAW external hard disk- you may lose the best chance to recover data after format RAW external HDD to NTFS or FAT32
2. Format the external hard disk to change RAW file system to NTFS or FAT32.
RAW Recovery Software for External Hard Disk Recovery
iCare Data Recovery is a professional data recovery tool which can help you accomplish the first step to get back all lost files from the RAW external hard disk. This data recovery software is able to deep scan the RAW external hard disk and search for every lost file. Working as specialized data recovery software, iCare Data Recovery is capable of retrieving files from Seagate external, WD external, Maxtor external and all other types of external hard disk. In addition, iCare Data Recovery also supports to recover data after formatting, deleting and more other situations. In addition, this data recovery software also helps recover files from damaged pen drive and other storage media.

How to Recover Data from RAW External Hard Disk
Step1. Connect the external hard disk to your computer, and then free download and install iCare Data Recovery. Launch the software and choose proper recovery option to start data recovery.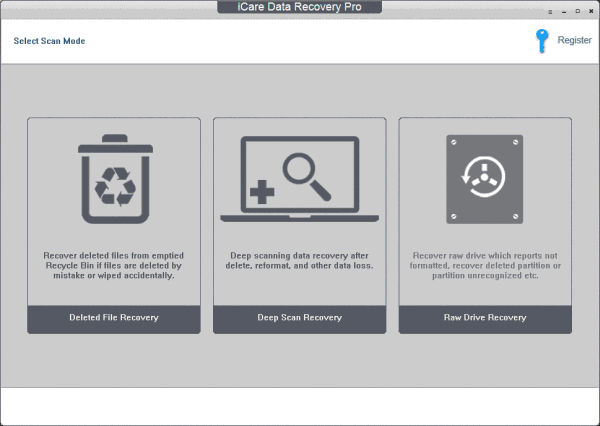 Step2. Choose the RAW external hard disk, and then the software will begin to scan. You can wait patiently in the scanning process.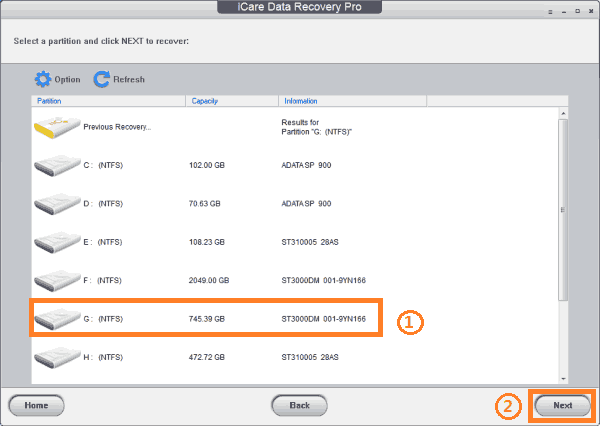 Step3. You are allowed to preview the files after scanning. Then you can select the files you need and get them recovered. Please save the recovered files to another location.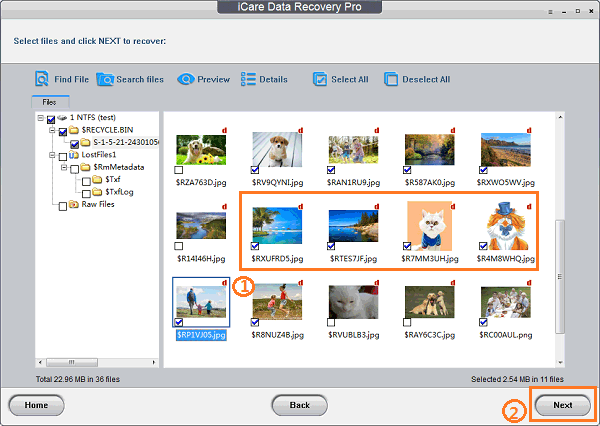 Change RAW File System to NTFS or FAT32 on External Hard Disk
The data recovery software iCare Data Recovery only helps you get back lost files from the RAW external hard disk. At this moment, the external hard drive's file system is in RAW format. If you right click the external hard disk, you will still receive disk not formatted error message. Since data has been recovered, the most common method to fix the RAW file system error on an external hard disk is to format it. You can format the RAW drive to fix the RAW drive error. You can simply right click the RAW drive and select "Format" option, or you can format the RAW drive in "Disk Management".
CHKDSK Is Not Available for RAW External Hard Drive
You can check if the external HD has any error like bad sector if Windows was unable to complete the format external hard drive. An external hard drive works similarly to internal hard drive, so you can run Windows built-in error checking tool to scan and repair bad sectors on an external HDD.
==>> If CHKDSK shows not available for RAW external HDD, please to to this page: CHKDSK error message - The type of the filesystem is RAW>>
Eject External Hard Disk with "Safe Remove Hardware" option
Everything happens for a reason. An external hard disk might change to RAW file system if you often disconnect it from your computer without clicking "Safely remove hardware". Although it is often recommended to remove external hard disk safely rather than yanking it out, some users still cannot keep it in mind. If you disconnect your external hard disk from computer while data is being written to it, it may corrupt the data. If you can remove the external hard disk safely, you can avoid such kind of data corruption because Windows will remind you that the device is current in use, so you cannot remove it right now. Even if the external hard disk is not in use, you may still corrupt the data or device when yanking it out without click "Safely remove hardware" option.
Some Other Measures You Can Take to Avoid RAW Error on External Hard Disk
RAW drive error can occur on an external hard disk due to improper operation, virus attack, etc. Therefore, you can take measures to avoid RAW drive error on your external hard disk in many situations. For example,
You can put your external hard disk in safe place when you don't use it so as to protect it from being physically damaged.
You should avoid connect your external hard disk to a public computer which may contain virus or spyware.
You can also use the data recovery software to restore files when you meet RAW drive error on other devices such as:
Hard disk RAW file system
USB flash drive requires reformatting and changes to RAW

Recover data now!
---
Resource
iCare Data Recovery Pro : Data recovery from raw external hard disk drive when it requires formatting.
Related Articles
Other Articles