Recover Photos from CF Card Undelete Photos & Unformat CF Card
Question 1. How Can I Recover My Deleted Photos?
Q: "My friend sent me a birthday present-- a Sony camera. I must admit that I am a new user in the field of digital camera. So, yesterday, I tried to take some pictures to test it. But I somehow pressed the wrong button to delete all photos. The screen flashed so fast that I did not even notice I have deleted all photos inside. I thought this command may not work with my CF card inside, but it turned out I was wrong. I connect my CF card to computer via a card reader. Nothing can be found on it. Can I recover my deleted photos on my camera or recover deleted pictures from CF card?"
A: Certainly, there do exist some CF card recovery solutions. When you accidentally deleted your photos or other files and wanted some methods to recover them, the first thing your should do is stop using your digital devices or memory card to avoid the possible data overwriting. Set them aside until you find a practical and reliable recovery software. To reduce your searching time, I'd like recommend iCare Data Recovery Pro to you. Deleted photos, images, videos, audios, games or other document files can all be recovered by this CF card recovery software.
Question. How to Do Photos Recovery?
Q: Since iCare Data Recovery Pro is so powerful a compact flash card recovery software, I'd like try it. But how to use it? Is that complicated?
A: Five steps are needed to perform the photos recovery.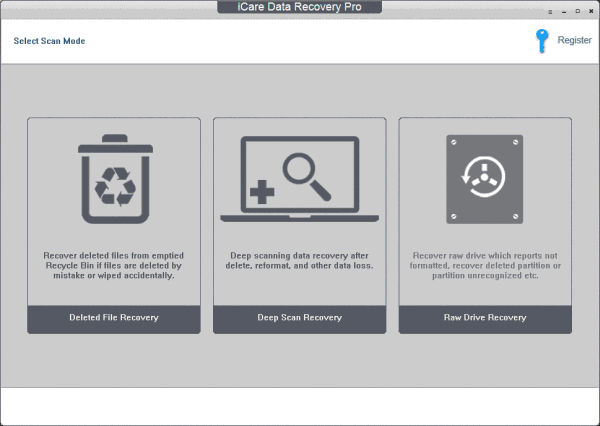 Step 1. Connect your drive or memory card to the computer, which installed the data recovery software.
Step 2. Launch the software and choose the proper module for your case.
Step 3. Click "Recover" button after you have chosen your drive or memory card.
Step 4. Tick the right partition to preview the scanned files.
Step 5. Get a keen sight of the recoverable photos to check the quality. If there is no other problem, then you can click "Save Files" button to save the photos you desired to restore.
Question 2. Format Memory Card? How to Unformat it?
Q:"Hi, all. Simply but annoying question. I formatted my SanDisk 16GB Compact Flash card by mistake. I was ready to upload some photos to my computer, and opened it by accidentally clicking the "Format" option. So I transfer some new data on it. Does that matter? Can I still recover the data?
A: I must say the chance for your complete recovery has been declined, for you stored new data on your card to overwrite your old data. If your did not input much new files, you may recover the majority old data. But I cannot make sure all your data can be retrieved. To keep this in mind, as long as you format your drive or memory card, do not use them to store new data if you want to get all lost data back.
How to recover data from a memory card which is not readable? You can also use iCare Data Recovery software, which enables you to restore files off all kinds of memory card.
Question: What Should I Pay Attention?
Q: After I successfully recover my photos, should I do something else?
A:One thing you should always bear in mind, that is back up your significant files in case that any recovery software fail to recover them. Trust me, making a good backup is never contradict with utilizing recovery software.

More Related Articles You May Like