Free Recover Files from Formatted Kingston 8GB MicroSDHC Card
Table of Contents
Have You Ever Met?
Supported Information
Tips About Kinston 8GB MicroSDHC
How to Recover Files from Formatted Kinston 8GB MicroSDHC Card by iCare Data Recovery Pro?
If you are a Kinston MicroSDHC user, you must fully trust and rely on it. It offers a large storage for photos, musics, pictures, games and every thing you need in today' s multimedia life. However, have you ever met the following cases:
Have you ever pressed the wrong button to format your MicroSDHC card?
Have you ever met the message "Your drive is not formatted. Do you want to format it" and formatted your card?
Have you ever failed to access to your data on the card because of the unformatted error? How to format a memory card which cannot be formatted?
Have you ever received the error message that CHKDSK is not available for RAW drive on memory card?
If your answers are all Yes, you must never wanna miss this passage. Keep reading, and the perfect solution and suggestions will be provided to recover data from SDHC card after formatting.
Supported Information
Specification
It is compatible with MicroSDHC-enabled devices or readers only.
The format of files on it is usually FAT32.
The proper operating temperature is between -25°C and 85°C.
The storage temperature for MicroSDHC card is between -40°C and 85°C
Common Supported Brand
HTC: P3450, Droid Incredible, Touch, Touch 3G, Touch HD, Google Nexus One, One V, HD mini, P6500, Snap etc.
Huawei: U8650 Sonic, U8510 IDEOS X3, G6620, Ideos X5, M835, Ideos, Ascend G300 etc.
Samsung: 360MI, i750, Galaxy Ace Plus GT-S7500, Omnia II i8000, Galaxy S II, S7070 Diva, E2530, Genio Touch, Galaxy Y Pro, Tocco Lite S5230 etc.
Sony: DSC WX150, Cybershot DSC TX55, Cybershot DSC W510, DSC W630, Cybershot DSC HX200V, Cybershot DSC HX20V, HDR-GW55, PCM-M10 etc.
Sony Ericsson: Ceder, Xperia Arc S, XPERIA Play, Spiro, XPERIA X8, Xperia Neo V, Aspen, A8i, txt, XPERIA X2 etc.
Tips About Kinston 8GB MicroSDHC
While operating the MicroSDHC card, make sure that the temperature is within the normal range.
To avoid every possible data loss, you need prepare a card adapter or card reader when you want to connect it to computer or laptop.
How to Recover Files from Formatted Kinston 8GB MicroSDHC Card by iCare Data Recovery Pro?
Believe it or not, memory card format does not mean the permanent data loss. The "Format" command just marks the files as blank space, and makes them invisible to users. Hence, there are chances to recover files from formatted Kinston 8GB MicroSDHC card. iCare Data Recovery Pro is a fine choice. This free and easy-to-use software can effectively get all your lost files back. Follow the step-by-step procedures to do complete recovery.
First of all, you should download the software Install it on your computer. Then connect you Kinston 8GB MicroSDHC card to computer via a card adapter or card reader. As soon as you finish all preparation, you can begin the formatted memory card recovery such as recover data after formatting CF card, restore formatted SD card or recover XD card pictures after reformatting...

Step One:Launch the software and choose "Format Recovery" module for your case.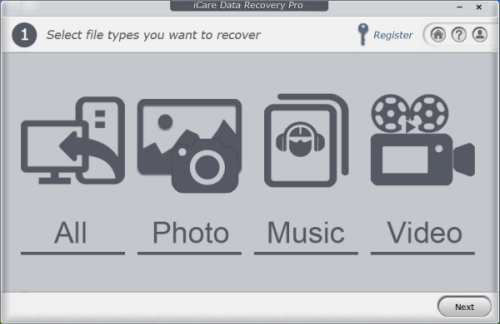 Step Two: Select your Kinston MicroSDHC card as a target disk and tick "Recover" to scan.
Step Three: Click "Show Files' to preview the found files after the scan.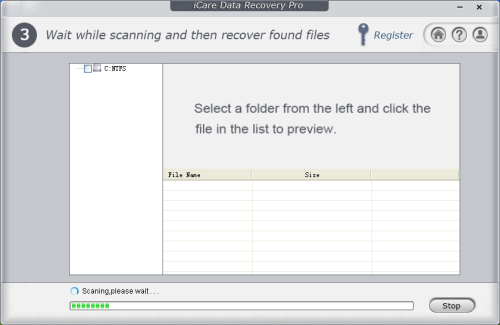 Step Four: Click "Save Files" to recover the files you want. Do not save them on your Kinston MicroSDHC card again.