How to Repair RAW Memory Stick
What is My Memory Stick in RAW Format?
"I bought a Sony W700 with an original Memory Stick PRO duo inside last month. It worked always good, but today when I turned on the camera and it cannot detected the memory stick. Then I bridged it to PC, only to find that the memory stick had become RAW format when using chkdsk? I cannot format it, nor open the files on it. What is RAW? What should I do?"
When your memory stick becomes RAW format, it means your memory stick gets damaged or infected by virus. The file system on your memory stick has been corrupted so that the files on it cannot be read by Windows or other removable devices. However, it is easy to fix this RAW error. Stay with me, and keep reading.
Free software to recover files from RAW memory stick
There are many software specialized in this recovery, but I'd like recommend iCare Data Recovery Pro to you. For your case, you do not need a professional software nor a cost one. All you need is just an easy-to-handle free recovery software, which can help you quickly solve this error. That's why you need iCare Data Recovery Pro. Okay, go ahead downloading this freeware and install it onto your PC or laptop. I will show you the specific procedures to recover files from your RAW memory stick.

Step One:Feel free to launch this recovery and see the main wizard as below. Click "Deep Scan Recovery"to scan the files.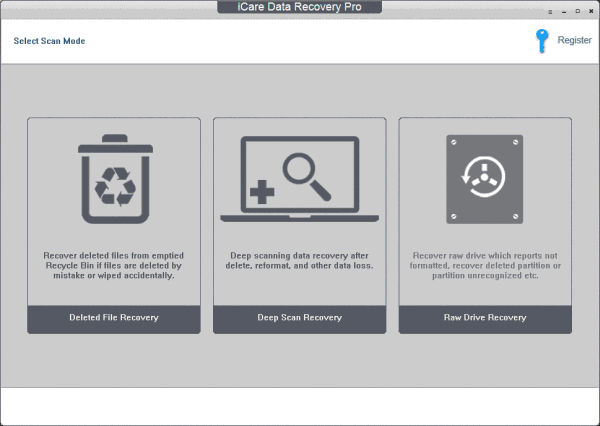 Step Two:Choose the memory stick you have connected to the PC, and press the "Recover" button.
Step Three: Then a scan is conducted at once. When it finished, you will see the following window.
Step Four: Double click the RAW folder and then you can get all the files you once saved on the memory stick. Choose the "Save Files" button to restore your files.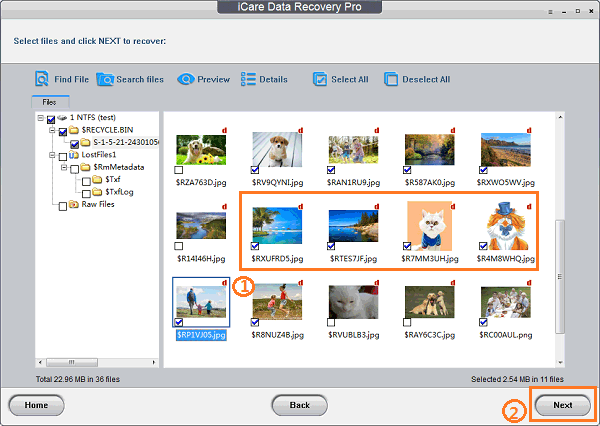 Is it necessary to format raw memory card or drive?
Is it necessary to format memory card for RAW drive fix? The answer is yes! However, you should perform format when you have recovered all important data. If you just want to recover data without caring about the RAW error fixing, it is completely no necessary to format your memory card or drive, despite it shows RAW error. As explained above, the files can be recovered from the RAW memory stick, memory card or hard drive by iCare Data Recovery Free. If you do not format your card, the chance to recover files will be increased. However, if you have formatted memory card by mistake, you still have chance to get back lost files. With the data recovery software, you can recover files after formatting CF card, SD card, microSD, XD card and memory stick.
Memory Stick Cannot Be Formatted to FAT32
You need to connect the memory stick to your computer to convert its file system from RAW to FAT32. In some situations, memory stick might be unable to be formatted by Windows. You may run CHKDSK for RAW memory stick error fixing and run CMD to convert RAW to FAT32.
All tips fixing raw memory card
In order to fix RAW error and convert memory card from RAW to FAT32, please pay attention to following points:
Stop using the RAW memory card for a while. After you recover the files and fix the RAW error, you can use it at your will.
Do not install this software onto your system partition.
The recovered files are not recommended saved on the card again.
Use iCare Data Recovery Pro to recover files from your RAW memory card firstly, then you may format your memory card to optimize the performance of your memory card.
Users that run into USB memory stick raw format
"Can anyone help me change raw to ntfs of my memory stick? I do need rescue. I have been battling for ages to try to format my USB memory stick. I have found many procedures to do this, but none really work. I will be greatly grateful for your guys' suggestion."
—— William from New Jersey
"I suspect my Sony memory stick is bad. It shows RAW format, and I cannot open it. I go to disk management, but it's useless. Do I have to replace a new one? If so, I have to cost another $5. That's too waste."
——Jeffry from California
"My friend just sent me a brand new USB memory card as birthday. It is a PNY 16 GB key attache USB memory stick. I did not use for once, but today when I connect it to computer, Windows prompts me to format the stick. The used volume is 0 byte, but the memory stick is RAW format. What happened? Could it be a fake one? Or the memory stick is damaged. How to repair memory card not formatted?"
——Elm from Toronto

More Related Articles You May Like