How to Recover Photos from Kingston 32GB CF Card
Related Questions
Question 1. "Help! I accidentally deleted my photos on my Kodak camera with a 4GB CF card inside. I cannot remember if I recorded the photos on the camera itself or on the external memory card. Is there any solution for undeleting files from CF card? Those photos are really important, and my hand trembled to delete them by mistake. Is that possible to recover them if they were saved on different places?"
Quick fix -> cf card recovery
Answer: No matter your photos were saved on your internal memory or on your external CF card, it does not change the fact that you still have chances to recover them. So, do not be panic. I'd like recommend iCare Data Recovery Pro for you. It is free, easy to handle and perfectly matches your need to recover files from CF card after deleting.
Video - CF Card Recovery
Also read: memory card recovery
Question 2. "I heard from a friend that deleted files on memory card can be retrieved. What if I format my memory card? My card is Kingston 32GB CF card, and I connected it to my laptop. Window came out a message to ask me format my card. I thought it was a kind of common note. So I clicked "Yes", and later I found I made a serious mistake. All data on it were gone. That is a devastating loss for me. All my wedding photos were stored on it. I really badly need a way to get them all back."
Answer: You are right that deleted files can be recovered. A good news for you is that even if you format your card by mistake, you can make up the wrong operation. iCare Data Recovery Pro can give you a hand. It is designed for formatted card recovery. Therefore, even if your CF card encounters unformatted error (the case you mentioned) and you follow the guide of Windows to format your card, it can still fix the error and recover your data. If you do not format your card, it would rescue your card and save your data, as well.
How to Recover Photos from Kingston 32GB CF Card?
From the above related questions, I believe that you must already become interested in this freeware. Now the rest part will furthermore introduce how to use iCare Data Recovery Pro to recover photos from Kingston 32GB CF card. This data recovery software helps recover files lost due to CF card formatting, deleting or when CHKDSK shows RAW file system on CF card.
Do Two Preparations:
Firstly, download a free version and install it on you computer or laptop. iCare Data Recovery is a data recovery tool, which helps deleted data recovery from CF card after deleting, formatting or other data loss problems.


Then, plunge your CF card to the computer with iCare installed.
1. Launch the software by clicking the icon on the desktop or from "Start" and choose the proper module in the primary interface as follow.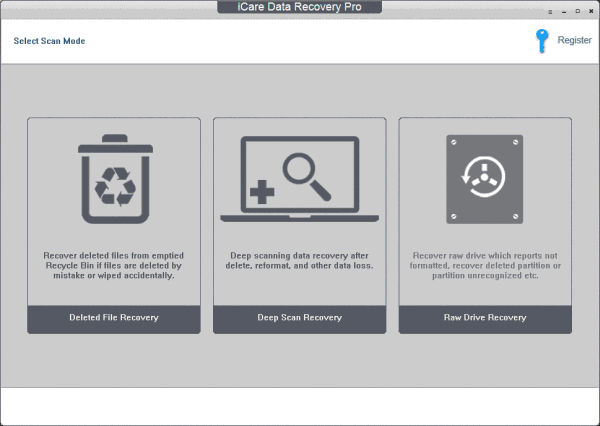 2. From the second popping up interface, choose your CF card as target disk and click the "Recover" button to scan lost files on your card.
3. When the searching is finished, the screen will show you a partition list to preview the lost files. Click "Show Files" button.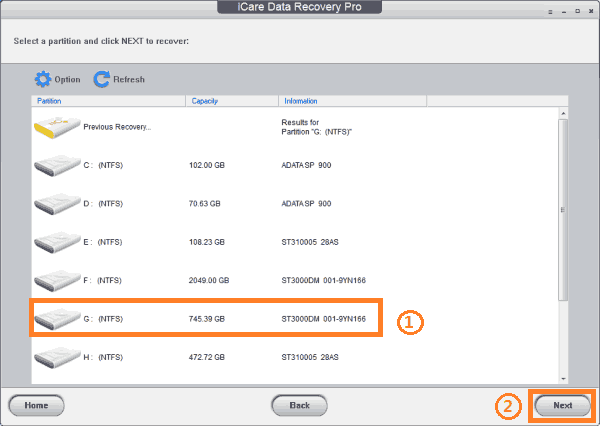 4. You may find that all you once recorded photos are all recovered. That's the power this software lies in. Tick what you want and press "Save Files" to save them.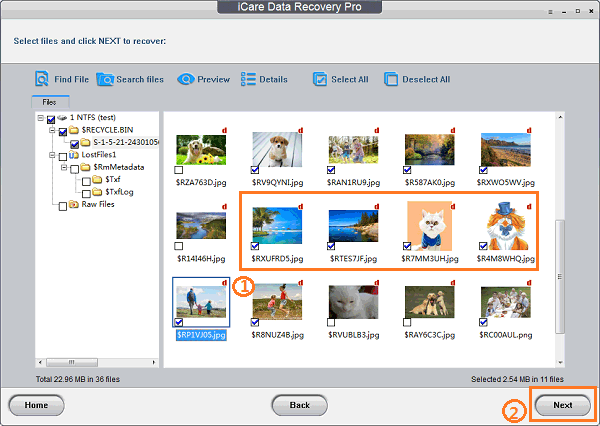 If you want to format your CF card because you receive memory card not formatted error message, you had better use the data recovery software to perform data recovery first of all.
About Kingston CF Card
CF (Compact Flash) is a popular storage format, which is famous for its tiny size and large storage. It was firstly developed by SanDisk in 1994. To store more data on digital cameras, music players, desktop computers, personal digital assistants, digital audio recorders and other removable devices, CF card is a nice choice, for its fast transfer speed and safe build-in mechanism.
To meet users' demand, many memory card producers take great effort to explore the upgrade of each memory card format. Kingston, working for the memory card production, consistently presents reliable and greatly qualified CF card to keep up with today's memory card users.
Kingston 32GB Compact Flash card is one of the members with a dimension of 12.7 x 10.2 x 2.5 cm and a weight of just 9g. Compared with other traditional compact flash memory card, this type features a faster read and writes speed which enables you to capture continuous and high resolution photos in less time.
More Related Articles You May Like