Freeware to Fix SDHC Card Not Recognized Error
Table of Contents
Recover Files from SDHC Card
Can I Recover Data When SDHC Card Is Not Recognized?
Why SDHC Card Cannot Be Recognized?
Recover Files from SDHC Card
Question: I like to store my photos, music or audios on memory card, for it is convenient to carry and transfer. But sometimes, due to my careless, I may delete some important files or even format my memory card. These cases happen everyday, so I really need a permanent tool to help me resolve this frequent problem.
Answer: Certainly, you can. Freeware iCare Data Recovery Pro can be your good and useful assistant whenever you need it. It is completely free of charge, and able to recover all major files types, including photos, audios, videos, document, games and so on. It is designed with four modules. If you want to recover deleted files from SD card, SDHC, you can choose "Advanced Files Recovery"; if you want to recover files from your accidentally formatted SDHC card, you can try "Format Recovery". This module also work with the card showing unformatted error. You do not have to format your card when widows prompts you to format it, and iCare Data Recovery Pro can help you perfectly fix this kind of error. Beside, if your SDHC or other memory cards cannot be recognized, this free data recovery software can still show its functions. Just free download this software.

>>Quick Solution for SDHC Card Not Recognized
Download iCare Data Recovery to recover data from SDHC card which is not recognized by any device. Just use this software to scan the SDHC card for lost data.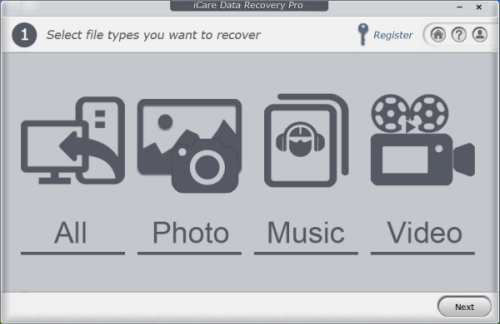 Can I Recover Data When SDHC Card Is Not Recognized?
Question: I have problem with my SDHC card (SanDisk). After I shoot photos with camera and pulled out the card to connect to computer for backup. But the computer cannot recognize it. I have tried several different computers with different system and card readers without luck. The memory card cannot be recognized by any of these computers I have tried. I really want the photos on this card, can someone give me some help for unrecognized SDHC card file recovery?
Answer: I have a SD card and my computer sometimes cannot recognize it either. Since you have tried different computers and different card readers and the card is still not detected. I assume that your card has been corrupted. If I were you, I would quick format the card and use recovery software to retrieve the files on it. iCare Data Recovery is available for free download and you can try this. Choose "Format Recovery" module to recover photos from your formatted SDHC card.
With the data recovery software, you can also recover files from unrecognized pen drive. iCare Data Recovery also enables you to recover files in more other situations like formatting pen drive by mistake, delete files from pen stick and more.
Why SDHC Card Cannot Be Recognized?
Question: Why my SDHC card cannot be recognized sometimes? I just bought it several day ago.
Answer: Where did you buy it? If you buy it online at a cheap price, it may be a fake one. When the problem comes out again, you should format the card and use iCare Data Recovery (Recommended) to recover the files on the memory card. If your card is quality warrantable, then you should ensure whether your computer or other digital devices are compatible with your SDHC card. For example, some digital cameras work with at most 4GB SDHC card, so if your card is higher, then it is not compatible with this removable device. Therefore, the incompatible problem will cause the card cannot be recognized.Besides, the card reader slot on computer should also have SDHC logo. If not, the computer is not compatible with SDHC card.
Although the SDHC card is not recognized by any device, you can run iCare Data Recovery to search all inaccessible data from the unrecognized card. Before running the software, you should stop writing new data to the SDHC card or performing any operation to fix the SDHC card.
>> Download the software now and run it to scan the unreadable SDHC card for inaccessible files recovery.

---