Fix SDHC Card Not Recognized Error
Last updated on June 30, 2021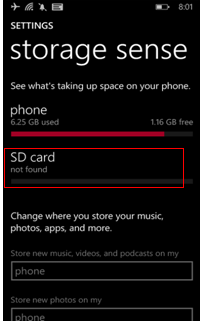 How to Repair Unrecognizable SDHC Card?
For different situations, the methods to repair the problems might be different. You can have a try with following common ways (please try following methods to fix unrecognized SDHC after data recovery):
quick jump -> Fix sd card not detected in phone
1. Format SDHC card
This is available for users whose SDHC card still appears on Windows or phone as a drive. You can directly format the card in Window or your phone/camera as you wish. Only one thing you should pay attention - Format the SDHC card into proper file system (usually FAT32) that is compatible with the deivce you often insert the card into.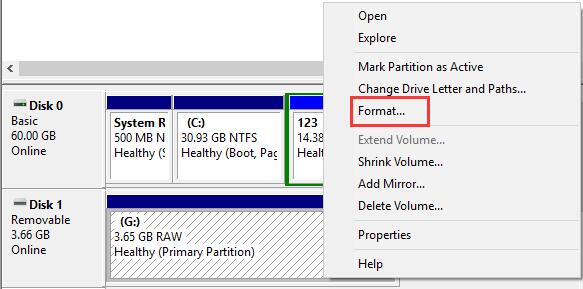 2. Update driver device for SDHC
If the driver device on Windows cannot meet the demand of SDHC card (e.g. it is lower version), SDHC may be undetected by Windows OS. You have to update Windows for driver update to make it match to the SDHC card. This issue does not cause data loss from SDHC card . Your SDHC would work again when operating system is compatible with it.
You can use this method for SDHC card repairing when it does not show up on PC. Just merely download a compatible driver device (usually, you can find the proper driver device from Microsoft official website) and install it on your computer to make it recognize SDHC normally. Or you can check for updates on Windows. To know, how to check for updates on different Windows, this article will shares tutorial later.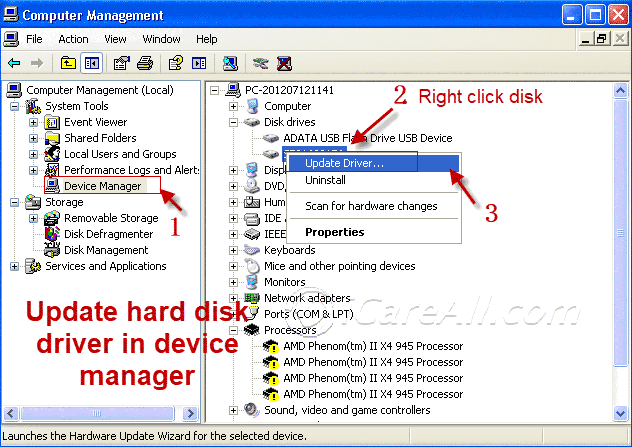 3. Buy a new card reader or USB cable
Do you connect your SDHC card to Windows PC through a card reader? To make SDHC be recognized by PC, you must use a card reader that supports the SDHC. With an incompatible or corrupted card reader, PC cannot detect your SDHC card. It is easy to check - Just insert the SDHC to another card reader or connect it to computer via USB cable by inserting the card to your phone or camera. If your SDHC stops being detected by any Window due to corrupted or improper card reader, no data will be lost even without any data recovery software.
Video - how to fix sd not showing up
More fix for not recognized sd card? -> Fix sd card not detected
Why SDHC Card Cannot Be Recognized?
Question: Why my SDHC card cannot be recognized sometimes? I just bought it several day ago.
Answer:
1. SDHC bad quality
Where did you buy it? If you buy it online at a cheap price, it may be a fake one. A fake SDHC card gets corrupted easily since it has no quality guarantee, so do not buy a generic SDHC card just becuase it's cheap. It is worth paying for if you want to use the SDHC card to store important data.
2. SDHC is not compatible with camera/phone/pc
If your card is quality warrantable, then you should ensure whether your computer or other digital devices are compatible with your SDHC card. For example, some digital cameras work with at most 4GB SDHC card, so if your card is higher, then it is not compatible with this removable device. Therefore, the incompatible problem will cause the card cannot be recognized. Besides, the card reader slot on computer should also have SDHC logo. If not, the computer is not compatible with SDHC card.
3. SDHC is corrupted
This is the worst situation, in which any mistake or improper operation might lead data to be lost forever. This kind of corruption usually refers to logical corruption due to virus attack, improper removal of SDHC, bad sectors and more.
SDHC Card Not Showing Up in Windows 10 8 7 XP
Windows cannot detect SD card attaching to your computer? The above methods can usually fix the problem on all Windows successfully. Here, we focus on how to update driver devices in different Windows.
Step1. Click Start button > All Programs > Windows Update (For Windows 10 / 8 / 7 / Vista)
Or open Control Panel > choose System and Security > Windows Update (For Windows 7 / Vista users)
Step2. Click Check for Updates
Step3. Click Install Updates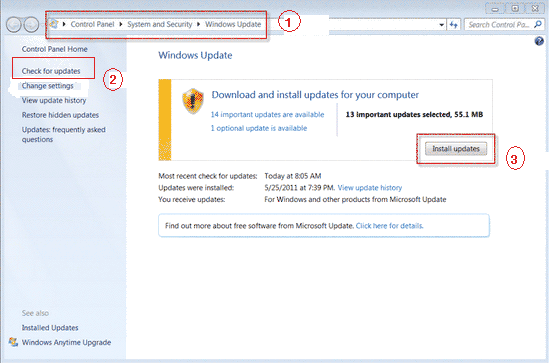 Note: You may be unable to check updates for Windows XP because Microsoft has stopped providing support for Windows XP.
Or you can open Device Manager to update driver for SDHC by following tutorial below:
Right click "My Computer" (or "This PC") and select "Manage" > Click "Device Manager" > Find the disk drives and right click micro SD card > select "Update Driver" and then follow the wizard to complete the update step by step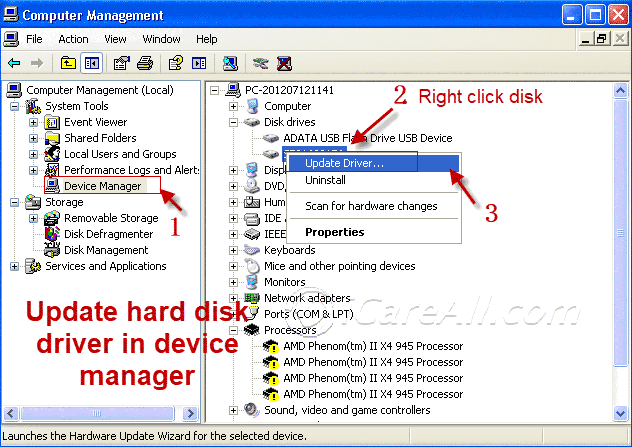 Recover Files When SDHC Card Is Unrecognized/Unreadable
How can I recover files from an SDHC card that is not readable by my mobile phone / computer / digital camera? Can I repair a corrupted SDHC card to make it workable again to save different data?
Generally, an SDHC card may become unrecognizable due to physical damage or logical damage. A physically damaged SDHC card usually cannot be repair unless you send it to its manufacturer or professional memory card repair service. However, a logical corrupted SDHC card can be fixed by yourself.
When an SDHC is not recognized due to logical corruption, you may start a free sd data recovery software with iCare Data Recovery Pro for completely free if data is within 2gb to scan the device and find all inaccessible files from it.
This page will guide you to restore files off an unreadable SDHC card and shares useful methods to repair the problem to make the SDHC usable again.

>>Quick Solution for Unreadable SDHC Card Recovery
Download iCare Data Recovery Pro to recover data from SDHC card which is not recognized by any device. Just use this software to scan the SDHC card for lost data.

Video Tutorial: how to use iCare Data Recovery for file rescue
Tutorial for SDHC Recovery When It Cannot Be Detected

Referring to the following steps to scan an unrecognized SDHC card for lost file recovery:
Step1. Start the software and select Deep Scan Recovery mode.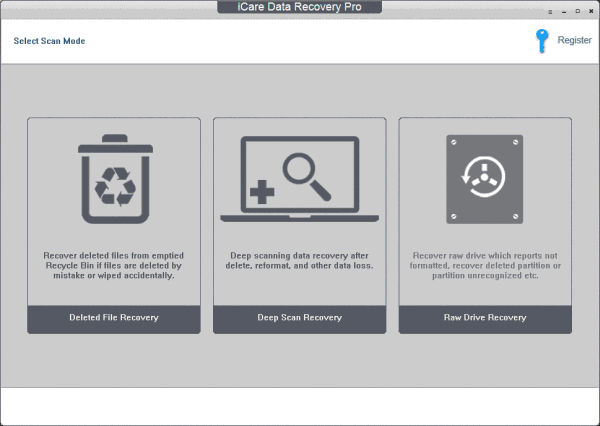 Step2. Select the device and wait the software to scan to find what you need.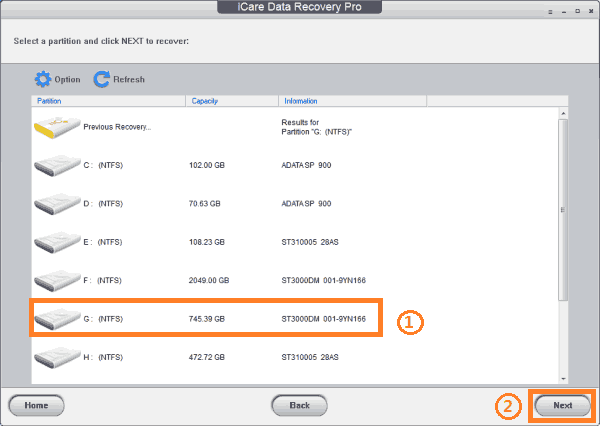 Step3. The found files would be listed in the software, where you can preview photos and document (like excel, word, txt). Then, just choose the files you lost and save them to a volume that works well.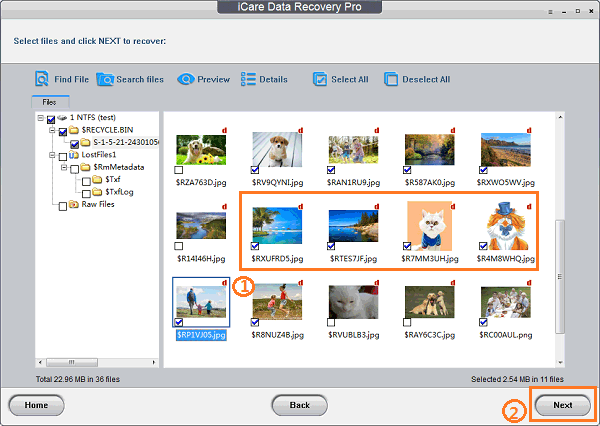 Although the SDHC card is not recognized by any device, you can run iCare Data Recovery Pro to search all inaccessible data from the unrecognized card. Before running the software, you should stop writing new data to the SDHC card or performing any operation to fix the SDHC card.
>> Download the software now and run it to scan the unreadable SDHC card for inaccessible files recovery.
Symptoms When SDHC Is Not Recognized
An SDHC card, namely Secure Digital High Capacity, has capacity from 4GB to 32GB for not only one device, but also different device including camera, phone, etc. When SDHC is not showing up in different device, it has following symptoms:
1. SDHC card not found in phone
People can check the capacity of an Android phone by opening its Storage in Settings App (the location varies in different smartphone). When SDHC is not recognized, phone says SDHC not found.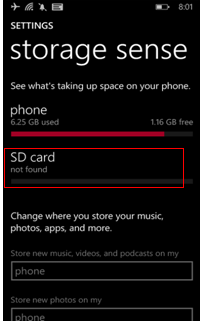 2. SDHC card does not show up on PC
When connecting the SDHC to computer, you cannot find the icon of SDHC in Windows Explorer. When opening My Computer, it seems no removable device is connected to the PC. SDHC does not appear in Device Manager or Disk Manager, either.
3. SDHC shows up in Windows but it is not accessible
You can see the SDHC is read as a removable disk on Windows, but it reports error message (Disk in drive is not formatted do you want to format it now?) instead of showing files when trying to access it. The error messages probably are: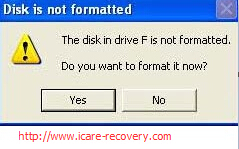 Fix SDHC Card in Different Brands That Cannot Show up
Some FAQs related to the problem:
1. My SanDisk SDHC Card Not Readable
My card reader cannot read SanDisk SDHC anymore after updating Windows OS from Windows 7 to Windows 8. What can I do to fix the unreadable SanDisk SDHC?
2. Lexar SDHC Card Is Unreadable
I have a Lexar SDHC card that is not readable on my mobile phone all of a sudden during uploading some images. Phone asks to reformat SDHC card after rebooting my mobile.
3. PNY SDHC Card Cannot Work
I like to store my photos, music or audios on PNY SDHC, for it is convenient to carry and transfer. However, my camera or computer failed to recognize, mount or read it recently. How do I repair a PNY SDHC card which cannot work for my digital camera?
Solution:
For branded SDHC like SanDisk, Lexar, PNY, Transcend, Samsung or generic SDHC card unreadable problem, you can format the card in another device. For instance, if the SDHC is not detected by phone, you can attach it to your PC and try to format it. If PC cannot recognize the card in Windows Explorer, you can check Disk Management to find the card.
FAQs about iCare Data Recovery Pro for SDHC
Can I Recover Data When SDHC Card Is Not Recognized?
Question: I have problem with my SDHC card (SanDisk). After I shoot photos with camera and pulled out the card to connect to computer for backup. But the computer cannot recognize it. I have tried several different computers with different system and card readers without luck. The memory card cannot be recognized by any of these computers I have tried. I really want the photos on this card, can someone give me some help for unrecognized SDHC card file recovery?
Answer: I have a SD card and my computer sometimes cannot recognize it either. Since you have tried different computers and different card readers and the card is still not detected. I assume that your card has been corrupted. If I were you, I would quick format the card and use recovery software to retrieve the files on it. iCare Data Recovery Pro is available for free download and you can try this.
More SDHC Data Loss Problems that iCare Data Recovery Pro Supports
Question: Sometimes, due to my careless, I may delete some important files or even format my memory card. These cases happen everyday, so I really need a permanent tool to help me resolve this frequent problem.
Answer: Certainly, you can. Freeware iCare Data Recovery Pro can be your good and useful assistant whenever you need it. It is completely free of charge, and able to recover all major files types, including photos, audios, videos, document, games and so on. It is designed with four modules. If you want to recover deleted files from SD card, SDHC, you can choose "Advanced Files Recovery"; if you want to recover files from your accidentally formatted SDHC card, you can try "Deep Scan Recovery". This module also work with the card showing unformatted error. You do not have to format your card when widows prompts you to format it, and iCare Data Recovery Pro can help you perfectly fix this kind of error. Beside, if your SDHC or other memory cards cannot be recognized, this free data recovery software can still show its functions. Just free download this software.
also read -> Fix sd card not reading in camera/phone
---
Related Articles
Hot Articles