Photos Recovery from SanDisk MicroSDHC Memory Card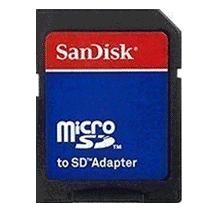 Last updated on 06/02/2018
Do you want to recover photos from SanDisk micro SDHC memory card when they got erase, deleted or lost?
For any kind of problem that results in SanDisk micro SDHC card file loss, iCare Data Recovery Pro offers an easy way to regain all lost files before thememory card gets damaged.
It is 100% free of charge if your data is within 2GB with free micro sd card data recovery tool - iCare Data Recovery Pro Free Edition.

Free download this software for SanDisk microSDHC now!
Possible Reasons SanDisk Micro SDHC File Loss
1. Accidentally deletion
Have you ever pressed the wrong button "Delete all" when you just want to delete one photo? Have you deleted your photos while your card is connecting to computer? Have you ever deleted photos without consideration and felt regretful afterwards? The good news is that simply deletion will not wipe your precious photos off your camera or cell phone. Hence, do not be panic. The photos are still intact on your SDHC card, and you can recover deleted files from micro SD card with free software.
2. SD card format
Similar to accidental deletion, formatting SD card by mistake happens on some careless digital devices users. Alternatively, card shows "card is not formatted, do you want to format it now", users may format their card to access to it, but disappointedly find that all data are erased. Once you perform the command, do not take new photos to occupy the blank area.
3. Improper operation
When your camera or cell phone is on, strongly pulling out your SD card may lead to data loss. In the process of transferring photos to computer, your suddenly unplugging SD card also causes the photos loss.
4. Virus infection
Virus infection is another data killer. SD card may be attacked when connected to computer. Then some data becomes inaccessible or the SD card becomes not accessible.
5. Other reasons
Some other possible reasons are SD card water damaged, or it's too old, or some unknown reasons.
How to Recover Photos from Sandisk Micro SDHC Card

No matter you delete files or format SanDisk micro SD card, or the SanDisk microSDHC is corrupted and becomes unreadable / inaccessible, you can use iCare Data Recovery Pro for SanDisk file recovery following:
Step1. First, connect your SanDisk micro SDHC card to your PC or laptop. You can either load it back to your device and connect to the computer via a USB cable, or insert it into a card reader. Then launch the software and click the proper module in the primary window as follow.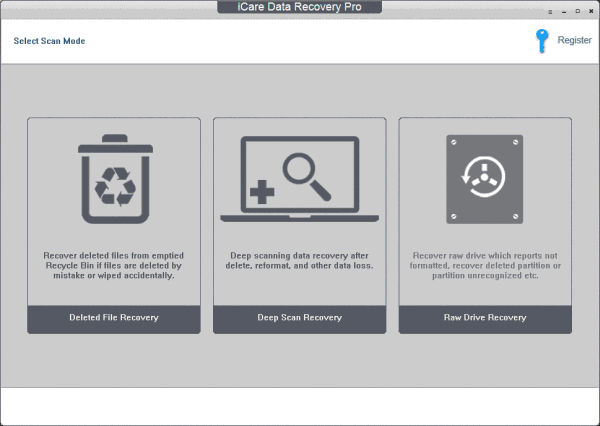 Step2. Select the SanDisk micro SDHC and then wait the software to perform a deep scan on the card so as to find every single file.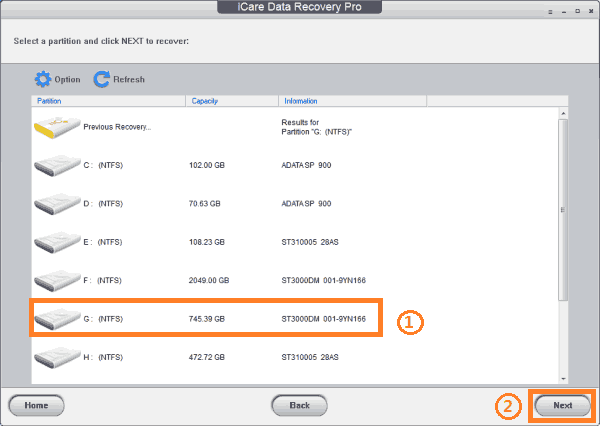 Step3. Preview the photos on the file list and mark those you want to recover. Choose the files you intend to restore and save them to a different place.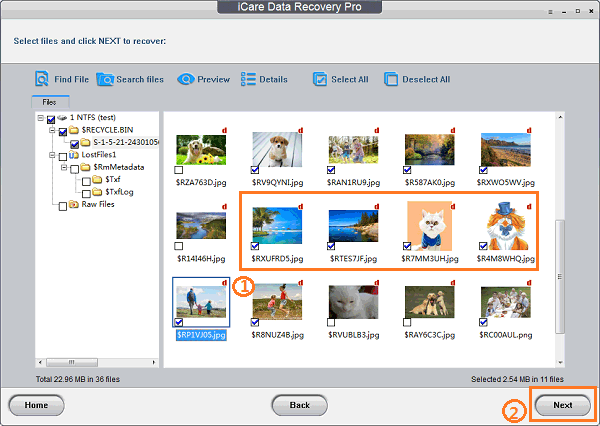 Download here

Tips:
Save the recovered files to another disk or partition instead of the original SD card
Do not put new data on your card to overwrite your lost photos
You are recommended to connect your SD card to computer via a card reader to increase the chance of photo recovery.
Main Functions of iCare Data Recovery Pro for SanDisk Micro SDHC Recovery
iCare Data Recovery Pro is a data recovery tool for SD card recovery in various situations. It can retrieve deleted files and recover files from formatted SD card, digital camera, cell phone, unformat XD card and other devices. It allows you to recover files from SanDisk micro SDHC 16GB, SanDisk micro SDHC 32GB, SanDisk micro SDHC 64GB, SanDisk SD 8GB and more.
Supported SD card type: Pro SD, SD high-capacity (SDHC), SD extra-capacity (SDXC), miniSD, microSD, miniSDHC and micro SDHC
Supported photo types: JPG (JPEG), PNG, GIF, BMP, TIFF, PCX, PSD, TGA, etc
About SanDisk SDHC
Nowadays, kinds of memory cards mushroomed in the market. Among various memory cards, SD card (Secure Digital Memory Card) has its unique advantages, such as large volume, optimal speed etc. It was first produced by Panasonic, Toshiba and Sandisk in 1999. To meet the users' need, Sandisk takes great effort for products innovation and branches its SD card family in several years. MicroSDHC memory card is one of the popular members. It ensures mass users to enlarge their digital devices to store essential contents such as high quality photos, videos, music and more. Card users, especially digital camera photographers, feel free to put all photos on their SD card without regular backup.
---
Related Articles
Hot Articles