CF Card Recovery
iCare Data Recovery Pro is a free to search lost data from cf card software for computer beginners to do recovery by themselves when they encounter data loss due to simple reasons, such as deletion, format, virus attack etc. It can recover completely 2GB data from hard disk drive, USB drive, memory card, cellphone memory, digital camera, flash drive etc.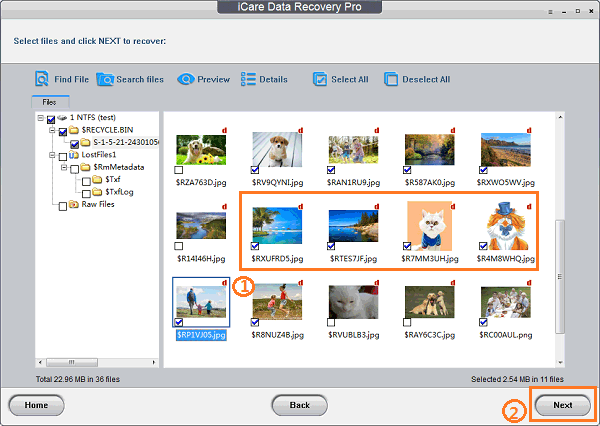 Let's see a testimonial: "Holy cow, my life is saved. I used a 2GB card to take pictures of my friend. Several days later, I went to visit my grandmother and took amazing pictures of them and I later formatted the card, suddenly thinking that the photos of my friend were still on it. Thanks to iCare Data Recovery Pro, it recovered all my photos back. That worked perfectly."
Can This Software Recover Lost Files?
Yes
Some CF card users have met with data loss with no idea of the reason. As a matter of fact, all memory cards including CF card are not life long, so if your card has been used for many years, it is regular to lose data. Just like we human, we will gradually have a poor memory when getting older. Another possible reason is that your CF card is damaged by water, heat, or other factors. The memory card structure has been corrupted to fail to save data safely. However, the free CF card recovery software, iCare Data Recovery Pro, can use powerful scan device to search every lost files from every corner of the memory card.
Can This Software Recover Deleted Files?
Yes
Common belief is that once you delete your files, you cannot find them any more. Speaking from the technical view, the deleted files still exist on your CF card, just in an invisible way. As soon as you delete some files, file system will automatically spare those files and mark their once occupied area as free, in which way, new data can be recorded to take these spaces. According to this theory, you can perform CF card deleted file recovery before they are overwritten by new data. Okay, you should stop using your CF card and let iCare Data Recovery Pro help you.
Can This Software Recover Files from Formatted CF Card?
Yes
Similar to the above theory, the "Format" command does not erase your files from your memory card forever. On the premise that no overwriting happens, chances are great to perform formatted CF card recovery. A tip for CF card file recovery after formatting is that: after you complete the recovery, you can reformat the CF card to clean the useless data and avoid the recovered data being overwritten.
Can This Software Recover Files from Unformatted CF Card?
Yes
Have you ever met these kinds of error messages"Memory card is corrupted and unreadable", "The card is initialized", "Invalid portable device", "Memory card is not formatted. Do you want to format it now?"? If your answer is positive, you must know something about memory card unformatted error. Have you ever found some solutions to fix these errors? If no, now, you come to the right place. iCare Data Recovery Pro can unformat your CF card to recover all your data. Its "Format Recovery" module is developed to recover files from formatted error as well as fix unformatted error.

---