How to Recover Unformatted Olympus XD Card
Table of Contents
Before Using iCare Data Recovery Pro
Download iCare Data Recovery Pro
After Using iCare Data Recovery Pro
Tips for Your Olympus Card
Before Using iCare Data Recovery Pro
Olympus XD card is a common storage card used in digital camera. It is a small and powerful tool for photo record. But, it sometimes will show some errors to annoy you. When it shows message like "XD card is not formatted", or "XD card need to be reformatted" or "XD card is in RAW format with chkdsk", you should stop using your card at once. If you take more pictures on it, the old data may be overwritten by new data, and your chances to recover the old data will be decreased. The unformatted error indicates that there are some problems with your file-allocation table. The files on the card are not changed by this error. Therefore, you should avoid the files being damaged before using
iCare Data Recovery Pro (a useful recovery program for raw file system recovery).
Besides, you should also make sure that the unformatted error is caused by the card itself. Sometimes, the digital devices or computer may get problem resulting in this unformat error. If you insert the card to other computer or device and the files are still inaccessible, I'm afraid that your card is truly in error, then you should try a recovery program.
How to Recover Unformatted Olympus XD Card with iCare Data Recovery Pro

As long as the pictures on the XD card are not overwritten, it is never too late to download free format recovery software to recover your data.
Step 1. Install iCare Data Recovery Pro.
download a free version of iCare Data Recovery. After that, install it onto your computer.
Step 2. Bridge your unformatted XD card to computer via a card reader.
Step 3. Launch iCare Data Recovery Pro to recover your pictures.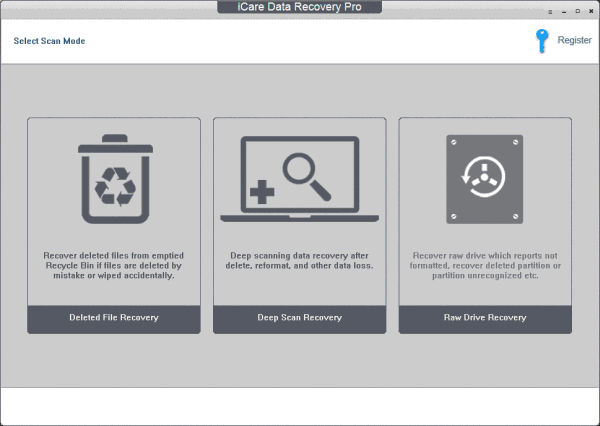 Boot this program by double hitting the icon and choose "Format Recovery" module. When widows has detected your card as drive letter, then you can select it to start searching the pictures on this card. If the data on your card are too much, the scan process may take longer. When the program has searched out your pictures, you should choose a destination for the recoverable pictures and click "Save Files" to recover them. One thing you should pay special attention is that do not save the pictures on the XD card again, for this may lead to data loss.
After Using iCare Data Recovery Pro
After you have recovered your desired pictures, you can continue taking pictures on this card. In order to optimize the card performance, you can reformat your XD card to spare available spaces for new photos and use this software again to scan your card, lest some pictures have not been recovered before.
Windows Was Unable to Format Unformatted Olympus XD Card
When trying to format the Olympus XD card that has unformatted error, it may say XD card cannot be formatted. This kind of problem can be caused by many reasons. iCare Data Recovery is able to recover files after format unformatted XD card, but it cannot resolve the problem that XD card cannot be formatted.
==>> If you still want to use the Olympus XD card, please go to this article to leran how to fix the problem - Windows cannot complete the format>>
Tips for Your Olympus Card
Better keep your XD card in a protective place. Once it comes up unformatted error, do not store it in the digital camera (in case that you forget it has been formatted and take new photos to it). Keep it away from liquid, heat damage.
Do not remove the XD card when it is transferring data from/to computer; do not take photos onto your card when your digital camera is in low power; do not pull out the card when you snap photos to it. All of the above operations you should not do again, for they may cause file corruption.
You may run into other similar problem on your XD card and need to use iCare Data Recovery software to restore lost files. This software enables you to restore data from corrupted and unreadable memory card / stick.

---