Free to Recover Photo from Accidentally Formatted or Unformatted CF Card
Last updated on 10/04/2018
This is a simple guide for recovering formatted memory card data after mistakenly formatting CF card or when it requires formatting.
Can I Recover Photos from Formatted CF Card?
Tip for Formatted CF Card
What Should I Do When CF Card Has Format Error?
How to Recover Photos by iCare Data Recovery Pro?
Where Can I Download This software?
Can I Recover Photos from Formatted CF Card?
Q:"Ouch! I stupidly formatted my Compact Flash card, which had a couple of hundred photos of my girlfriend on it. I was a little bit absent so that I mistakenly hit";Format" button. I realized it right after I clicked and my heart shattered. I did not back up them on my PC. Can I recover deleted photos from CF card after formatting in any way? Thanks in advance!"

A: Hi, this kind of human error happens from time to time, so you're not alone. A good news for you is that quick format won't be necessary to remove your photos away from your CF card. File system does not change the content of the photos, but just erased the information(about the formatted photos' location) from FAT or NTFS table. Therefore, the photos are kept completely on the CF card in an invisible way. As long as these photos are not overwritten by new data, it is most likely to recover them by free CF card recovery software. I don't know whether you put any new data to your card. If you did, the chance to recover becomes slim,but you may have a try. With free photo recovery software for CF card, you are able to unformat CF card for lost picture recovery.
Tip for Formatted CF Card
Q: "What should I do with formatted CF card?"
A: The top thing you should always bear in mind is that immediately stoping using your CF card. No more photos, images, videos or other files. Carefully pull out your CF card from digital camera or other devices and keep it in a safe place. Keep it away from water, heat, or other physical damage. Keep the metal part on the card clean.
To deal with possible data loss, you may try to back up all your important files.

What Should I Do When CF Card Has Format Error?
Q: "Hello, all. Have you met this kind of error message"drive is not formatted, do you want to format it now"? When I connected my CF card (SanDisk Ultra 16GB) to my PC, Windows prompted me to format my CF card. Then I pulled it out and inserted it into my camera, buy the LED screen also shows "Card Error". I cannot see my files on the card. How did this come? Is there any way to resolve this problem?"
A: I' am afraid your card had been corrupted or damaged, which lead to this unformatted error. As a result of the above error, you cannot get a access to your files on the CF card. The card became useless until you fix the unformatted error. Fortunately, this problem is not that complicated to solve. You do not need to format your CF card. Just ignore the format message and download a trusted third party software to recover your lost photos within a shortest time. That's more wiser.
==>> You may meet another problem CF card says cannot be formatted when trying to fix an unformatted CF card. If you run in this situation, please visit this page - Windows cannot complete the format>>
How to Recover Photos by iCare Data Recovery Pro?
Q: "Ask for reliable and easy-to-use software! Many thanks!"
A: I have tried iCare Data Recovery Pro. It really saved my life. It recovered files on my CF card (I completely formated it before), even the files deleted several months were recovered. It is really effective and simple. The interface is so plain that even amateur like me can do the formatted card recovery by myself. After you download and install the software, four more steps are enough. Launch the software and click "Format Recovery" or "Advanced Files Recovery" module--choose your CF card and click "Recover" button--Press "Show Files"--Choose "Save Files" option to save your recovered files.
Where Can I Download This software?
Q: "Where can I download iCare Data Recovery"
A: Free download the software. The free version is available for every users, so you can feel free to download it. After you install the software, it will inform you of the trial time.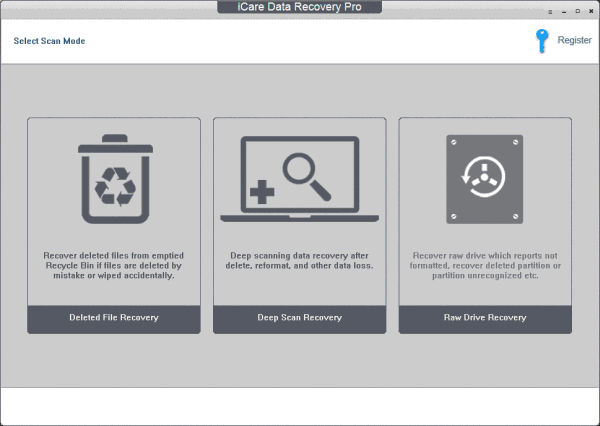 In addition to what mentioned above, CF card corruption can also lead data loss problem. iCare Data Recovery software can help recover data from corrupted memory card.

---