Recover Deleted Video Images from SDHC Card
Last updated on 17/01/2017

Free download iCare Data Recovery Pro for SDHC card deleted photos videos recovery for 100% free if your data is within 2GB.
Recovering deleted files off SDHC card with free sd card data recovery software when:
Mistakenly delete files from sdhc card in mobile phone
Erase sdhc card by accident on Mac or Windows
Erase files / folders from sdhc when running an antivirus program on your Android phone or computer after attaching the card to pc.
Virus hides some files on the SDHC, in which situation you believe that those hidden files were deleted by mistake.
Wipe out the SDHC card after performing a quick format / full format on it.
Files got deleted or removed during data transferring

>>Quick Solution for SDHC Card Data Recovery
Download iCare Data Recovery Pro to recover deleted videos or other types of files like images and audio files from SDHC memory card.
About iCare Data Recovery Pro for Deleted Files Recovery from SD Memory Card
iCare Data Recovery Pro is not only able to recover videos from SDHC card, but also from a wide range of memory card formats. The mainstream memory card formats (MMC, SD, MiniSD, Memory Stick, SM, MicroSD, CF Card, flash memory etc) are all compatible with this freeware.
Supported file types: Except for video files, it can also restore photos, audio files, office files and so on.
You can use this data recovery software to unformat USB flash memory, portable hard drive, hard drive and more other device to get back lost files.
Video Tutorial: how to use iCare Data Recovery for file rescue
How to Recover Deleted Videos from SDHC Card?
Now, it's your time to test the efficacy of this software. To perform the deleted video recovery, you need first of all download iCare Data Recovery Pro and finish the installation onto your computer. Then, bridge your SDHC card to the computer by inserting the card into the slot. When your computer recognizes it as a drive letter, you can start the recovery work.

Step One: Boot iCare Data Recovery. Choose "Deep Scan Recovery" module.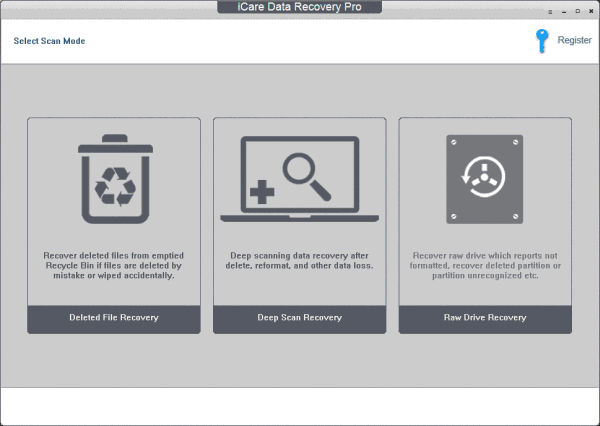 Step Two:Choose your SDHC card and click "Recover" button. Then the software will scan files on this card.
Step Three: Choose a partition to preview the found files from the below wizard.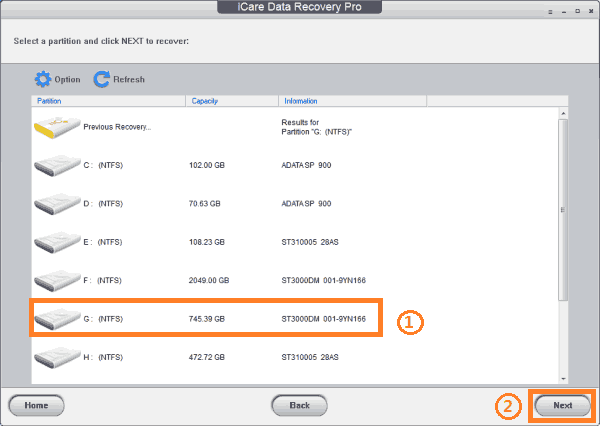 Step Four: All found files have been listed on the left of this wizard. By clicking them, you can view them on the right side of this interface. Tick the deleted video and press "Save Files" button to save it.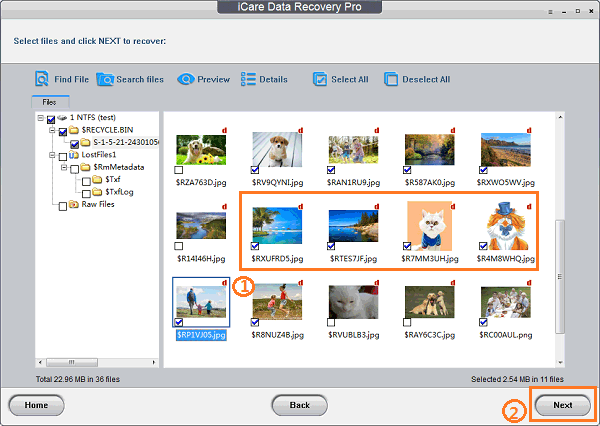 Helpful Notes for SDHC File Recovery
If you happen to delete some important files from your SDHC, do not input new files onto it, for new files will occupy the spaces (the deleted files once occupied before) and overwrite the old files. As a result, you are less likely to recover the deleted files and you may lose your important files forever. Remember that before the files are successfully recovered, do not use your card or disk.
When selecting a destination for recovered video, do not save it on your SDHC card again, but choose another safe location.
Files might be lost from SDHC card due to other reasons like formatting card or memory card is corrupted. iCare Data Recovery Pro can helps recover photos from corrupted memory card or even when the memory card is not recognized by PC.

SDHC Recovery Tool for Android Mobile Free Download
Sometimes, we may not remember to make a backup for Android mobile phone and mistakenly delete files precious data from it. It seems like that there is no better way to avoid data loss trouble but to make a backup. If you like store files to an SDHC card inserted in your smartphone, you can make a backup to the phone's internal memory.
If files really got lost forever from phone's memory card or internal memory, please do not install any so-call Android data recovery App on your phone to retrieve data. On the one hand, a program being installed to your phone probably occupies the storage space which was used to save lost data and overwrite it. And on the other hand, some App may not be compatible with your phone's system and cause more serious data loss.
Undo Delete SDHC Card for Free on Windows
An SDHC card is able to be recognized by different Android phone, desktop/laptop running Windows or Mac operating system. In other words, you may delete files from an SDHC on any of those devices. With iCare Data Recovery Pro to undelete files, you can only connect the SDHC to a Windows PC, it also works for corrupted sd card.
FAQs about Recovering Deleted Files from SDHC Card Online
"Help! I accidentally deleted a video from a SDHC card. It is my daughter's wedding! I did not back up. The video has no copy. Oh, my god. Can I recover it? It's really important. It's an AVCHD recording from a Sony NECAM U70. Any help or suggestion would be appreciated. Thanks in advance."
Hey, take it easy. Don't worry. Your precious video was not removed for good. You can handle this with a recovery software. iCare Data Recovery Pro is an ideal tool for your case. I know what you gonna ask. This program is purely free and it can recover your deleted video perfectly with the same quality as it was. It is also easy to use and even amateur can use it to recover all files they want.
"Can this product recover permanently deleted files on Windows 7 from my SDHC card?"
There is no doubt that this freeware can do it. iCare Data Recovery Pro is compatible with all major Windows OS, such as Windows XP, Windows Vista, Windows 7 / 8 / 10. You can test it later and keep reading to know more about this software.
---
Related Articles
Hot Articles
Hot Articles