Free to Recover Data from Samsung TF MicroSD Card with Unformatted Error
Table of Contents
Samsung TF MicroSD Unformatted Error
Freeware for Samsung TF MicroSD Card with Unformatted Error
Other Solutions for Unformatted Samsung TF MicroSD Card
Tips
Samsung TF MicroSD Unformatted Error
"When I connect my memory card to computer (win7), out of nowhere came an notice saying that "card is not formatted. Do you want to format it now". I do not want to format my card, is there any method to fix this? My card is Samsung TF MicroSD card."
Apart from this, you may come across other similar unformatted error message, like "Memory card cannot be read", "Unformatted card", "CHKDSK is not available for RAW drives" or "memory card is damaged and not accessible". Solutions for this kind of unformatted error will be explained in detail later.
Freeware for Samsung TF MicroSD Card with Unformatted Error

Try using iCare Data Recovery for the recovery from unformatted Samsung TF MicroSD card. It can be your last resort if other solutions fail to fix the unformatted error. It can retrieve all your files on the memory card without formatting the card. Therefore, you can no longer worry about data loss due to format Samsung TF MicroSD card. This data recovery software also helps recover files from unformatted CF card.
Download this recovery software and install it on your computer. Choose "Format Recovery" module to recover the files on your card.
Select a partition for recovery target, and your TF MicroSD card is certainly the only choice for you want to perform recovery on it. Click "Recover" button to scan the files. Depending on the size of your memory card, the scan devices will take some time to search the items.
When the scan is over, program will show you a partition list to preview the found items. The first partition is usually ticked as the recommended partition. Hit "Show Files" to get a view of these recoverable data.
The program will list all found items according to their format. So, you can open each files or folders to check whether the files (you intended to recover) have been retrieved by the freeware. Click "Save Files" button to select a destination for these data. Then, the recovery work is done.
Other Solutions for Unformatted Samsung TF MicroSD Card
Solution 1. Plug the Samsung TF MicroSD card to another computer via a card reader. Sometimes, the error message came up due to the problem exists not in the memory card but in computer. Though this happens seldom, we cannot ignore the possibility.
Solution2. Bridge the actual digital device with your memory card inside to the computer or laptop. In another word, insert your memory card into a removeable device, for instance, digital camera, smart phone or camcorder. Then use a USB cable to connect the drive and the computer. Try extracting data if your computer recognizes the two devices.
If the above the two solutions makes no help to unformat your TF card, you can try the best format recovery software iCare Data Recovery Pro for micro SD card recovery, as introduced in the second part.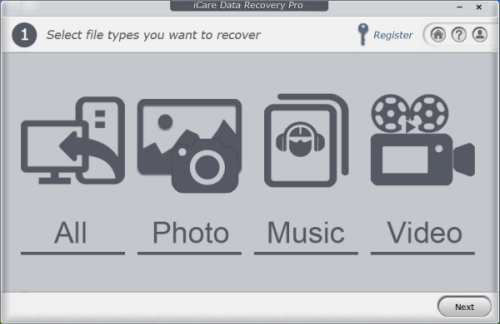 Tips
Do not format your memory card when windows prompts you to format it. If you do, the command "Format" will quickly erase all data on your card (but they can still be recovered). To simplify this unformatted error, you are recommended to use recovery software directly to recover your data.
Though using USB cable is one of the solution, it is still highly recommended to use card reader when you need connect your memory card to computer. Because this can reduce the scanning time and avoid the operation error on the card.
Save the recovered files on another drive or memory card
After the recovery, format your card and use this software again to re-scan the card in case that some files may not be searched out.
Free to Fix Unformatted Error on Samsung Micro SD Card
You have to reformat the Samsung micro SD card in order to repair the unformatted error. Samsung micro SD card is a type of memory card that can be used in any type of smartphone and it is also compatible with Windows computers through a proper card reader or USB cable. Therefore, you can format it either on your mobile phone or computer.
==>> If Samsung micro SD card failed to be formatted by Winodws or phone, please go to this page - Solution for Windows cannot format error >>
---