Free Recover Photos from SanDisk MicroSDHC 32GB Card
Last updated on 06/02/2018
Can I Recover Photos from SanDisk MicroSDHC 32GB Card?
"It cost me half day, but I cannot still find the solution. I inserted my memory card (SanDisk MicroSDHC 32GB Card) into my HTC this morning, and touched the wrong option to delete all photos. I just want to delete some. I have searched hours to find some easy and fast way to recover my photo. Some applications need to buy, some operation is so complicated. Can I recover photos from SanDisk SDHC card in a free and easy way? Is there any freeware for memory card recovery?"
This kind of case is not so annoying, and many solutions can be used to solve it. So, you are not alone. iCare Data Recovery Pro is highly recommended. The data recovery software allows you to recover photos from corrupted memory card or after formatting memory card or when memory card turns to RAW file system. You can feel free to download and recover not only photos but also all other major files.
How to Recover Photos from SanDisk MicroSDHC 32GB Memory Card?
Here is the tutorial for 32GB SD card recovery with iCare Data Recovery Pro:
After you download the and install the software on your computer, you need connect your SanDisk MicroSDHC 32GB memory card to your computer via a card reader or card adapter. Then you can perform the deleted files recovery.

Step One: Boot the software and choose the proper module for your case. "Deep Scan Recovery" module is designed for accidentally deletion of photos, images, videos, audios etc.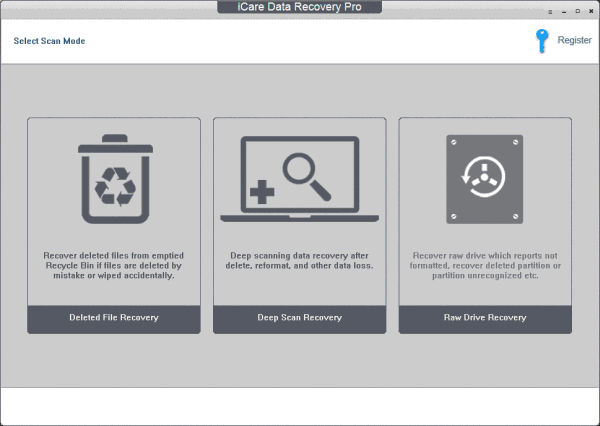 Step Two: Select SanDisk micro SDHC 32GB Memory Card from the below partition list and click "Next" button to start the scanning.
Step Three: After the scan, you can press "Preview" to preview found files to preview the quality of found photos.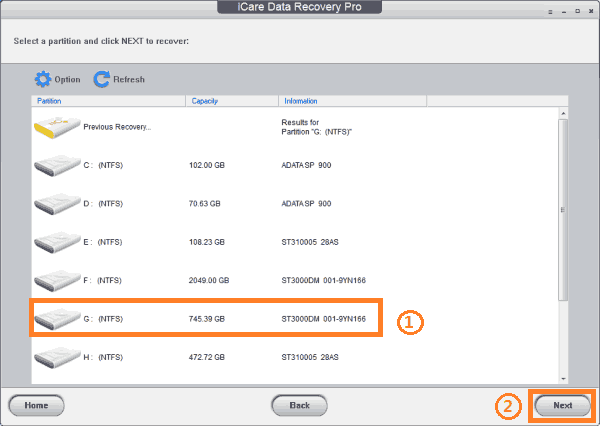 Step Four: If your photos are not found, you can launch this software again to make sure all deleted photos can be recover. Mark your desired files and recover them with one click. Click "Next" to finish the memory card recovery.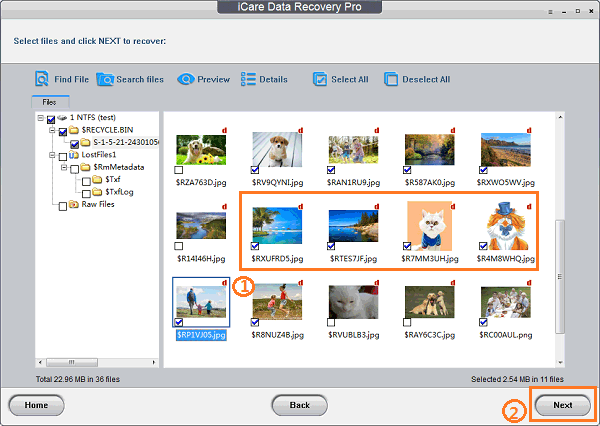 Overview of SanDisk MicroSDHC 32GB Card
Want to capture more photos? Want to record more videos, especially HD videos? SanDisk MicroSDHC 32GB memory card can fulfill your demand. The mass storage tool stores more with capacities of up to 32GB, which means you are able to share more your favorite photos, videos, and music with your families and friends. Mobile phones with card slot have already become increasingly common, so SanDisk MicroSDHC memory card is a necessity. 32GB memory card can instantly add more memory storage and maximize your phone's potential. For smartphone user, a external memory card enables them to play music, videos, or games wherever they want.
Watch Out the Fake SanDisk MicroSDHC 32GB Card
SanDisk MicroSDHC card is so popular that many fake memory cards pass off the sham as the genuine. To detect the fake SanDisk MicroSDHC, the following tips are available.
The fake package is loose and sometimes can be even split open, while the genuine one is sealed to guarantee the safety of production.
Check your barcode whether it is identical with the card you bought.
If you are careful enough, you will find that all genuine cards have a serial number and a manufacturing country's identity. The fake one is painted with such details in a hazy style and easy to detect.
Fake memory cards always lose data without reasons. You do not delete files or format your card, but the files are still gone for no reason. In that case, you might as well check your card.
Buy the card from big dealers.
---
Related Articles
Hot Articles