Free Recover Photos from Corrupted CF Card
Corrupted CF Card!!!!! Help
Q: "Hi, all. I have a 1GB compact flash card with more than 350 photos on it. Today I inserted into the camera to take photos and it worked perfectly until I shot the last photo. The camera screen suddenly displayed "Card Error" and then shut down. I was shocked and instantly pull out the card to connect it to computer via a card reader, but I cannot read photos or format the card. Is it possible that the card is incompatible with the camera? My camera is Sony S2000. I had reformatted the card before using it today. Maybe this is a possible KILLER? The file system has been corrupted? Have you guys experienced this similar case before? Have you had any experience with some good solutions for recovering my photos from corrupted CF card? Many thanks!"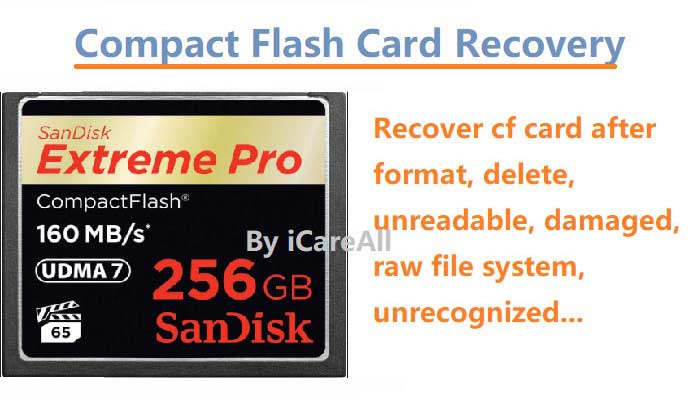 Quick fix -> 7 ways to fix damaged memory card, or free cf card recovery to bring data back from cf card.
A Solution for This Case
A: Make sure that the white small tab on the side of memory card reader is unlocked. Also keep in mind to check if your card is compatible with digital camera or card reader, as you may know that different brands have various restrictions on different memory cards.
If the above checks are OK, the reason for this kind of error message is that your card is indeed corrupted or crashed. Well, do not worry because corruption of memory card is easy to solve. Now, you should use a recovery software at once. Pick up iCare Data Recovery Pro, which combines the advanced techniques to resolve the corrupted CF card recovery.
So, feel free to download this software for a trial. Trust me, you will never wanna miss it.
How to Recover Photos from Corrupted CF Card?
Q: "Since the files system on the CF card has been corrupted, is there any way to rescue the card and recover the photos on the card?"
Solution for This Case
A: You can try iCare Data Recovery Pro. This software features a stong recovery power. You can download a free version and install it on your computer. After you launch the software, you can see four modules from the main wizard. For your case, you can choose "Deep Scan Recovery" module to use advanced scan devices to scan your lost photos. The rest procedures are quite simple, and you are able to handle it without other skills. Do not wait any more, and go ahead!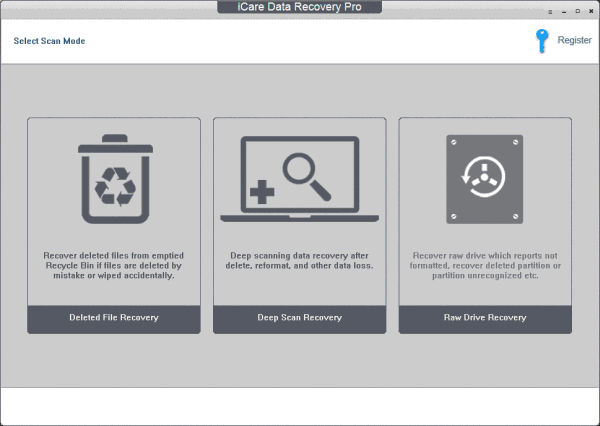 Best CF Card Recovery Utility

Download iCare Data Recovery Pro, the memory card recovery software to find corrupted photos/videos from memory card due to formatting, deletion or system errors.
When SD card is corrupted and cannot work, you can also use the iCare Data Recovery software to get back files from the card.
CF Card Error, Cannot Read Photos or Format
You have lots of unique photos on the CF card, but now you are unable to read any photo? CF card keeps saying card error and even preventing you from formatting the card? Please do not panic! It is a common situation for CF card corruption, in which you can use photo recovery software to extract files off the unreadable compact flash memory card.
Why My CF Card Is Corrupted?
Q: "When I connected my CF card to computer, the Windows shows error message like "Incompatible file system", "File system cannot read" or "File system failed". Does that mean my file system in my CF card has been corrupted? How did this happen? I did not change anything on the card! Is there any solution for CF card deleted photo recovery?"
Reasons for This Case
A: Indeed, your files system has been corrupted or damaged. That's why Windows will show that message. Causes for file system corruption vary from case to case. Let's see the most common plots.
The main reason behind file system error is the interruption in the read and write process in the CF card. If you pull out the card when the read and write process is till on, the photos transferring or download files may fail to complete and the file system will at the same time be damaged. Because the files on it is incomplete and file system cannot access it. Besides, power or system failure will also lead to this corruption.
The second the reason is improper usage. You may check whether your CF card is full or not. If YES, your continually taking photos will do harm to your files system. Just like we human, if we are already stuffed, the continually eating will break our stomach. If no, you may try to recall whether you ever switched off camera suddenly or pulled out CF card while taking photos. All these improper behaviors will cause file system error.
Accidental formatting is the third killer for CF card system corruption. Most people do not know that the files on the card have their own properties (usually FAT). Accidentally formatting may changes the original property to others, which will make the files unreadable and ultimately lead to the file system error.
Virus attack is another common factor, which ruins the files to be inaccessible. Hence, file system will pop up error message.
According to your description, I believe your card is most likely to be full. So, you may try to remove some unimportant files before taking new photos.
Related Articles