How Can I Recover My RAW SD Card Free
Last updated on Aug 30, 2021
Notice: please stop using the micro sd or SD card that you lost files. Do not do any operation on the memory card before data restored. Relax, the data recovery software iCare is a read-only program which won't make any change on your card. Therefore, you can use it for corrupted RAW SD card recovery without further data loss or corruption.
Is it possible to recover data from raw SD card
"Hi! I inserted a Micro SD card into my HTC. All files turned RAW. Both cell phone and laptop cannot recognize it. I check the manage disk and it shows my SD card files are all RAW. Anything can recover it to normal state? I stored lots of important stuff inside, so is there any solution for RAW SD card deleted file recovery?"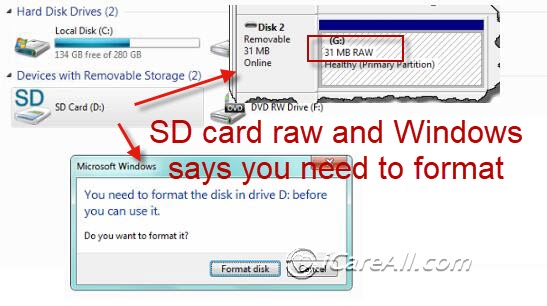 Can you do anything to fix the issue when SD card or micro SD card turns to RAW file system and disables you to access any data? When encountering such kind of corrupted SD memory card problem, you can use iCare Data Recovery for RAW drive recovery.
RAW SD Card Recovery

Download iCare Data Recovery Pro to rescue files from SD, micro SD memory card when it changes to RAW file system and becomes not accessible on any device.
iCare Data Recovery Pro is able to work on any Windows operating system for RAW SD card data recovery though it shows 0 byte space and becomes not accessible.
How to Recover Files from RAW SD Memory Card MicroSD
Before running iCare Data Recovery Pro for RAW SD, microSD card data recovery, please remember:
Stop performing any further operation to fix the RAW problem
Protect the RAW SD card from being physically damaged due to any unexpected reason
If you accidentally format the SD/microSD card, do not write new data to the card
iCare Data Recovery Pro is memory card recovery software which enables you to restore files off RAW SD card easily.
Step 1: Download iCare Data Recovery Pro, which is a raw drive data rescue program that works for most media for free file scanning on raw memory card.
As long as you have finished the installation, you can run the Recovery Software from desktop icon.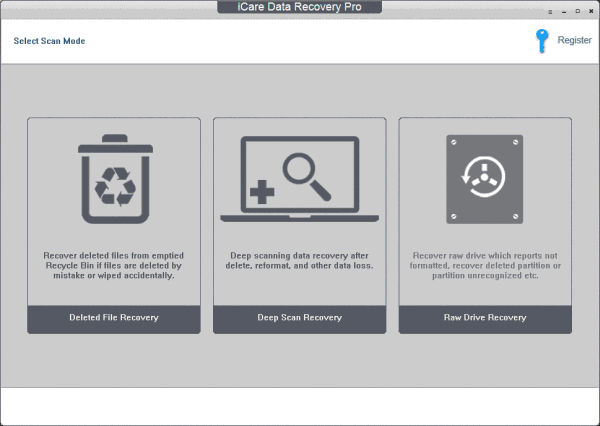 Step2. Select the proper recovery module for your case. The software uses RAW searching technology to scan your files to retrieve every possible lost data, which means the module scans every possible file to get data back.
Step 3: Select the SD card or micro sd that is "RAW" from the partition list.
Step 4: Then the software will scan all possible files on the selected disk. Usually, this process will cost a few minutes. Just be patient, and then you can feel it rather efficient to get all your wanted data back.
Step 5: When scanning device finishes, software will automatically show you a list of partition. Feel free to press "Show Files" button to preview.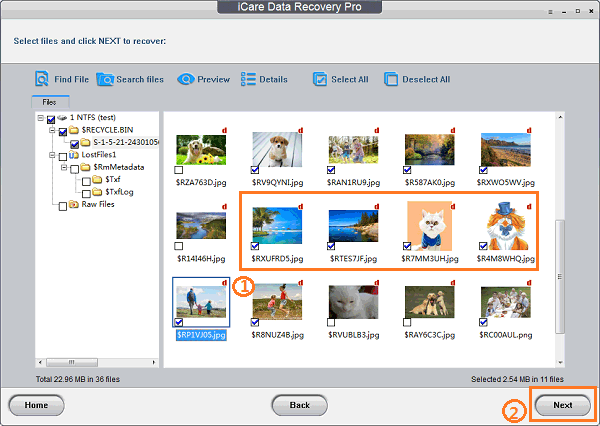 Click "Recover" by thumbnail to locate the photos you want to restore and save them.
Video Tutorial: raw sd card recovery
Also read: how to fix sd card raw file system
Reasons for RAW SD Card, Micro SD RAW
When your SD card is shown as RAW, it may have the following possible situation:
1). "SD card is not formatted. Do you want to format it now? '
2). "Invalid media type reading drive. Abort, Retry, Fail."
3). Error message like "SD card not found".
4). SD card file is shown as "RAW".
5). SD card is corrupted
6). File names contain unusual characters.
How to repair raw SD card
After recovered the data with iCare Data Recovery, you need to repair the raw sd card by converting the raw file system into NTFS or FAT32.
First, you can format the drive with system quick format tool or Disk Management. If Windows cannot complete format, you can try CMD command prompt. Here I will show you the specific steps.
Also read: how to fix raw sd card without formatting
Repair raw SD card with CMD command prompt
CMD command prompt can repair raw SD card by formatting the raw file system into NTFS, fat32, exFAT.
But you need to recover needed data first because this process will delete all your data.
Step1: Run CMD.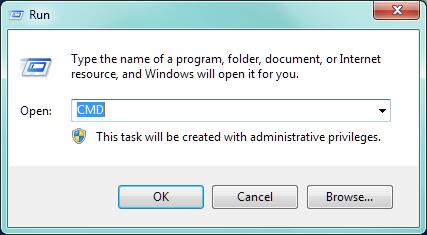 Repair flash drive raw file system with CMD
Step2: Type"format l: /fs:ntfs"(l is the drive letter of your raw hard drive)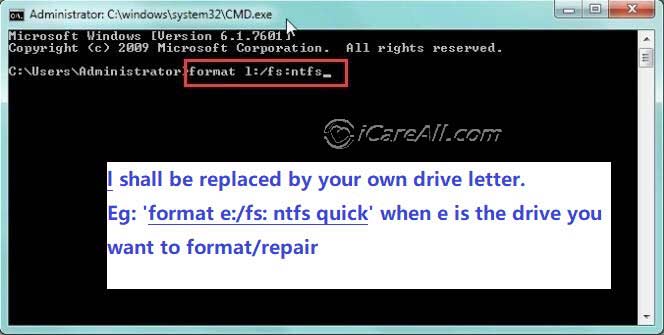 Repair flash drive raw file system with CMD
Attention:
Recovering data first can prevent rewriting the sd card and protect your data best, but if you have already formatted the card, you can also use iCare Data Recovery Pro to recover data.
Windows Was Not Able to Format RAW SD MicroSD Card
Windows unable to complete format is an error that would occur on any storage media. When an SD or micro SD card cannot be formatted by Windows, the error message usually shows Windows was unable to format removable disk.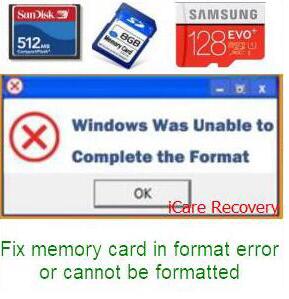 Windows unable to format sd
Then you can try a format tool like Partition Resizer Free, or system tool: CMD command prompt
CHKDSK Is Not Available for RAW SD Card MicroSD
After recovering data from the RAW micro SD card, you can run CHKDSK for RAW drive error scanning and fixing. Or you can format the micro SD card to convert RAW to FAT32.
But for most situations, CHKDSK is not available for raw file system, then you can try a partition manage tool. Here I recommend a freeware for you: IM-Magic Partition Resizer. You can try free edition, but Pro edition has more functions. If you use Windows server system, you need the server edition.
Here is a free download link for IM-Magic Partition Resizer Free.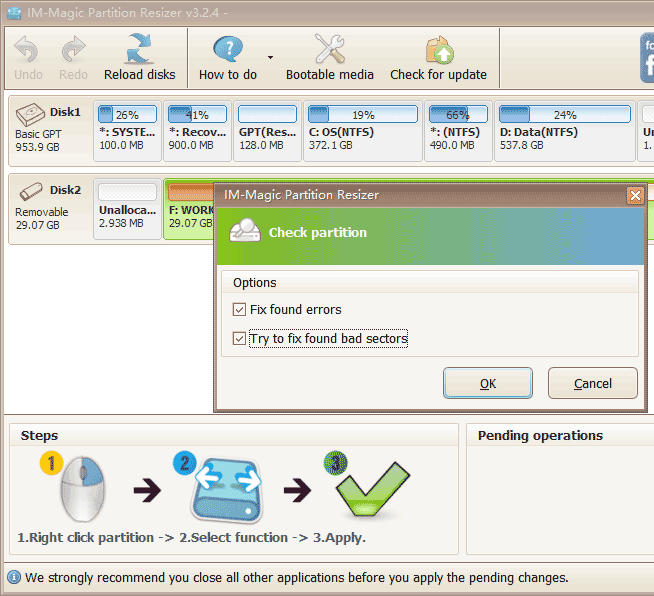 Fix bad sectors to repair the raw sd card

Unable to format sd card? -> Fix sd card cannot be formatted
Related Articles
Hot Articles