Free CF Card Recovery Software
Table of Contents
Is There Any Way to Avoid the Overwriting?
Why Choose iCare Data Recovery Pro?
How to Recover CF Card Data by iCare Data Recovery Pro?
CF Card Data Recovery Situations
>> Recover data after formatting CF card
>> Restore photos that were deleted from CF card
>> Data recovery from RAW when CF card is corrupted and unreadable
>> Recover files from dead CF memory card
>> Recover data when CF card is not accessible due to various reasons
Is There Any Way to Avoid the Overwriting?
Q: "I searched from some forums and found that CF card deleted files can be recovered. But some guys said if the files are overwritten, the recovery may fail. Is that true? If Yes, how to avoid this kind of overwriting? Is there any shortcut to avoid this?"
A: They are right. If the deleted files are overwritten, you cannot recover the deleted files any more. To prevent this nightmare happening, ways are various and you just need to keep this in mind and it's quite simple.
Stop using your drive or memory card. When you deleted files or formatted your drive or card and still want to recover the files, you should always have the common sense, i.e.avoid new data overwriting the old data.
Do not format your drive or card when it suffers unformatted error. When the file system are corrupted or damaged, the card will show unformatted error and become inaccessible. Just ignore the message.
Do not install recovery software on the drive or card you have lost files on it.
After the recovery utility has successfully recovered your data, do not save them on your previous drive or card again. Because the recovered data may be overwritten again.
If your memory card cannot be detected by computer when inserted into a removable device, you may directly connect it to computer via a card reader.
Why Choose iCare Data Recovery?
Q: "Some one suggest me to use free CF card recovery software - iCare Data Recovery Pro to do memory card recovery, how about this utility? Is there anyone experienced with this one?"
A: iCare Data Recovery Pro is the ideal recovery tool for computer starters. It is easy to handle and powerful to resolve simple data loss issue, such as accidental deletion or format, unformatted error, and other cases. It can perform 2GB data recovery with an optimal speed and the wonderful thing is that it is purely free. That's why there are so many people choose it.
How to Recover CF Card Data by iCare Data Recovery?
Q: "A simple question about iCare Data Recovery. How to use it? I have never used this kind of CF card recovery software before and I am not skilled in computer. So, hope some one can give me guidance. The simpler, the better. Many thanks."
A: After you finish the preparation of download and installation, you can go ahead the performance. Start the software, and choose the proper module from the four modules. If your files are deleted, choose "Advanced Files Recovery" module; if you want to recover files from formatted drive or card, choose "Format Recovery" module. These are two most common cases. If you are not the both two, you may choose the other two modules. Then, choose your CF card and click "Recover" button to scan the lost files. The next step is clicking "Show Files" button to preview the recoverable files. The last step is pressing the "Save Files" to save the files you have ticked. OK, the recovery is done. Hope this is clear enough.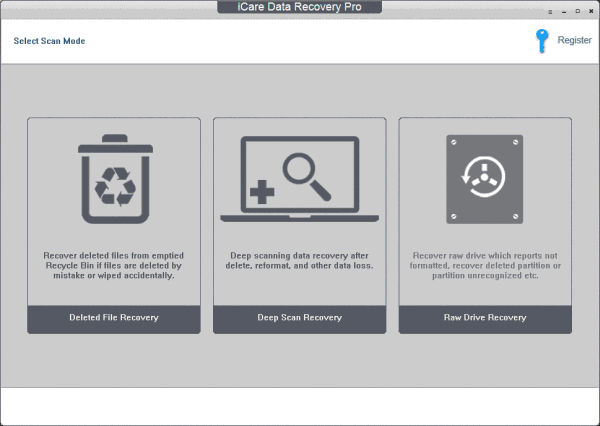 ---