Format Recovery Software Download
Last updated on 10/04/2018
Have you ever had to format your partition with important files? Though you skip the procedure to format and want to format the disk later, you fail to access the disk due to a warning "Disk/drive is not formatted. Do you want to format it now?" This kind of situation happens also on the memory card users. If this disaster occurs, what would you do? Some people do not know files can be recovered from formatted partition and memory card, so they give up the valuable files. However, keep reading, and you will find a solution to do the format recovery.
Table of Contents for Format Recovery
How to Recover Files from Formatted Hard Disk?
How to Recover Files from Formatted Memory Card?
Do& Do Not
How to Recover Files from Formatted Hard Disk?
To do the files recovery, the first thing is to choose a powerful and free recovery tool. iCare Data Recovery Pro should be highly recommended. This free software can bring back 2GB data from formatted partition, including files, photos, folders etc. The following steps provide you a files recovery with this software.
1. Download iCare Data Recovery first and launch it. Click the button on the main menu.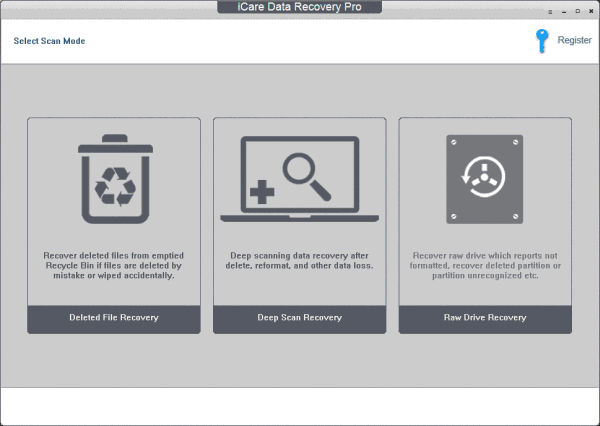 2. On the next window, select the partition you formatted to scan. Then press the "Recover" button to start scanning the lost files of this hard disk.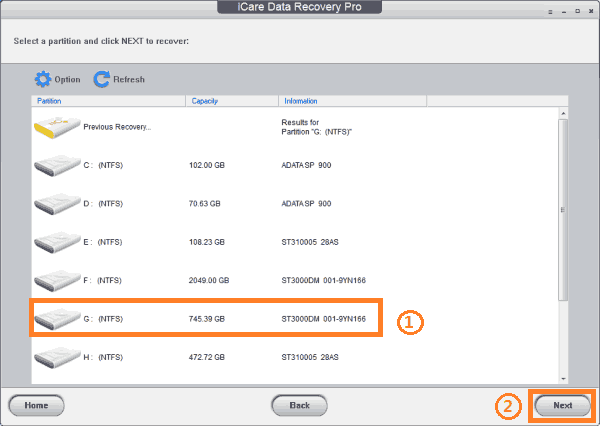 3. As soon as scanning device finished, there would be a list of partition. Click "Show Files" to move to next screen.

4. Preview the lost files to make sure the files or folders you want to recover. Press "Save Files" to save.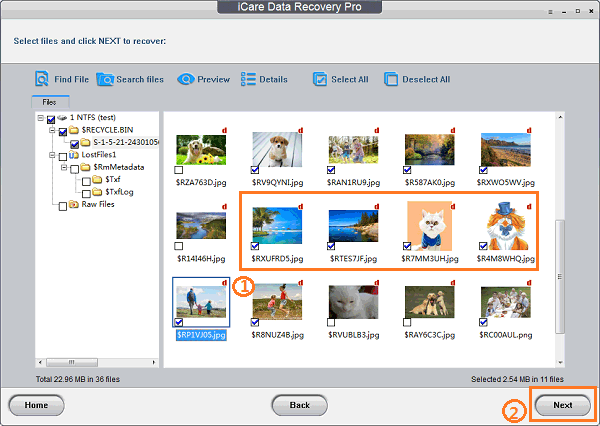 How to Recover Files from Formatted Memory Card?
When you accidentally format card, iCare Data Recovery can recover all existed files on it, including photos, documents, media, folders etc.  Memory card data recovery is similar to partition recovery. After installing this software, you just launch it and choose "Deep Scan Recovery" to scan the formatted files on memory card. Then select the removable device to recover. The rest procedures are the same. You should choose the files or folders to recover and the location to save. iCare Recovery Pro is memory card format and delete recovery software which is able to deleted files recovery from memory card after formatting by mistake or delete.
Do& Do Not
Do select the first partition on the scanning device widow to recover the formatted files
Do not install the program on system partition nor the drive where you lost files
Do not save files on system partition.
Can You Format Corrupted Memory Card?
If you get message like memory card is corrupted and unreadable, can you format the card to fix the error? Well, if you still have important data on the memory card, you had better run iCare Data Recovery software to restore files before formatting the memory card.
iCare Data Recovery is also available for data recovery from a corrupted memory card even when Windows reports message that memory card cannot be formatted.
Recover Formatted Flash Memory
You can also use the iCare Data Recovery to unformat USB flash memory when you format it by mistake or due to USB drive not formatted RAW drive error.

---
Related Articles
Hot Articles
Hot Tags