Free Easy way to Recover Data from Formatted Panasonic SD Card
Last updated on 10/04/2018
Table of Contents
Panasonic SD Card Data Loss due to Formatting
Although Panasonic SD card features fast transferring speeds and a built-in safety mechanism, data loss on it is irrevocable. Consider a scenario that you have captured a lot of valuable photos after a long vacation. Now you connect the memory card to computer to make a backup or just want to see them on computer screen, an error message pops up on the screen like "the card is not format. Do you want to format it now?", or "memory card error" etc. Under this kind of circumstance, all data including your photos on the Panasonic SD card become inaccessible and you may format the Panasonic SD card in order to access it.
Apart from situation above, a common mistake is that you might accidentally format Panasonic SD card when you are viewing files on it.
How to recover formatted memory card Panasonic SD?
For data recovery from formatted Panasonic SD card, you can free download iCare Data Recovery Pro.

Easy Way to Retrieve Files from Formatted Panasonic SD Card
iCare Data Recovery Pro is able to recover deleted or lost files from formatted Panasonic SD card. It can recover all major files types such as photos, images, HD videos, audios, and even documents. This easy-to-use data recovery tool can effectively get all you wanted back with just simple procedures. You will amazedly find that several mouse-clicks perfectly solve all your problems.
Before the Panasonic SD card recovery performance, you should firstly free download the recovery software for SD card iCare Data Recovery Pro. Install it on your computer. The following four steps will give you a vivid guidance to recover data from your memory card.
Step One: Connect your Panasonic SD card to your computer or laptop. Launch iCare Data Recovery Pro. Choose "Deep Scan Recovery" module if you accidentally format your card, or you encounter SD card not formatted problem.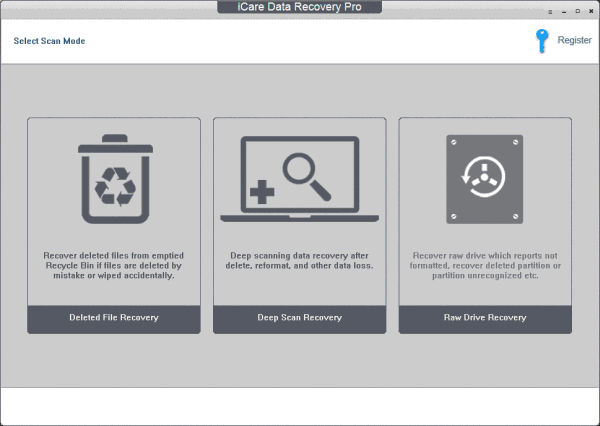 Step Two: If your card has been recognized as a drive letter, you will find it in the below partition list. Select your SD card and tick "Next" button to start searching on this volume.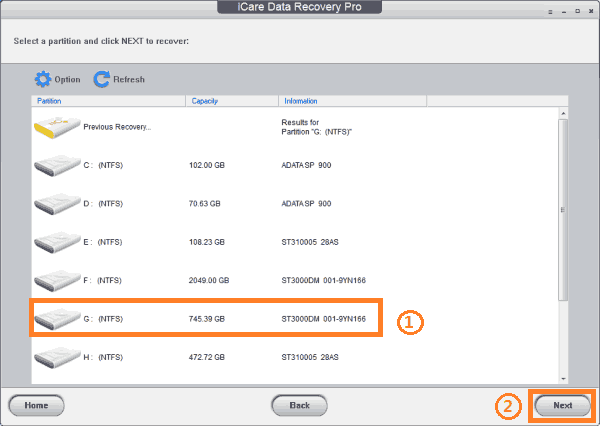 Step Three: You can get a view of the files or folder tree after scanning. You can free to preview all the files one by one and mark those you desired to recover. Click "Next" button to finish the recovery.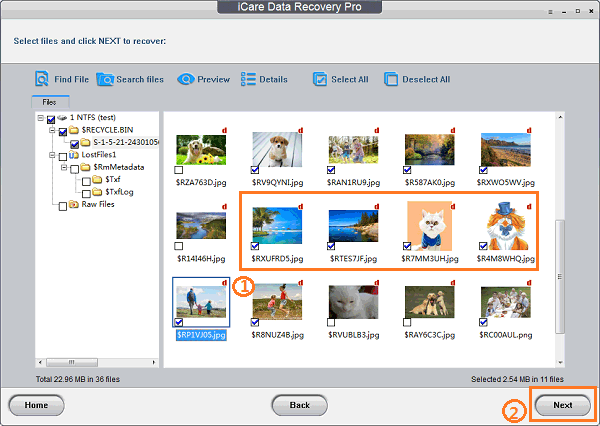 Follow this tutorial; you are able to recover data from Panasonic SD after quick format SD card or full format.
How to Format Corrupted Panasonic SD Card without Data Loss?
When a Panasonic SD card is corrupted, can you format the card to fix the error? Will you lose files stored on the card due to formatting? Usually, if you want to repair a damaged memory card without losing data, the first thing you need to do is to recover data from the corrupted card and then format it.
==>> If you are unable to format a corrupted Panasonic SD memory card on your camera or mobile phone or computer, please go to this page - Windows cannot complete the format SD memory card>>
Requirement
To ensure the successful data recovery, you are required to input no more data to your card. If you do so, old data will be overwritten by new one. iCare Data Recovery Pro can only recover your new data, while your old data will become inaccessible permanently.

Free download here

About Panasonic SD Card
When it comes to SD card brand, people will think about a bunch of famous names, such as SanDisk, Transcend, Samsung, Kingston, Lexar, PNY etc. Few people know something about Panasonic SD card. Though Panasonic SD card is not as renowned as other flash card brands, the card's unique advantage is undeniable. It has a large memory capacity and fast read and write speed. What makes it distinctive is that Panasonic SD card is water, heat (between -25°C and 85°C), shock, x-ray, magnet and electrostatic proof. This faster card is completely made by Panasonic company, so the quality is  reliable. Despite of its higher price than other common brands, Panasonic SD card still occupies an important place in the flash card market.
Bestselling Panasonic SD Card on Amazon

Panasonic 4GB SDHC 66X memory
Price: $3.99

8GB/10TO90MB/S/TRANS.RATE/UHS-I/SICS
Last Price: $51.68
Now: $19.95

16GB/10TO90MB/S/TRANS.RATE/UHS-I/SICS
Last Price: $85.03
Now: $39.95

Panasonic RP SDM02GU1A - Flash memory card - 2 GB - Class 4 - SD - blue [CD]
Last Price: $29.99
Now: $6.09
---
Related Articles
Hot Articles
Hot Tags