Home > Products > iCare Data Recovery Standard > Howto >Recover data formatted partition
Recover data formatted partition
Easily recover data formatted partition with iCare Data Recovery Standard.  Data partitioning has played a huge role in effectively managing computer hard drive space.  It is in the management of the partition itself that can lead to the loss of data.  For problems that range from simply reformatting a partition to more complex issues like files having been deleted through DOS or Windows Command Line, there is a simple solution offered by iCare Data Recovery Standard.

---
Recovery ablility more than format recovery by iCare Data Recovery
Here are just a few scenarios in which the software can prevent an immeasurable loss of data.
Compatible with partitions FAT16, FAT32, and NTFS, iCare Data Recovery Standard can help you prevent the loss of data caused by premature partition formatting.  Assume you formatted the wrong partition, and you stand to lose all the data contained in said partition.  In the PC Partition Recovery option of your installed software, you are able to identify any modified or deleted partitions.  This means you will be able to restore the partition you improperly formatted, consequently restoring all of the data that was temporarily removed by the accidental format. 
Undoubtedly, technical issues plague the world of IT like the flu does to mankind with the annual change of the seasons.  Computers are not immune to viruses or other attacks.  Fortunately, this type of situation does not have to result data being corrupted or permanently removed from your computer.  For virus attacks, unreadable partitions, ghosted partitions that failed to copy to the correct hard drive, and countless other issues, iCare Data Recovery Standard protects your work thoroughly. 
The continued functionality of partitioning hardware greatly depends on supporting software to deliver optimum performance to your computer.  All files and folders must be formatted through this supporting software, and that can sometimes lead to corrupt or incomplete files.  In situations where you are experiencing a loss of data because of applications through supporting disk manager tools, iCare Data Recovery will help you protect the integrity of all your files.  You can easily restore missing content and replace corrupt files and folders – despite the severity of the malfunction. 
Data Recovery From Removable Media/Data Storage Devices
Removable storage devices ranging from a USB flash drive to a highly entertaining iPod are as subject to mistaken formatting or deleted files as any other piece of computerized equipment.  It is for this very reason that iCare Data Recovery Standard makes it easy to restore or recover data from a partition that has either received damaged files from or transmitted corrupt data to an external source. 
The makers of iCare Data Recovery Standard have thought about all the 'what-ifs' that come along with partitioning so you don't have to.  Finding out how the software can help prevent you from losing data because of partition problems is easy, and it only requires you to download a demo for free.
Here is how data recovery was performed to restore files.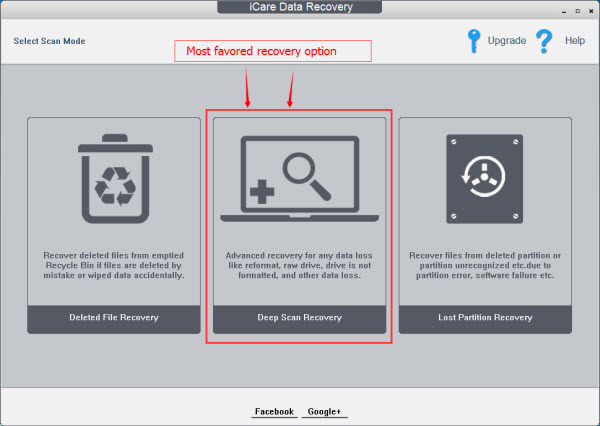 Select a possible drive that contains your files and let it build file structures for recovery.
Preview lost files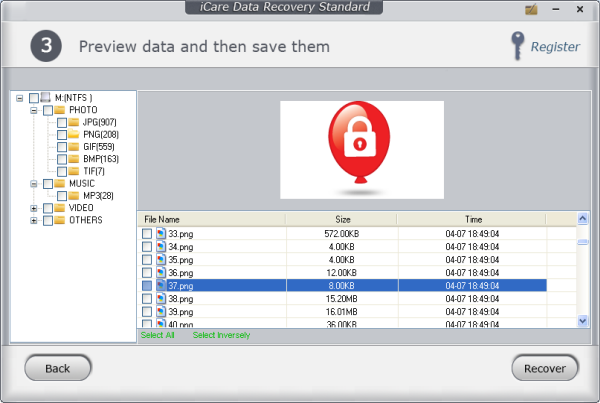 ---
Related Articles