Solution for Pen Drive not formatted error, accidentally formatted pen stick

iCare Data Recovery Standard - all you need for format recovery
Frequent problems that comes to pen stick that can be fixed by iCare Data Recovery Standard by restoring lost files from the pen drive.
Accidentally formatted pen drive
Windows reports "drive is not formatted, do you want to format it now" when pen drive was connected to PC
Pen drive cannot be formatted
8GB penstick reports not formatted
CHKDSK is not available for RAW drives
Pen drive shows 0 bytes while you have stored important files which are no longer accessible...
If your pen drive are encountering such problems, you may worry about the files stored in the pen drive since you won't be able to access them since the errors. Recovering files from pen stick is easy with iCare Data Recovery Standard, the unformat and formatted problem file restore tool. It is free to search lost files. Be free to download an evaluation demo.

---
Pen Drive Format Related Problem Fixing
This article is telling you what happend to your pen drive and the chance of recovery and how to use iCare Data Recovery Standard to restore files from pen drive.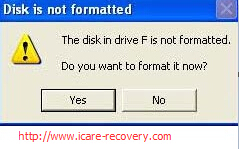 If you are seeing the not formatted notice when you connect your pen stick to your PC and Windows come up with the above error, the boot sector may become bad or some related problem that makes your usb pen stick not working.
The chance of file recovery from formatted usb pen stick or not formatted error relies on the new files overwritten or not. If you did format the usb pen drive and write new files there, then some files which has been taken place by new files won't be able to restore. The chance of recovery lies in files overwritten or not. There is chance of file recovery even you formatted usb pen drive twice but have not written new files.
To restore files from usb pen stick, you need a professional data recovery tool like iCare Data Recovery Standard, which will search lost files for free and makes sure you can restore lost files with it evaluation demo preview. Here are the steps you can perform file recovery.
Download and install this program on a Windows OS PC on website
Go to "Format Recovery" for usb pen drive not formatted error or mistakenly formatted usb stick.
Select your drive where you lost files and you will see your deleted files.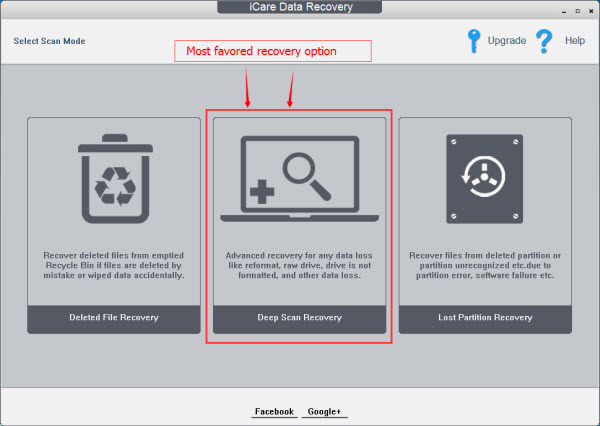 Select a possible drive that contains your files and let it build file structures for recovery.
Preview lost files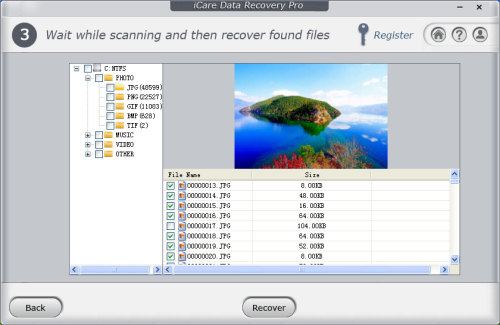 Supported media:
Cellphone, Flash drive, memory card, hard disk drive, USB drive, external hard disk, pen drive etc.

---
Related Articles