Lenovo Laptop SSD Data Recovery
Lenovo laptop with an SSD drive provides a better and more efficient solution for data storage or transferring, but it is still impossible to avoid data loss problem on an SSD drive for Lenovo laptop. Data loss from SSD drive on Lenovo laptop is an unavoidable problem when you run into following situations:
Deleting files from recycle bin after delete from Lenovo laptop SSD drive
Reformat SSD drive on Lenovo laptop
Lenovo laptop reports SSD drive needs to be formatted
SSD drive becomes unrecognized by Lenovo laptop
Lenovo computer says SSD drive is inaccessible
Cannot copy, read or write files on SSD drive for Lenovo PC
How to Recover Data from Lenovo Laptop SSD Drive?
If you run into data loss problem on Lenovo laptop SSD drive, iCare Data Recovery is able to help restore all data you need:

Step1. Free download and install iCare Data Recovery on your computer. Run the data recovery software and select a proper scan mode.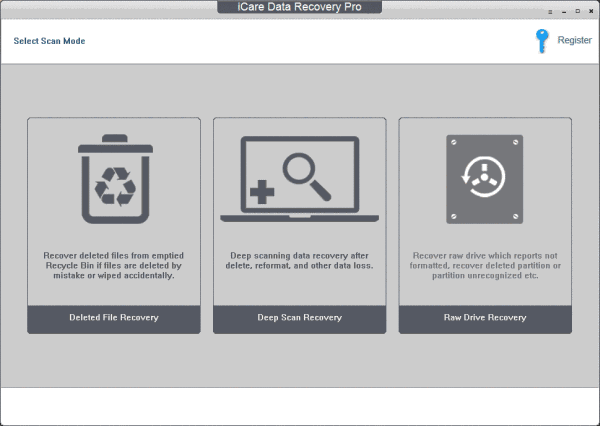 Step2 Choose the SSD drive and then the software will scan it to search all lost files.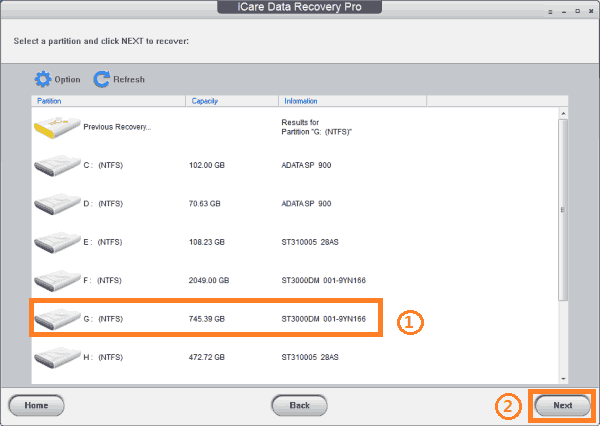 Step3. Preview files when software shows all found data and then save the lost files to another drive.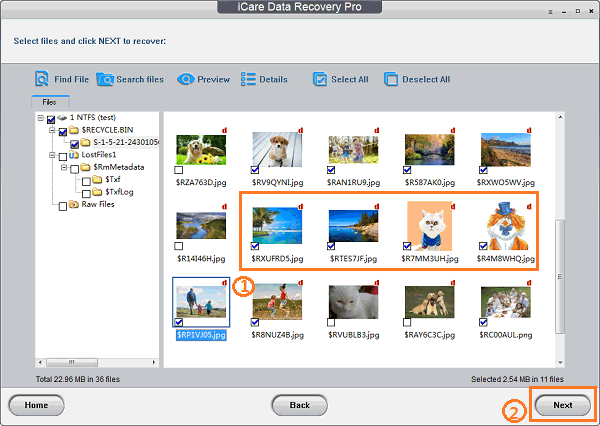 Retrieve Deleted Files on SSD Drive for Lenovo Laptop
How to retrieve deleted files from SSD drive for Lenovo laptop? You may delete files from an SSD drive on your Lenovo laptop due to many reasons, but data is always recoverable as long as the true data is not overwritten by new added files. What you need to do is to run iCare Data Recovery on your Lenovo laptop and the software will scan the SSD drive to restore all deleted files.
Unformat Lenovo Laptop SSD Drive
Do you know that you are able to unformat SSD drive after formatting on Lenovo laptop? When you format or reformat an SSD drive, system will erase the SSD drive and prepare the disk space for new data storage. You can run iCare Data Recovery to undo format SSD drive on Lenovo computer before the disk space is overwritten.
Lenovo Computer Says SSD Drive RAW Needs to Reformat
Probably, an SSD drive has NTFS file system on your Lenovo laptop. However, Windows system might recognize the SSD drive as a RAW drive, in which situation you may receive disk drive not formatted error message. If you are unable to access SSD drive on Lenovo laptop due to the not formatted error, iCare Data Recovery is able to extract all inaccessible files without formatting the SSD drive.
External SSD Drive Is Not Detected by Lenovo Laptop
What can you do when system is unable to recognize the external SSD drive after plugging it to your Lenovo laptop to read or write some data? You can check if the external SSD drive is connected properly to your Lenovo computer. If the external SSD drive cannot be recognized by Lenovo computer due to logical failures, you can use iCare Data Recovery to perform file recovery.
All Portable SSD Drive Supported on Lenovo PC
When you buy a Lenovo computer, you can install SSD drive in it for a better storage and transferring solution. Usually, you can install any brand of SSD drive on a Lenovo desktop or laptop. iCare Data Recovery allows you to restore files from any brand of SSD drive on Lenovo laptop, such as:
…
Lenovo Laptop SSD Drive Corruption due to Virus Infection
SSD drive is corrupted due to virus infection on Lenovo laptop? It seems like that every computer user has ever encountered the problem that an SSD drive, hard disk drive, external hard drive or other storage media is infected with virus and then it stops working normally. If you cannot read data normally from SSD drive on Lenovo laptop due to virus infection, you had better not run antivirus software before getting back the inaccessible files because antivirus software might erase previous data. In a word, you had better not perform any operation on the corrupted SSD drive on Lenovo laptop before recovering the lost files.
Lenovo PC SSD Drive Failure due to Power Outage
Another common situation for SSD drive failure might be power outage. Especially, if your computer turns off suddenly due to power outage when you transferring data from SSD drive, it might result in data loss when you rebooting your computer. iCare Data Recovery enables you to restore files from corrupted SSD drive when the problem is caused by power outage.
SSD Drive Physical Damage on Lenovo Laptop
Usually, SSD drive does not contain any moving part, but it might still be physically damaged due to improper operation. For example, if you drop an SSD drive to water, fire or from high place, the SSD drive will be physically damaged. Sometimes, if your Lenovo laptop falls to ground from high place, the SSD drive installed on the Lenovo laptop might also be physically damaged. Similar to hard disk drive, data is hardly impossible to be restored when an SSD drive is physically damaged. You may lose all data permanently if an SSD drive is physically damaged in Lenovo laptop. Therefore, you should be careful enough to prevent physical damage to your SSD drive in order to avoid data loss.
Do Not Defragment Files on Lenovo Laptop SSD
What will you do if a hard disk drive responds slowly on your computer? Sometimes, you may defragment files on hard disk drive when it responds slowly. Therefore, you may also defragment files on an SSD drive when it runs slowly on Lenovo laptop. If you do not want to cause harm to the SSD drive, you had better not defragment files on an SSD drive. In addition, you had better not reformat SSD drive in order to avoid reducing the lifespan of your SSD drive.

---
Related Articles