HTC Phone Shows Unformatted Error on SD Card
"What to do when HTC phone shows unformatted error on my SD card? I cannot open this SD card due to unformatted error, but I really need to copy some videos from this card now. Can anybody share any useful solution for an unformatted SD card data recovery when it is not accessible on my HTC mobile phone?"
"I want to fix the unformatted error on my HTC smartphone because it disables me to access my SD card inserted in this phone. I tried to reinsert this SD card to my HTC mobile phone and to another mobile phone, and both of the phones are able to recognize the SD card as storage media. However, I always receive the same message saying SD card has unformatted error when I attempted to open the card. Is there any way to repair the SD card unformatted error on my HTC phone? Or how can read data from an unformatted SD card?"
First step – Stop using the SD card
Truthfully, one of the most important points is to stop using the SD card. On the one hand, you should not format SD card by mistake or on purpose to fix the unformatted error. And on the other hand, you should protect the SD card from suffering any physical damage or data overwriting due to improper operation.
This article will share solution on how to recover deleted photos from android phone sd card when it is not accessible on your HTC smartphone or any other devices due to the unformatted error.
Data Recovery When HTC Phone Shows Unformatted Error on SD Card
You do not need to worry that you are unable to open an unformatted SD card for your HTC mobile phone, because the problem is able to be resolved by relying a data recovery tool. iCare Data Recovery is such a data recovery tool, which is able to extract all inaccessible data without opening the SD card. This software is able to deep scan the unformatted SD card for your HTC mobile phone or any other devices so as to search all inaccessible data like music, videos, images and more. This data recovery software works on Windows platform to help recover data when HTC mobile phone reports unformatted error on any SD card such as SanDisk, Transcend, Samsung, Toshiba, Lexar, etc.
Steps for HTC Phone Unformatted SD Card Photo Recovery

Preparation: Free download and install iCare Data Recovery on a Windows computer. Connect the unformatted SD Card to this computer and launch the data recovery software.
Step1. Select a proper scan mode after running the software.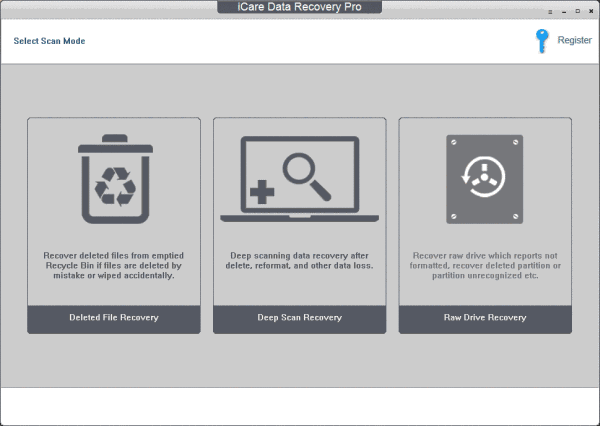 Step2. Choose the unformatted SD card as aim disk and then you only need to wait patiently before the scanning is finished.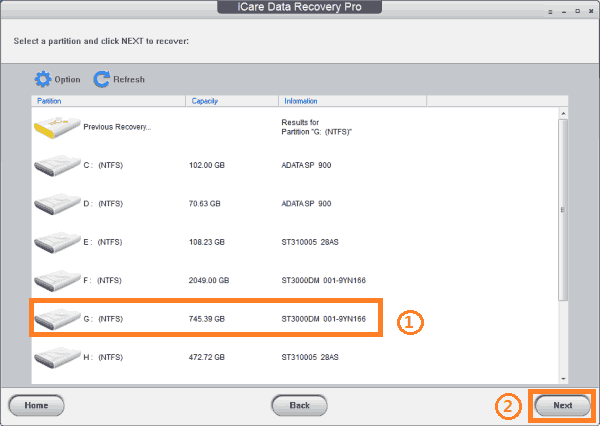 Step3. You can preview files after scanning and then save the lost files to another drive.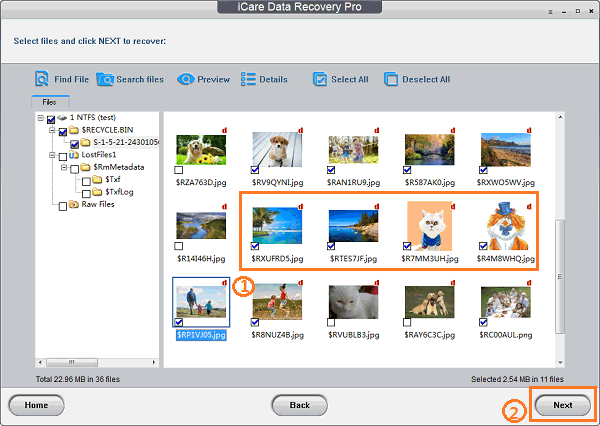 HTC Phone SD Card Is Unformatted Has RAW File System
Check the file system of the SD card now by connecting it to your computer, and then you may find that the SD card turns to RAW format. This is the reason why you receive unformatted error message on your SD card on your HTC mobile phone. Since PC and mobile phone are unable to recognize RAW file system, they will consider the SD card as unformatted device when it has RAW format error. If you want to fix the unformatted error, you just need to format the SD card to convert from RAW to FAT32 which is able to be recognized by both phone and computer. However, please remember to run iCare Data Recovery to get back all lost files at first before formatting the card.
Methods to Format SD Card When HTC Smartphone Reports Unformatted Error
When HTC mobile phone says SD card is unformatted, you need to format the SD card to fix the problem after data recovery. Usually, you can format an SD memory card for HTC smartphone with following methods:
1. You can quick format an SD memory card on your computer or HTC mobile phone to convert it from RAW to FAT32 so as to fix the unformatted error. It only takes a short time to quick format an SD card, after which the card will normally on your phone without showing unformatted error.
2. You can also full format an SD card on computer if you doubt that the unformatted error is caused by bad sectors. Full format (also known as complete format) is able to check and mark all bad sectors on your SD card. The data will no longer be saved to the SD card space which has bad sectors after full format.
3. If SD card is unable to be formatted whether you perform quick format or full format, you can also rely on professional format software to format the SD card in order to fix unformatted error.
==>> Sometimes, formatting on an unformatted SD card might fail. If so, you can go to this page - Windows cannot format SD card>>

---
Related Articles