Home > Products > iCare Data Recovery Standard > Howto >Recover files from FAT partition
Recover files from FAT partition
iCare Data Recovery Standard - what you need for file recovery
Here are most frequently FAT partition recovery situations that you might encounter data loss:
What shall I do if I formatted my FAT partition; I have deleted my FAT partition by accident; Can I change NTFS back to FAT and get my files back; My FAT partition is formatted, can I get files back after reformat; MBR is corrupted and FAT partition is lost; I cannot access my FAT partition...
Don't worry. All you have to do is to download the program, install and search the lost files from FAT partition!

---
Related Resource
FAT is a file system that was used in Windows Operating System before Windows XP. As time passes, more requirements for Windows file system are needed and then here came NTFS, another Windows Operating System that is more advantagous than FAT to hold more files with better stability etc.
FAT is an abbreviation of File Allocation Table which is a computer file system architecture, it is used on computer systems and memory cards. FAT describes which clusters (the unit used by file allocation) are used by which files. There are three types of FAT: FAT12, FAT 16 and FAT 32. FAT32 is the most requently used file system among FAT and is till used in many removable storage devices like USB drives, memory card, memory stick, pen drive, external hard drive etc.
Sometimes the data stored on FAT file system partition may be deleted, lost or FAT partition may be formatted, corrupted, etc. Most situation of FAT partition data loss is unforeseen, for example, deleting a file or program accidentally or mistakenly, deleting data intentionally but find they are still useful later, improper computer shut down, power failure, system crash, data corruption, virus attack, etc.
What shall we do if we lost files on FAT partition?
Some data storage and recovery expert is able to perform a manual data recovery with special devices. For most people, the best solution is to find a data recovery software like iCare Data Recovery, which only takes $69 to get valued files back. See how iCare recovery can help you perform a file recovery.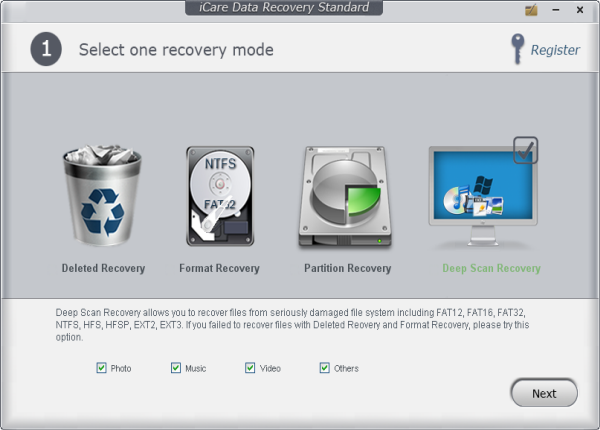 Besides recovering files from FAT partition when your FAT partition is deleted, formatted, inaccessible, unreadable, not detected etc. iCare Data Recovery Standard is also able to recover files from NTFS partition, get files back quick formatted drive, the perfect solution for the drive is not formatted do you want to format it now, or even cf card formatted recovery...
Why not have a try?

---
Related Articles