Home > Products > iCare Data Recovery Standard > Howto >Recover formatted DAT files
Recover formatted DAT files
As an unformat tool, iCare Data Recovery Standard - your solution for dat files formatted recovery
Combined and integrated with recovery module "Format Recovery", iCare data recovery is a best data recovery software to recover formatted dat files when you reformatted drives which dat files are stored.
Working with most Windows Operating Systems like Windows Vista, XP, 2000, 2003, iCare data recovery is able to retrieve formatted dat files that has been formatted and get lost.

---
DAT Formatted Recovery
Here are the steps to get formatted dat files back.
Download and install this program on a Windows OS PC on website /download.html
Go to "Format Recovery" for formatted drive file recovery
Select your drive where you lost files and you will see your deleted files.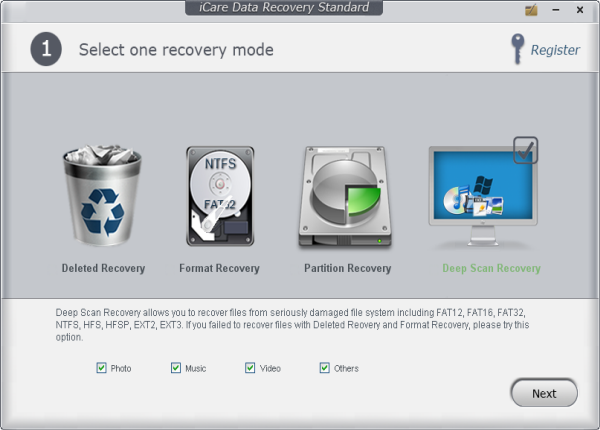 Definition of: DAT file

(DATa file) A file that uses the .DAT extension. It is widely used for a variety of data content. There are some other file types using the DAT file extension:
Antivirus data
Btrieve database
Sony Digital Audio Tape
Generally text or binary datafile
Microsoft Internet Explorer cache
My Personal Programmer distributed project
Mitsubishi DJ-1000 and Photorun native format
MS Word for DOS file
Novell message file
Programming
SPOT image format
Pegasus Mail content control definitions
Act of War game file
Against Rome game file
Allegro generic packfile data file
Commodore 64 audio file
Daqarta extended audio data file
EasyRecovery saved recovery state
Exchange Server error message
Guild Wars data file
Gunlok archive file
Inno Setup uninstall log file
LabVIEW binary datalog
LithTech game compiled level file
MapInfo native data format
Nascar Racing game archive
Nero CD Speed results file
Norton Disk Doctor undo file
Oric Atmos snapshot
Peachtext list manager
PestPatrol Data/Scan strings
PHASES free form input file
Propilkki game data
PSpice numerical data file
Morpheus adware
Runtime software disk image
SeeYou waypoint
Shareaza thumbnail
SHARP MZ-series emulator RAM-disk file
SPOT graphic file
Terrasoft dataset definition file
TomTom traffic data
UFOCaptureV2 map file
Unfinished FastTrack download
VMS data file
Walkman NW-S23 MP3 file storage container
Windows registry hive
WordPerfect merge data
XnView filter file
Legacy of Kain Defiance game archive
LEGO Star Wars game archive
Ricochet Lost Worlds: Recharged game archive
Ricochet Xtreme game archive
Star Wolves game archive
Uplink game archive
Miranda IM profile file
Microsoft Live Messenger active folder file
Skype local store file
AOL Messenger (AIM) BFTS database file
Trillian wiki dat file
Yahoo! Instant Messenger settings file
Mozilla Firefox plug-in register file
Apple Safari dictionary file
602Pro PC Suite data file
Internet Explorer data file
Opera Mobile data file
All these files can be recovered by iCare data recovery if they were lost with formatted drive which may perform by mistake. With iCare data recovery, you can recover files in the following cases:
What can i do to recover hdd formatted dat files; how to recover .dat file; how to recover deleted .dat files from hard disk...
Why not download it now for free and get .dat file back?

---
Related Articles