Home > Products > iCare Data Recovery Standard > Howto > Restore BKF files from Formatted Drive
Restore BKF files from Formatted Drive
iCare Data Recovery Standard - Best solution for BKF formatted recovery
As we know BKF files are files created for storing backup of lots of files. What shall we do if the BKF files were formatted?
iCare Data Recovery Standard efficiently restore & recover images, pictures, music files, email files, registry files, exchange email mailbox files, document files etc from corrupt or broken BKF file formatted or corrupted due to unexpected backup interruption, Windows backup software malfunction, corruption of a hard drive, formatted drive, virus or trojans infection, unexpected system shutdown or system software failure.

---
BKF Files Formatted Recovery
iCare Data Recovery Standard is an advanced bkf file recovery tool to recover data, files and folders form formatted bkf files. BKF Files can be successfully recovered from formatted bkf files which created by Windows ntbackup.exe, Veritas Backup Exec or any other backup solution having MTF format.
iCare Data Recovery Standard supports to recover bkf files on Windows 2000/XP/Vista/2003 Operating System. Here is what you should to for the formatted bkf file recovery.
Download and install this program on a Windows OS PC on website /download.html
Go to "Format Recovery" for formatted drive file recovery
Select your drive where you lost files and you will see your deleted files.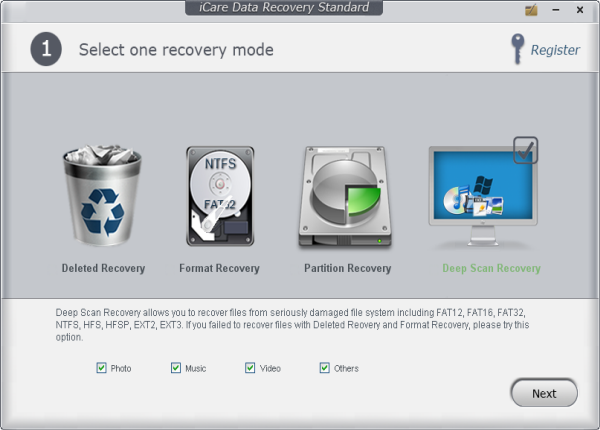 Supported media:
Cellphone, Flash drive, memory card, hard disk drive, USB drive, external hard disk, pen drive etc.

---
Related Articles