FAQ: Accidetnally formatted memory card

Question: how to get files back if I accidentally formatted memory card?
Solution: Retrieve data with iCare Data Recovery Standard
iCare Data Recovery Standard recovers files from formatted memory card, formatted external hard disk drive, USB drive, memory stick, pen drive, cellphone memory card etc. Format your drive by accident? iCare software can help you out of the trouble. All you have to do is to download the program for free and the search files.

---
This is an FAQ about formatted memory card recovery.
Memory card formatted by accident
The drive is not formatted, do you want to format it now? - Did you format your memory card by accident when seeing this notice? Or did you right click your drive and then clicked format the drive by accident? Did you happened to format your cellphone memory card and then need file recovery? When there is something wrong with your PC or memory card port, then it became troublesome for PC to read memory card and might read with error. If you ever format the memory card and then realized it was better not to format the memory card but the truth is format has been performed.
Well, don't worry. Your files is recovable even your performed format no matter quick format or regular format. It is also have some chance even you format it twice or has some new file overwriten. There is still chance of recovery but the recovery chances various depends of how much the card has been formatted and how much file has been written.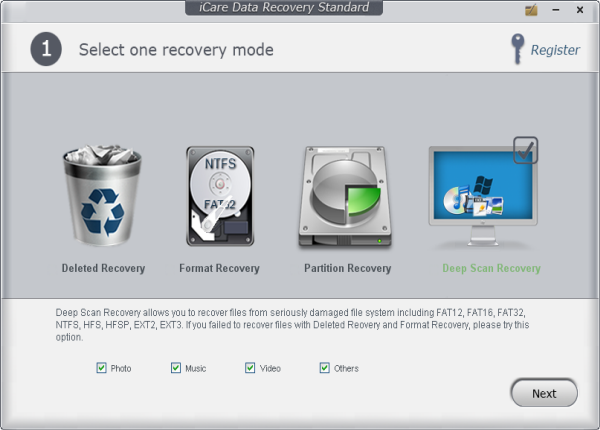 The recovery chances rely on how much the memory card has been performed with new file and the format. Usually the chances will increase if you just performed the formatting and does not take any new file but will decrease if you already take some new files. Say 100% chance of recovery if the memory card is just formatted and no more new file. If you take 1 more photos in the memory card, then it is likely that there is 1 photo permanently lost.
Our advice: Stop using the memory card and do not take any new photo or file into the card. Then download a demo of iCare Data Recovery Pro for free, then start to search lost files.
You should perform memory card file recovery right now to save as much files as you can.
iCare Data Recovery Standard is the right solution for those who encounter the following troubles:
I accidentally formatted my memory card on my digital camera. Is there any way to get back those pictures? ?
I formatted SD Card...Is it Possible to Get back My Deleted Pictures?
Please help me recover deleted/accidentally formatted pictures on Verizon cell SD memory card!!!?
Recovering photos from accidentally formatted SD card? I have accidentally formatted my SD card in Canon SD600 camera. I had week long marriage photos in it :(
All the above related memory card can be recovered. Why not download a demo for trial?

Download Free
---
Related Articles