FAQ: Drive Formatted Accidentally
---
Hot question from a user
Hi iCare guys, I had a Western Digital HD on which I saved about 59 Microsoft Word files. I simply deleted the files after moving them to a CD for backup. I now realized that was tupid to delete the files since the CD was accidentally destroyed. I tried to recover the deleted files from the Wester Digital HD with your program. So far everything was fine. My question is can I still get my files back if I perfomed quick format?
iCare Data Recovery Standard is able to recover files not matter the drive is quick formatted or regular formatted. The difference between quick format and regular format is check disk. Quick format does not check disk for bad sectors but Reguar format will do. That's why regular format takes longer time to format than the quick format.
When operating your PC, you probably feel it is understandable that there is always chances for drive to be formatted by mistake. Don't panic, you are not alone and besides there is a tool called iCare Data Recovery Standard to help you recover files from formatted drive.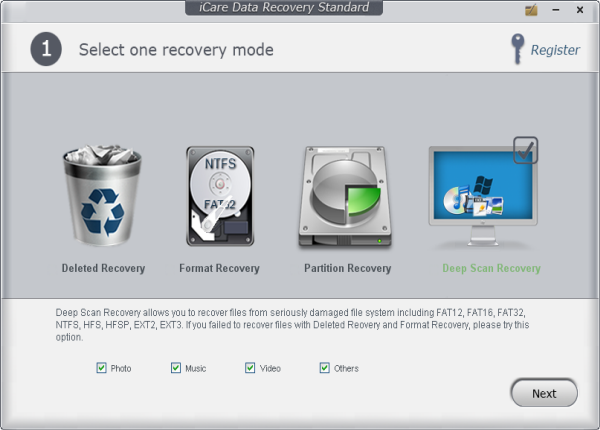 Talking about drives, there are many kinds of storage devices like external hard drive, USB drive, memory card, etc. And the other frequent case is like external hard drive format recovery, digital camera format recovery, accidentally formatted iPod, recover files formatted flash drive ...
If your data is critical to you and if you've never even done a file recovery before, then we urge you to seek help from a professional data recovery expert or a recovery program like iCare Data Recovery Standard.
Assuredly, there is no software that can guarantee the successful recovery of all data from an accidentally formatted hard drive.  Even professional data recovery services cannot guarantee this.   However, when you do use one of these experts, you have the best possible chance of getting your data back from that unresponsive hard disk drive.
A reliable recovery service is usually pretty high cost like $2000 for a 1GB file recovery. If you can't afford the services of a data recovery company, then we advise that you try to recover the data from your accidentally formatted drive with iCare Recovery Software which is read only and will not destroy your data if you did not install it on the partition where you lost your files.
Download Free | Read More about iCare Data Recovery Standard
---
Related Articles