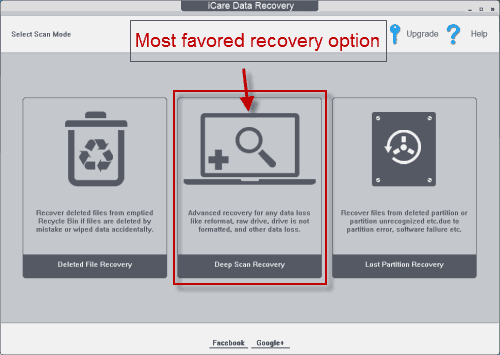 Powerful File Recovery Software
• Recover formatted, not formatted, cannot format, unreadable media
• Restore photos email office files and more
• Recover deleted data, or data lost without reason
• Recover data from improper operations or unexpected changes
Why iCare Data Recovery
• Recover over 600 unique file formats
• Recover any type of storage media that can be used on Windows PC
• Recover files from RAW/NTFS/FAT/EXFAT

Working with Windows 8/7, Vista, XP, 2000 professional and Windows Server all versions, iCare Data Recovery is able to recover files from formatted drive, RAW file system, drive has not formatted error, RAW drive, undelete files emptied recycle bin, recover files due to partition lost, system crash, software crash, bad boot sector, missing boot sector, bad MBR, $MFT damaged, lost partition table, lost or damaged FAT, virus infections, power failure, and other unknown data loss
3TB&RAID Supported
With 3TB disk and RAID file recovery supported, iCare Data Recovery is able to restore files from hard disk partitions, external hard disks, USD drives, flash drives, memory card, SD card, pen stick, XD card
Data Recovery off Local & External Drive
This data recovery software uses the most powerful file recovery ability to restore data from various kinds of data storage devices, eg the laptop&destop hard disk drive, external hard disk and more drives no matter what happened that causes the data loss.
Powerful Data Restore Utility
Recovering data from recycle bin, formatted, deleted, or missing partitions is some of the most frequent data restore ability by iCare Data Recovery. What's more? It also helps you recover data when system crashed, has not formatted error, cannot format partition/card, MBR corrupted, disk repartitioned...
Recover Data off Various Storage Media
iCare Data Recovery is able to restore data from variuos kinds of digital devices for example: hard disk drive, external disk, usb flash, memory card, cellphone, camera, laptop, desktop.
Deep Scan Recovery - RAW Mode
iCare Data Recovery Software uses the advantages of raw mode built with Deep Scan Recovery to search every possible file on digital media to recover lost files that could be tracked back to serveral years. This recovery feature provides the most advanced file recovery chance to bring lost data back.
Recover files from Memory Card
It works for various kinds of memory card recovery including SD Card, MicroSD, SDHC, CF (Compact Flash) Card, xD Picture Card, Memory Stick and more. When memory card has data loss, all you need to do is to use this program to recover formatted, deleted, even corrupted memory card photos and video files.
Step by Step Data Recovery Process Design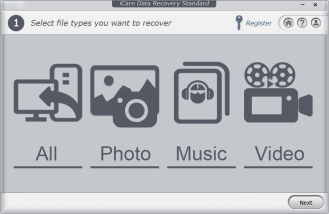 Install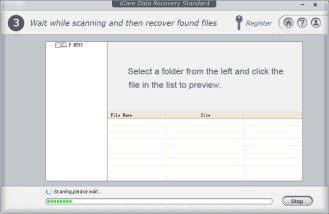 Scan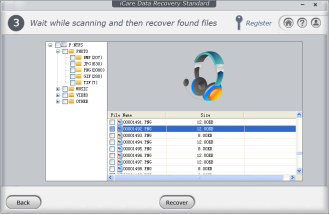 Recover
Supports Hundreds of File Formats and Advanced Search Parameters
| | |
| --- | --- |
| Supported Storage Devices | DE HDD, SATA HDD, SCSI HDD, FireWire HDD, SSD, USB HDD, External HDD, Hardware RAID, Floppy drive, USB flash drive, Compact flash card, Secure Digital card, Memory card/Memory stick, Micro card, Zip drive, IPod, Other storage devices |
| Supported File Systems | EXFAT, NTFS5, NTFS, FAT32, FAT16, FAT12 |
| Supported Graphics File Formats | 3d Studio Max file(.max), ANI file(.ani), Adobe Illustrator file(.ai), Bitmap file(.bmp), COREL Draw file(.cdr), Corel Draw Corel RAVE Image file(.clk), Corel Draw Vector Image file(.cmx), Canon Raw graphics file(.crw), Cursor file(.cur), AutoCAD Drawing file(.dwg), AutoCad DX File(.dxf), Enhanced Metafile(.emf), Encapsulated Postscript file(.eps), Freehand 10 file(.fh11), GIF graphics file(.gif), Icon file(.ico), JPEG Graphics file(.jpg.jpeg), Portable Network Graphic file(.png), Adobe Photoshop file(.psd), Paint Shop Pro file(.psp), Q uattroPro 7 File(.qpw), Corel Presentation File(.shw), Tagged Image File(.tif) |
| Supported Document File Formats | Microsoft Word Document(.doc), Help file(.hlp), HTML Documents file(.htm/.html), MOF file(.mof), Microsoft Project file(.mpp), Microsoft OneNote file(.one), Adobe Portable Document(.pdf), Microsoft PowerPoint Presentation file(.ppt), Microsoft Publisher Document(.pub), Rich Text Document(.rtf), True Type Font file(.ttf), Microsoft Visio Drawing(.vsd), WordPerfect file(.wpd), WordPerfect Documents and Graphics v8(.wpg), Microsoft Excel XML Documents(.xls), 3DS file (.3ds) |
| Supported Archives File Formats | Cabinet file(.cab), CHM file(.chm), CSL file(.csl), GZIP compression file(.gz), LZH compression file(.lzh), RAR compression file(.rar), TAR archive file(.tar), Zip compression file(.zip), |
| Supported Multimedia File Formats | 3GP Multimedia file(.3gp), Audio Streaming Format file(.asf), AU file(.au), Audio Video Interleave file(.avi), Musical Instrument Digital Interface file(.mid), MOV Multimedia file(.mov), MP3 Music file(.mp3), MP4 Multimedia file(.mp4), ShockWave Flash file(.swf), WAVE Multimedia file(.wav), WMF Multimedia file(.wmf) |
| Supported Email File Formats | Outlook Express Email file(.dbx), Outlook Email file(.pst) |
| Supported Database and Financial File Formats | Access Project file(.adp), Access Database file(.mdb) |
| Supported File Search Parameter | File Name, File Extension, File Mask, File Location, File Type, Date Modified, Date Created, Date Accessed, File Size, Case Sensitive |
| Supported Memory Card Manufacturers | SanDisk, Kingston, KingMax, Sony, Lexar, PNY, PQI, Toshiba, Panasonic, FujiFilm, Samsung, Canon, Qmemory, Transcend, Apacer, PRETEC, HITACHI, Olympus, SimpleTech, Viking, OCZ Flash Media, ATP, Delkin Devices, A-Data, and almost all digital camera memory card brands in the market |
| Supported Operating Systems | Windows 8, Windows 7, Windows Vista, Windows XP, Windows Server 2008, Windows Server 2003 |