iCare Data Recovery is free to download and it lets you restore 10 files for free! It provides four modes for data rescue. Be free to try each one for the best chance of data recovery.
Focused on file recovery, iCare Data Recovery Standard makes the most possibility of your data rescue. Here is some of the symptom that presents your need of this program to fix errors and bring data back.
Here are some features of iCare Data Recovery Standard.
Recover files from formatted drive, card...
When mistakenly formatted a hard disk, external hard drive, USB drive, memory card, the first thing to do is to leave the scene untouched and there are usually two options for you do to. One, to deliver it to a data recovery center which takes thousands of dollars for file recovery or even more; two, find a recovery program like iCare to search your lost files. Most data recovery software is able to search lost files for free but needs you to register to save the found files and iCare Data Recovery Standard is one of them.
What makes iCare Data Recovery Standard outstanding among the rest is the recovery speed and the most chance to find your files.
Not detected or recognized external drive, USB drive, sd card...
When your external drive, hard disk, USB drives, pen drive, memory card, sd card cannot be recognized by PC or Phone, blackberry, sd card not reading, firstly you may try to find a card reader(sd card reader, cf card, xf card reader...) and then connect it to PC to see whether your PC can read them. Or your device may got virus and first of all, scan for virus, if it still fails, then we strongly recommend you not using the drive and download iCare Data Recovery to search lost files from the unrecognized card, external drive...
Drive is not formatted - RAW file system - do you want to format it now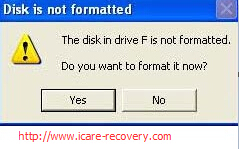 It may be the bad or damaged boot sector that makes your drive, card not readable or accessible and sometimes, it has format error and wants you to format it. Even you have reformatted the drive, iCare Data Recovery can take your files back with "Advanced File Recovery" or "Deep Scan Recovery".
Restore deleted files, Files emptied from the recycle bin
Simple deleted files can be easily retrieved by iCare Data Recovery Standard with the recovery module - Advanced File Recovery. It also restores files that are deleted by command keys SHIFT+DELETE
Restore files from software failure
Restore files when suffered software failure like PartitionMagic resize partition failure, merge partition failure, copy partition failure...; Ghost failure like ghost to wrong drive and formatted partition; System reload failure and format the wrong partition...; Other software unexpected shutting down and lost files...
Restore files from bad MBR, partition table, boot sector...
When computer has bad mbr, bad partition table or bad boot sector, virus might be the reason that made your PC to be not working with symbols like PC cannot boot, partition deleted or not recognized by PC, cannot access files... iCare Data Recovery Standard Advanced File Recovery and Deep Scan Recovery is able to restore files under this case. And we advise you connect your hard disk to another PC to restore files if your old hard drive PC is not bootable.
Recover lost images, office files, CAD files, emails, .pst files...
iCare Data Recovery Standard is able to recover any of your files from hard disk drive or memory card, flash card. It searches lost files and list them on the left menu with "Deleted and Lost Files" with different file type folders.
It supports to restore all image files, all office files, and all email types of files (.pst, jpg, png, gif, cad files, word, excel, PowerPoint...)
So far, iCare Data Recovery Standard is able to preview photos and office files before purchase.
Featured more recovery abilities, iCare Data Recovery won't fail you if you give it a chance to free scan and search your files.